PCI is interested in learning about companies' experiences, challenges and successes during the COVID-19 pandemic, as well as their outlook for the market and business strategies moving forward. I recently spoke with Steve Ridge, Senior VP Supply Chain and Manufacturing at Elementis, to get his views.
PCI: Where are Elementis' production facilities throughout the world? Did any of them need to shut down during the pandemic?
Ridge: Elementis has 22 manufacturing facilities throughout the world including North and South America, Europe and Asia. Because of this, we were able to adjust quickly as COVID-19 spread from Asia to Europe and eventually the Americas. With a lot of outstanding work and great focus on safety at our manufacturing facilities, we were able to maintain operations continuously except for where there were mandatory government shutdowns in China and Brazil, and a brief, less than one-week shutdown for one of our plants in the U.S.
PCI: How has the company remained operational during the pandemic? 
Ridge: We learned a lot from our China team and how they were able to respond quickly, and implement health and safety measures after the mandatory shutdown ended. We were able to take those learnings and create global standards as well as have local teams adapt to local requirements in each country.
For all manufacturing sites, we put into place global employee wellness protocols, hygiene, sanitizing and social distancing measures as our teams continued to work at our plants.
Our lab teams implemented all required measures and limited staff to working on business-critical projects. Critical laboratory personnel worked on staggered shifts.
Where possible, our office personnel worked from home, and this went very smoothly. The investments over the past several years in digitization has helped our teams stay informed and well connected even when working from home. We were able to pivot to a new way of working quickly and effectively.
The situation today varies country by country, area by area. Today, our Asia sites are fully operational from manufacturing to sales to office staff. In Europe, we are beginning to see office personnel return to work by putting in place all the required safety measures in certain countries like Germany, although places like the U.K. remain more restricted. In the U.S., we are preparing to return to the workplace in our offices in New Jersey in the coming months.
PCI: Has the company's global supply chain been affected?
Ridge: Thanks to the significant efforts of our global supply chain and procurement teams, we were able to mitigate any major issues with our supply chain including access to raw materials, logistics and delivery. For example, several years ago we developed a clear strategy to significantly reduce single-sourced supply of raw materials. Implementation of this strategy was fundamental to having a safe and reliable source of raw materials to keep our plants running during the unprecedented times of the COVID‑19 pandemic.
PCI: What has the company done to stay in touch with customers?  
Ridge: This is a challenging time for our customers and distributors, although we believe we can advance and strengthen our partnerships by leveraging all of our collective knowledge, experience and expertise. During the months of April and May, our technical and sales teams gave dozens of presentations and seminars to over 2,000 customers worldwide. Our digital training initiative helps us stay engaged with our customers' employees, and allows them to continue to grow and develop their industry and application knowledge while working remotely.
Our team quickly pulled together beneficial seminars and made them available to our customers. The response from our customers has been fantastic. In fact, we have been asked to provide encore presentations to larger groups.
Some of our most popular training courses for coatings customers can be found in the following table.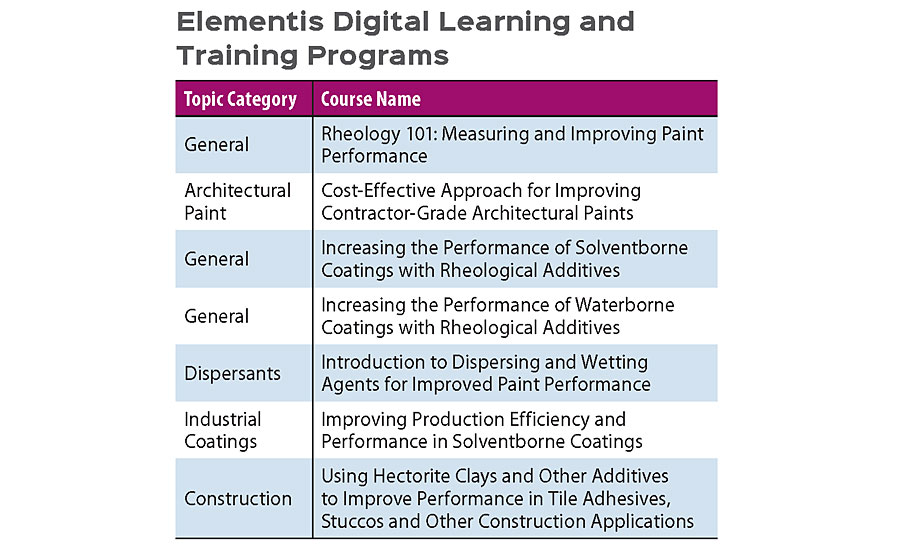 PCI: Was Elementis planning to launch new products at the American Coatings Show? If so, what can you tell me about them?
Ridge: Originally, Elementis was going to launch our Performance Series at our booth at the ACS 2020 trade show. Due to COVID-19, we had to pivot our strategy from an in-person introduction to a digital launch. We created integrated marketing pieces and made them available online. To launch the program, we created a landing page on our website and held online training with our sales team and distributors globally.
Elementis' new Performance Series are additive technologies and solutions for industrial coatings, architectural paint and construction materials. The series showcases proven technologies and their ability to improve customers' formulations. It allow customers to develop products faster. The Performance Series highlights additive packages that can be used together as a system or individually to create high-quality paint, adhesives or construction mortars. We posted our marketing materials online for easy and quick access for customers. Our Performance Series can be found here.