For more than 20 years, the coatings industry has been undergoing a change from solventborne to waterborne products. The main drivers for this change include increased general awareness of health and the environment, more strict government regulations on VOCs and HAPs, as well as the common goal of manufacturers to reduce their carbon footprint. A significant challenge in waterborne coating formulations is related to the control of rheological properties and the stabilization of pigments in formulations under extreme pH conditions. Therefore, there is a strong need for bio-based additives that can mimic synthetic solutions while also improving sustainability.
Fibrillated Cellulose Features and Benefits
Valida fibrillated cellulose is a 100%-natural, biodegradable and sustainable material. In paints and coatings applications, it performs as a multi-functional stabilizer with low impact on viscosity in a wide range of coatings applications, as well as supporting a more sustainable lifecycle. Table 1 provides a summary of the features and benefits that fibrillated cellulose brings to waterborne coatings.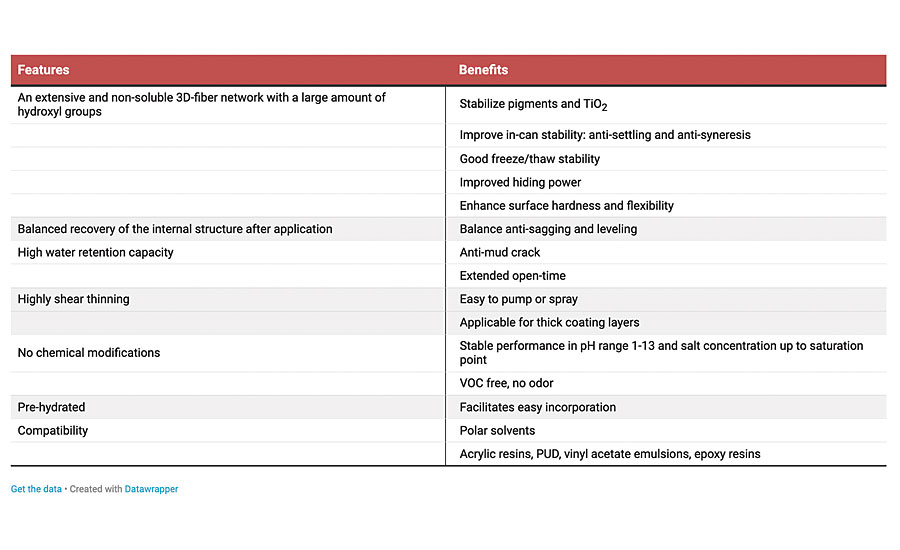 Valida also demonstrates pseudoplastic behavior and is highly shear thinning with high viscosity at rest (Figure 1).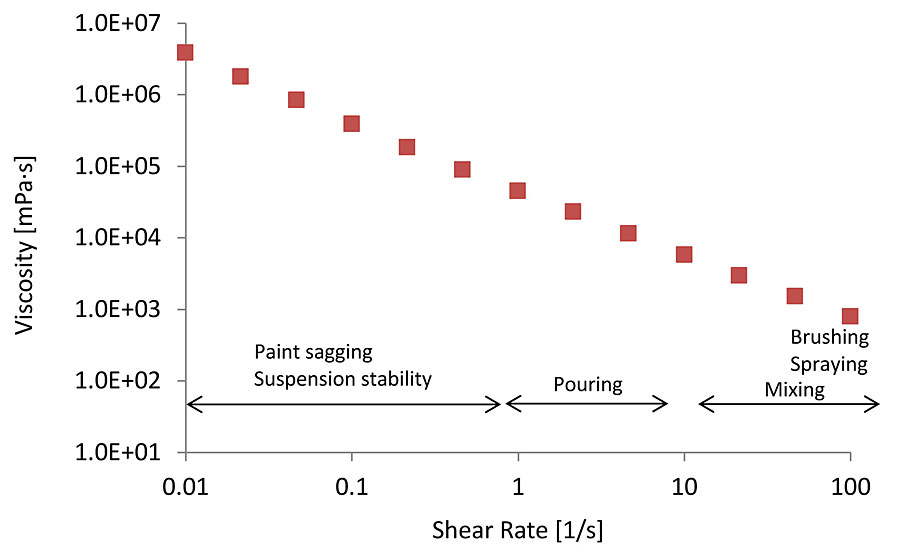 Effect on Interior Wall Paint Properties
Interior wall paints need to meet the current trend of improved sustainability and more environmentally friendly systems, driven both by government regulations and emerging consumer demand for sustainable products. Apart from being 100% natural, our fibrillated cellulose is sustainable, renewable and non-toxic, thus helping to reduce the VOC level while also providing improved functionalities. The matting benefit imparted by fibrillated cellulose also meets the current opaque trend in decorative wall paint.
Testing
The formulations we tested were based on a styrene acrylic emulsion as binder, with both acrylic and PU as thickener, and Valida as biobased multifunctional stabilizer. The final PVC of the formulations was 75%, and TiO2 content was 10%. The formulations were analyzed in terms of rheology modification, hiding power/contrast ratio, in-can stability, sag resistance, mud cracking resistance and stain resistance.
Rheology Modification
The high specific surface area of fibrillated cellulose allows for enhanced synergy between fibrillated cellulose and conventional rheology modifiers. As a consequence, when implementing fibrillated cellulose into the formulation, the dosage of conventional rheology modifier has to be lowered. The overall performances of the paints are boosted by fibrillated cellulose, which also ensures that viscosity reaches the targeted value. In this specific application, with the recommended dosage of Valida, PU and acrylic thickener were reduced by 20%.
Hiding Power/Contrast Ratio
The 3D network at the fundamental core of fibrillated cellulose acts as a stabilizer and potentially, could act as physical spacer for particles, improving pigment suspension and resulting in an increased contrast ratio/hiding power of the paint (Figure 2).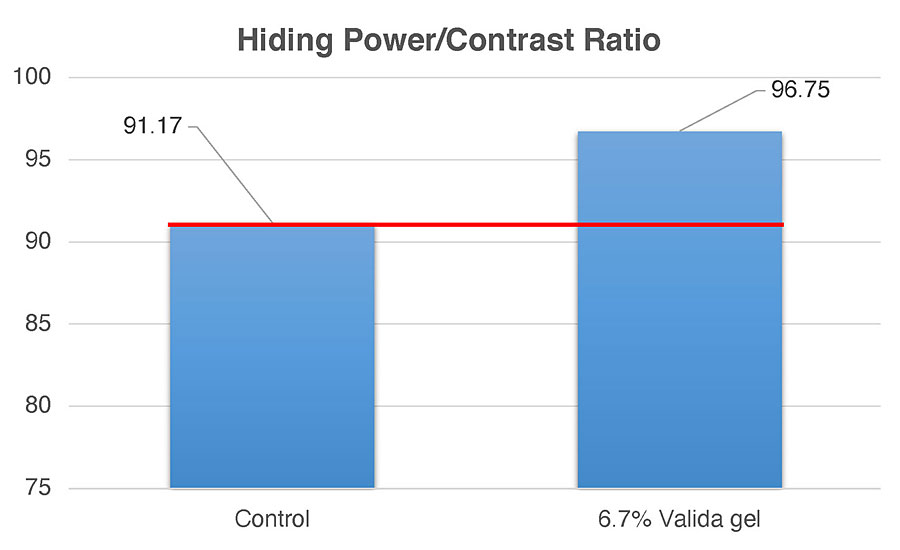 In-Can Stability
The control system showed signs of phase separation, settling and syneresis. Formulations containing fibrillated cellulose showed improved stability and resistance to settling after standstill within 6 months at 40 °C (Figure 3).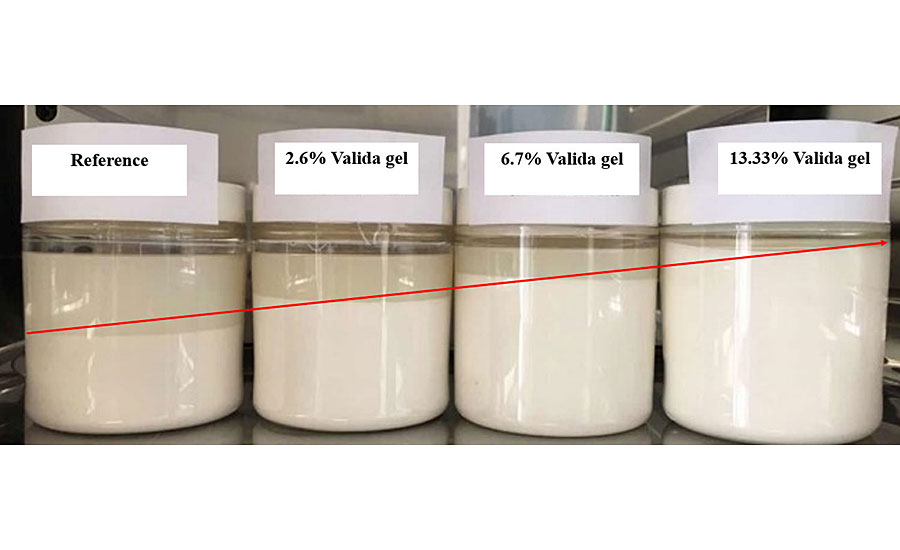 Sag Resistance
Already at low solid content dosage, fibrillated cellulose improved the anti-sagging behavior of the architectural coating system by 17% (Figures 4 and 5).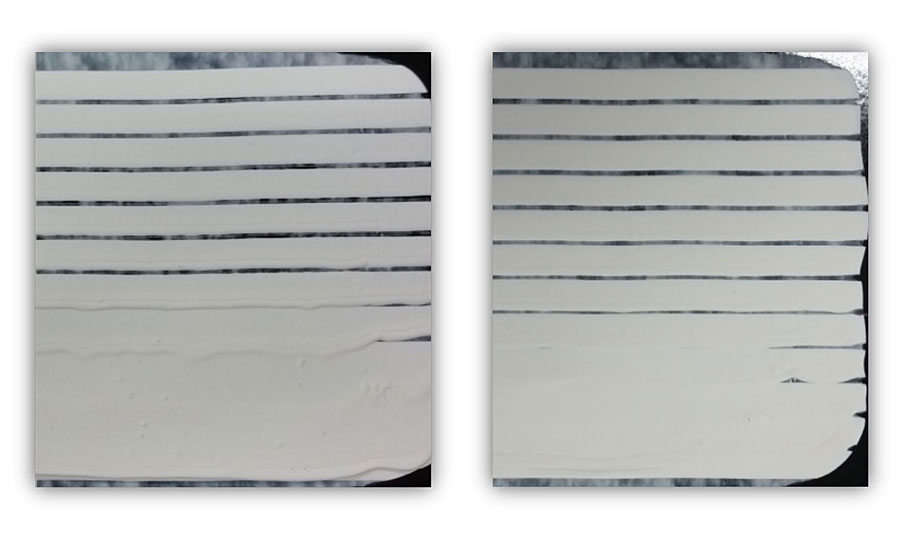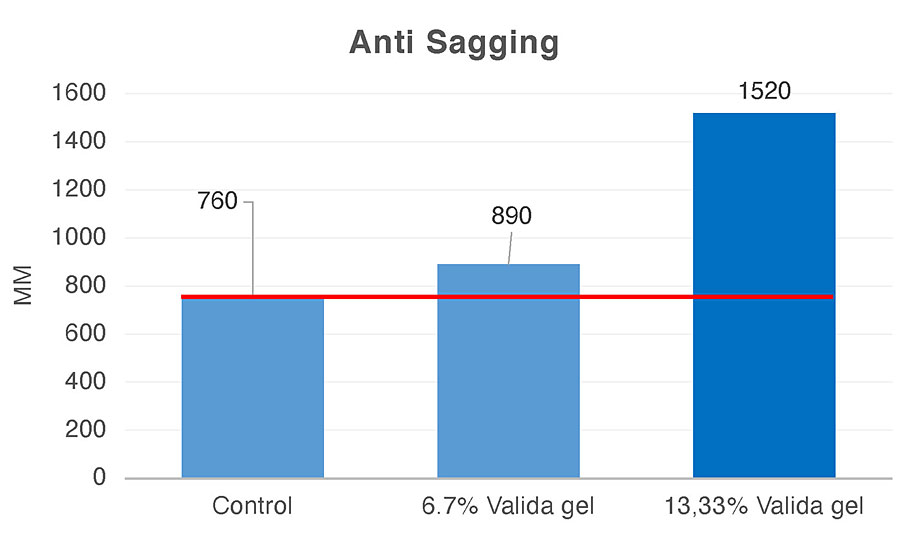 Mud-Cracking Resistance
All the formulations were applied at different thickness layers (wet film thickness on Leneta charts). The Control system showed severe mud cracks at 635 µm. The paints containing fibrillated cellulose did not display this defect (Figures 6 and 7).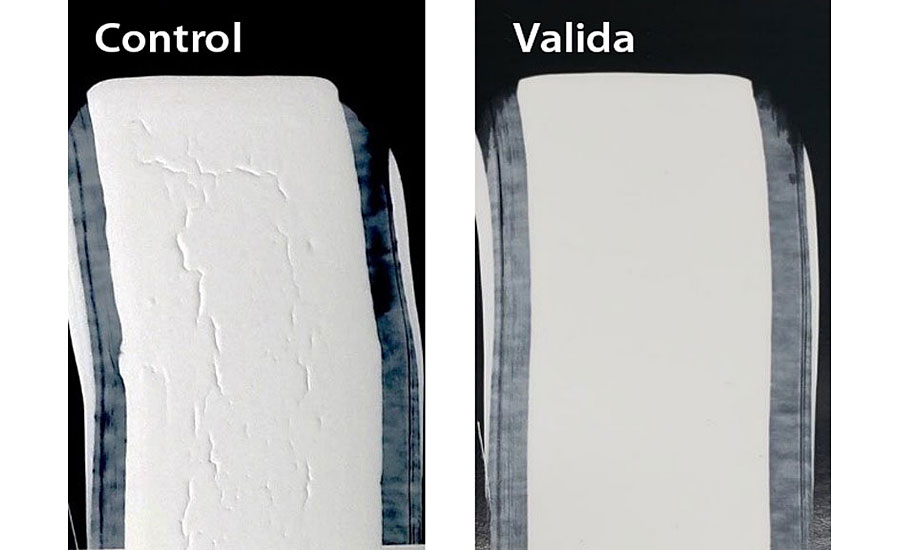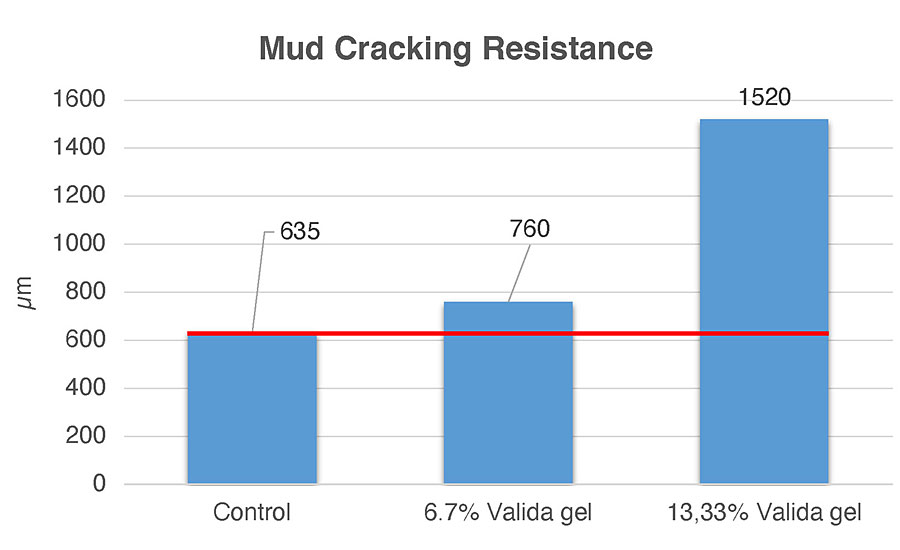 Stain Resistance
Fourteen different common household chemicals were tested according to ASTM D1308. Paints containing fibrillated cellulose, compared to the Control, showed better resistance to household chemicals, especially acidic solutions such as vinegar and a nitric/sulfuric acid solution. Additionally, fibrillated cellulose-based formulations showed better resistance to coffee. Results are shown in Figures 8-9.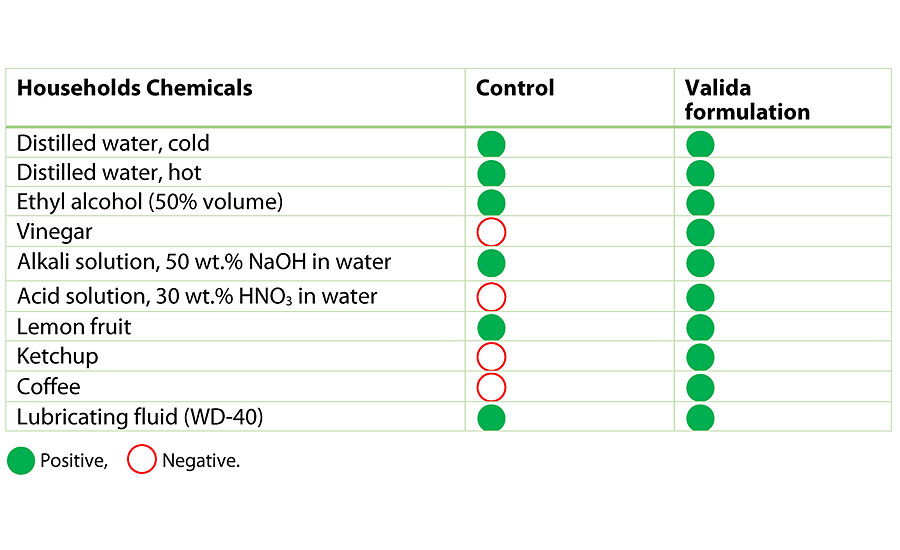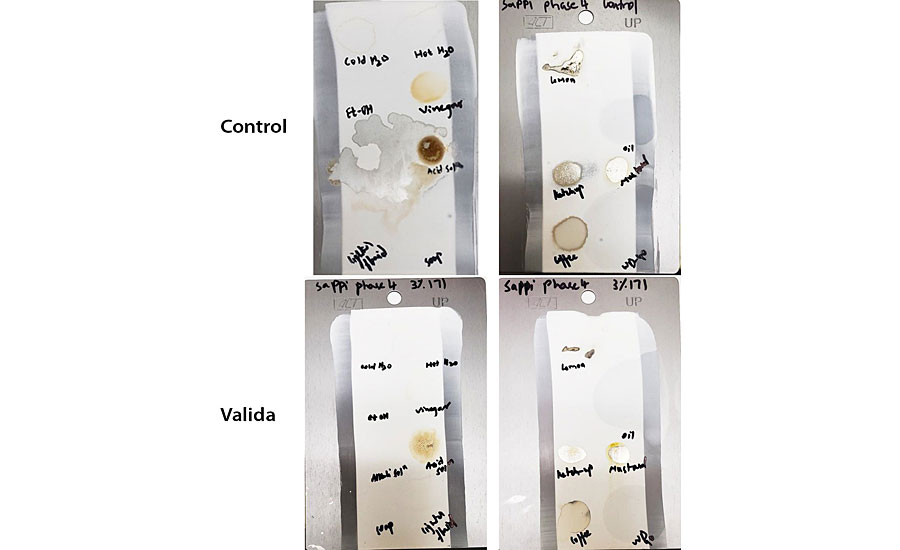 Conclusions
Fibrillated cellulose can effectively improve the rheology of wet paint and provides reinforcement to the dry paint. The high viscosity at rest results in stable formulations and improved in-can stability. Furthermore, the thixotropic nature significantly improves the anti-sagging of the applied layer, preventing dripping.
Paints formulated with fibrillated cellulose show increased contrast ratio/hiding power, complementing the TiO2 and boosting its opacity performance. Moreover, in dry paint, fibrillated cellulose leads to enhanced mud cracking resistance, higher scrub resistance and provides better resistance to household chemicals.
Valida is a sustainable, renewable and VOC-free multi-functional additive, which not only helps in reducing or replacing synthetic additives in paint formulations, but also adds more value to the end products.
For more information, e-mail gabriel.ferrante@sappi.com.