DETROIT – As the North American International Auto Show in Detroit shifted into full gear, the buzz in the industry continued around fuel efficiency, CAFE standards and how car companies are responding to demands for more sustainable vehicles. At a press conference prior to the show's opening, representatives from PPG showed how the company's innovations help improve many parts of a car, from environmentally friendly electrocoat to more compact paint systems.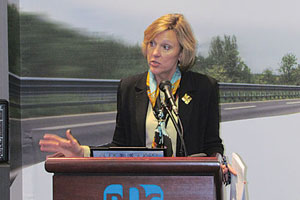 PPG's Cindy Niekamp
Cindy Niekamp, Senior Vice President, Automotive OEM Coatings, kicked off the press conference with a discussion of PPG's commitment to innovation. Niekamp noted that the company has been awarded an R&D 100 Award nine times in the last 14 years and has received an Automotive News PACE Award six times in the last 10 years. And while she presented cars at the Auto Show that feature PPG colors, including the Chevrolet Spark's Techno Pink and the Dodge Dart's Redline, she also pointed out that PPG provides more than color to the automotive industry, helping car companies achieve efficiency, energy conservation and light-weighting.
Tim Knavish, Vice President, Automotive OEM Coatings, introduced Enviro-Prime® 7000 Electrocoat, which offers improved corrosion protection while reducing excess. The new product offers 20-30 percent exterior usage reduction with the same coverage for recessed/interior areas. This optimized material usage helps car companies reduce vehicle weight. It also reduces OEM energy consumption and CO2 and VOC emissions. The product is being used in the United States and the Asia-Pacific region and is slated to be rolled out in Europe and South America in 2012.
Another product showcased by Knavish was the company's new low-bake coating system for plastic parts, such as bumpers and fascia. The new one-component paint system allows manufacturers to eliminate a booth in the paint process, offering a less complex process, lower energy costs and improved appearance.
Rick Zoulek, General Manager, Industrial Coatings USCA, discussed the company's zinc-rich primer with Framecoat®. The primer facilitates OEM designs with reduced vehicle weight. Its superior corrosion resistance allows for thinner gauge steel, which reduces vehicle weight, helping designers meet CAFE mpg requirements.
During his presentation, Knavish gave a glimpse into what's in the R&D pipeline for automotive coatings. New projects include OEM coatings for lightweight materials that provide improved appearance, cycle times and durability. Coatings are being designed for materials such as carbon fiber and fiberglass substrates, aluminum, and high-strength steel. The company is also working on adapting a lightweight 2K adhesive, which was originally designed for wind turbine blades, for automotive lightweight materials.