NEW YORK -- Consumers have looked to Good Housekeeping for trusted advice for more than 125 years, as the magazine has crusaded for food, water and toy safety, evaluated claims, and warned readers about manufacturer deceptions. In 2009, the magazine introduced the Green Good Housekeeping Seal (GGHS), an environmental overlay to the brand's primary Seal, to help consumers choose products that are exercising environmental responsibility on a wide range of criteria.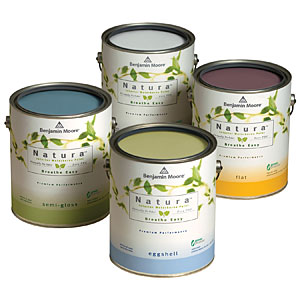 For more than three years, the scientists and engineers at the Good Housekeeping Research Institute, the magazine's state-of-the-art product testing laboratory, have worked with Brown & Wilmanns Environmental, one of the nation's leading green consultants, as well as an Environmental Advisory Board, to develop criteria for the Green Good Housekeeping Seal, and established the Beauty and Personal Care Products, Cleaning Products, Appliances and Electronic Products, and Paper Good Products categories. Today, the magazine announced the first product to earn the Green Good Housekeeping Seal in its Paint and Coatings category, Benjamin Moore Natura in flat, eggshell and semi-gloss finishes.
Benjamin Moore Natura is a water-based line of zero-VOC paints for interior use. The Natura paints are virtually odorless, spatter resistant and have good washability performance, and the colorants that are added at the time of purchase are water-based, providing a full range of colors without adding VOCs. In Good Housekeeping Research Institute's environmental evaluations, the product scored particularly well in reduction of energy use and waste production in the manufacturing process, as well as for the innovative development of a tinted product with zero VOCs and the company's commitment to improving distribution practices.
Before being considered for the GGHS, a product must pass Good Housekeeping Research Institute's evaluations for the primary Good Housekeeping Seal, which evaluates claims and measures efficacy to ensure it performs as promised, and also represents a limited two-year warranty: If the product proves to be defective within two years of purchase, Good Housekeeping will replace the item or refund the consumer. Only then is it reviewed using comprehensive environmental criteria, including ingredient safety and potential toxicity, the reduction of water use in manufacturing, energy efficiency in manufacturing and product use, packaging reduction, and the brand's corporate social responsibility.