Perhaps the most significant aspect of what appeals to consumers when it comes to cars is color. BASF's Automotive Coatings Group is no stranger to this, as it provides a full-breadth of color solutions and color development capabilities that enable automakers to produce cars that capture the attention and appeal of individual car owners worldwide.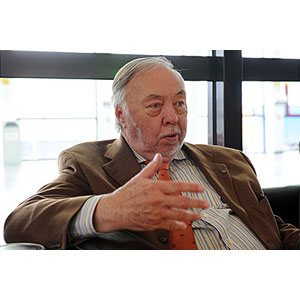 George Gallion
BASF's global team of color experts also conducts in-depth research to forecast the car hues and special-effect trends of the future. From textiles to furniture, and from technology to pop culture, trends in car color are derived from social developments and preferences from regions all over the world.
A Car is Like a Sculpture
George Gallion was a designer at General Motors in Detroit when he accepted the head design position at Opel in Rüsselsheim, Germany, in 1966. For decades, he was responsible for the appearance of new vehicle models at Opel, including the legendary Manta. Gallion recently paid a visit to BASF to talk with BASF color designer Mark Gutjahr about the significance of colors in automotive design and what lies ahead.
Gutjahr: Mr. Gallion, you once said, "When designers dream about their work, then they dream about the future of the automobile." Can you expand on that?
Gallion: Being a designer was my dream job. If you want to be a good car designer, you have to love cars but you also have to have visions without losing sight of feasibility.
Gutjahr: Back in 1969 you designed the Opel Manta. What was the most challenging part of designing this car?
Gallion: We wanted to create a product to compete with the Ford Capri that was launched in the late 1960s and we wanted to do it as quickly as possible. The Manta entered the market at nearly record speed. The fact that it achieved a certain cult status makes me very proud. I was inspired by many things when designing it – fashion and trade shows, of course.
Gallion: And where do you get your ideas for the automotive colors of the future, Mr. Gutjahr?
Gutjahr: It's not much different. We also get ideas at furniture or textile shows, as well as from architecture and fashion. In addition, we analyze changes in society and try to develop a sense of the zeitgeist.
Gallion: So how does a color trend become a trend color?
Gutjahr: It's the car manufacturers who pick up the colors from our trend forecasts and, in most cases, work with us to refine the colors. This means that we also work very closely with and for the carmakers' designers.
Gutjahr: What significance did color have for you as a car designer?
Gallion: It was highly significant. A car is like a sculpture. It lives from color. The finish lends the car its character, and you can work with gloss and effects superbly.
Gutjahr:That's fantastic, I agree. Color also provides the aesthetic appeal of a car. Colors give vehicles their individual touch. And new technical possibilities give us new options to offer carmakers to help differentiate their brands.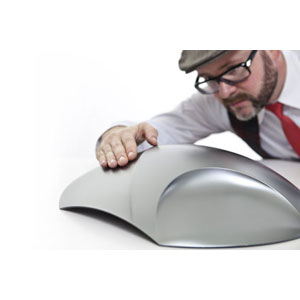 Mark Gutjahr
Gallion: Such as?
Gutjahr: We have high-quality pigments that help set new aesthetic trends and enable distinctive metallic and pearlescent effects. We also offer functional pigments that can be formulated into coatings applied to prevent vehicles from heating up excessively when exposed to sunlight, in spite of their dark color. Other solutions supplied by BASF make surfaces more scratch resistant.
Gallion: We didn't have possibilities like these back then. But it was more colorful. I miss the colorfulness of the 1970s and 1980s. I really wish there was more color on the roads, like a bold orange, or why not lime green?
Gallion: How does your trend forecast look in this respect, Mr. Gutjahr?
Gutjahr: In Europe, we're actually seeing a trend toward more colorfulness. Brown has soared to a share of around 6 percent in a very short time. More color – from beige to green – is becoming more important. It will definitely become more colorful on the roads over time.
Gutjahr: Speaking of colorful, the Opel CD concept car radiated a gloss effect in its Candy Apple Red shade. It was considered to be most beautiful Opel of all time and was the star of the IAA in Frankfurt in 1969. Using special classic car paints from BASF's Glasurit brand, it was recently restored...
Gallion:... and is dazzling in its former gloss. The car is currently on display at BASF's Münster site and when I see it here, I am filled with pride and nostalgia.
Gutjahr: Whether classic cars or new cars, will color continue to regain its importance?
Gallion: I think it will. For instance, look at the Opel Corsa Color Line Edition. It's the brilliant colors that make many customers interested.
Gutjahr:Absolutely. Color conveys the first impression of the car. In addition to the make and the engine power, color is becoming increasingly important for car owners. It provides an identity, which is becoming increasingly important, especially for younger generations of car owners. And depending on the color, it also lends individuality and, as a result, character.