CLEVELAND – The U.S. Government's Strategic Environmental Research and Development Program (SERDP) has selected The Sherwin-Williams Product Finishes Division to lead a $1.4 million research and development project to develop a chemical agent resistant coating (CARC) powder topcoat for use on military vehicles and support equipment.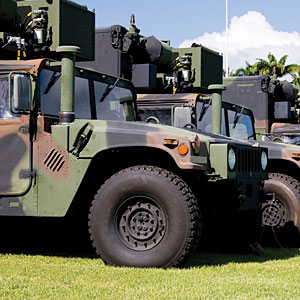 SERDP is a Department of Defense (DoD) environmental research program with the mission of harnessing the latest science and technology to improve DoD's environmental performance, reduce costs, and enhance and sustain mission capabilities.
CARC coatings are used on military vehicles and support equipment to help protect military personnel from chemical agents, such as nerve gas. Currently, only liquid CARC coatings are available from coating suppliers. While liquid coatings are effective in protecting personnel from chemical agents, the use of these coatings emits approximately 5.2 million pounds per year of VOCs into the environment. Powder coatings provide environmental benefits because they emit no VOCs. The goal of the research project is to develop a breakthrough technology for a CARC powder coating that: provides an environmentally-preferable coating option that is able to be baked on the substrate, without the emission of VOCs; offers significant recyclability potential; is compatible with existing pre-treatments and liquid CARC coatings to facilitate the DoD's transition to the new technology; and helps protect the health and safety of personnel who apply or come in contact with the coating.
"We are excited that Sherwin-Williams has been selected to leverage its experience as a global developer, manufacturer and supplier of CARC coatings as we lead a dynamic team of highly-qualified academic, military and industry personnel," said Beth Ann Pearson, Sherwin-Williams Global Product Line Manager- Military Coatings. "Sherwin-Williams is an industry leader in lowering VOC emissions and was the first company to commercialize water-based CARC topcoats. We believe that our experience and overall capabilities were positive factors in being chosen from a strong field of applicants to lead the development of this new technology."
Research and development will be conducted at Sherwin-Williams facilities and laboratories in Chicago, IL, and Grove City, OH.