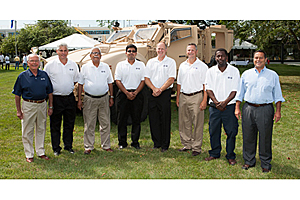 MILWAUKEE, WI – Hentzen Coatings Inc., Milwaukee, WI, announced that the U.S. Army Research Laboratory (ARL), Aberdeen, MD, has issued its first-ever approval of a CARC powder topcoat per MIL-PRF-32348 Type III to Hentzen.
Hentzen has been a leading provider of military coatings for over 30 years, leading the world in liquid and powder CARC coating developments. Starting with lead- and chromate-free primers (MIL-P-53022) and topcoats (MIL-C-46168) in the early 1980s, and continuing with at least seven major CARC first-approvals in the years since, Hentzen has consistently demonstrated its leadership in CARC technology development. Hentzen currently supplies almost two-thirds of these military specification products globally.
John Mort, Hentzen's Sales Manager for defense products, commented, "We are excited to be able to once again offer an industry-first technology in support of the military market. Along with our CARC powder primer, which was approved in 2003, we are pleased to be able to offer a full powder coatings solution to the defense industry."
 Hentzen Coatings Inc. is a leading manufacturer of general industrial, military, and aerospace coatings in North America, with international sales.