SANDEFJORD, Norway - Jotun has opened its powder coatings factory and regional R&D facility in China. Located in Zhangjiangang, Jiangsu Province, the new production facility covers an area of 130,000 square meters with a design that looks towards maximizing efficiencies and reducing energy consumption.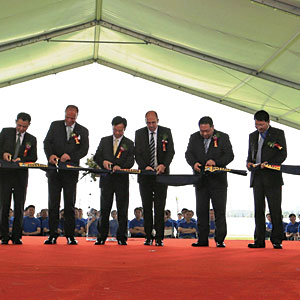 Jotun executives officially open the new powder coatings factory and regional R&D facility.
According to Jotun senior officials, the opening is part of the company's continued thrust to develop world-class products that add more value to its customers while also highlighting Jotun's global expertise, product quality and best-practices standards. The new production facility was built adjacent to an already operational coatings factory in Jiangsu. The facility is equipped with the most modern equipment and machinery to ensure product consistency and energy efficiency. It is in compliance with HSE standards. Products to be developed in the newly opened factory include Fusion Bond Epoxy powder coatings, hybrid epoxy/polyester powder coatings, polyester powder coatings and other specialized products.