SHANGHAI — According to a report by GCiS China Strategic Research, about 463,000 tons of automotive coatings were sold to the China market in 2011, generating $2.8 billion in revenues for suppliers. Through 2016, the market by output is expected to experience an average year-on-year growth rate of seven percent, with repair coatings driving much of the growth. The study takes an in-depth look at the Chinese automotive OEM and automotive repair coatings markets.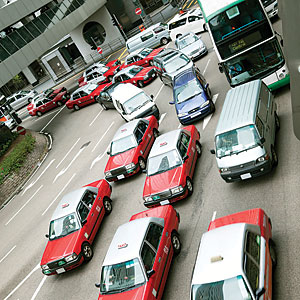 The study found that the Chinese automotive coatings market, particularly the high-end market, is concentrated around a number of major international and domestic suppliers, and on the whole, foreign competitors have been remarkably successful in China. One Chinese automotive coating supplier remarked, "Foreign companies mainly occupy the high end of the market, whereas in the lower end, domestic suppliers have a clear price advantage. The influence of foreign brands in China is growing larger and larger; besides just joint ventures, more and more domestic (end-user) companies are choosing foreign products."
Repair coatings account for approximately 30 percent of sales in the automotive coatings market, generating $1.2 billion from 150,000 tons. Of this, about 30 percent by output is considered high-end repair coating and largely dominated by foreign suppliers. In the low-end market, where profits and margins are too thin for foreign companies to participate, the reverse is true: domestic companies dominate. In the total repair coatings market, foreign companies account for about 38 percent by output but 57 percent by revenues.
Despite the fact that domestic companies produce almost twice as much repair coatings by volume, there is ample opportunity for foreign players, since quality is substantially different. A Chinese automotive coating supplier observed during an interview that, "foreign repair coating suppliers are starting to develop the second- and third-tier city markets."
The OEM automotive coatings market by comparison is twice the size, and growth follows closely with the growth of the automotive market, which experienced explosive growth for more than a decade before slowing in 2011. However, demand for luxury cars, SUVs and sedans remains strong.
The study identified five major sources driving demand in the Chinese automobile coatings market: one, high demand for new automobiles; two, growth of domestic automobile producers; three, development of China's transportation infrastructure; four, maturation of the insurance market; and five, supportive governmental policies.
Although the outlook for automobile coatings in China is generally positive, the study also examines some trends that could slow growth. Some mitigating factors include the maturation of China's car market, high oil prices, and governmental policies designed to reduce auto pollution and traffic. "The government is pushing for more environmental protection, which means more water-based paints. This has forced companies to carry out a kind of technological transformation," observed a domestic automotive coating supplier. Additionally, as application techniques improve, coatings are applied more efficiently, reducing waste and using less coating per vehicle.
China's Automotive Coatings Market is a new research report from GCiS China Strategic Research. The report draws on a three-month, in-depth primary survey of 84 individuals, including major players from the market's supply side, channel players, OEMs and repair shops. It includes value-added qualitative analyses, supported by verified quantitative data, essential for decision makers in need of highly accurate and detailed strategic information on the Chinese market. For further information, e-mail inquiries@gcis.com.cn.