WESEL/SCHKOPAU, Germany - Dr. Matthias L. Wolfgruber, Chairman of the Management Board of ALTANA AG, and Frank Bannert, District Administrator of the Saalekreis region, visited BYK Kometra in Schkopau, Germany, for the opening ceremony of the new production building. Wolfgruber and Bannert, along with other invited guests, viewed the ultramodern mixer line for the production of plastic modifiers and, together with Dr. Uwe Zakrzewski and Klaus Dieter Besser, brought the first of six planned mixing reactors into service.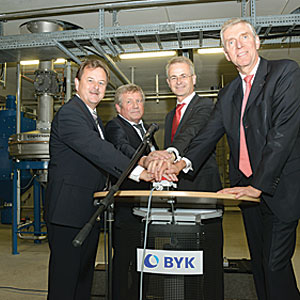 Based in the federal state of Saxony-Anhalt, BYK Kometra produces special surface-active copolymers, which are used in applications such as adhesion promoters and impact modifiers. These plastic modifiers create the conditions for processing normally incompatible materials and are used in a large number of technical applications, such as in the automotive industry.
The new production building, which cost around EUR 7 million, will accommodate the ever-increasing global demand for high-performance plastic modifiers.