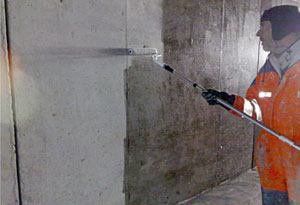 MCI® Wall Defense may be applied by spray, brush, or roller. A film thickness of 300-375 microns is recommended. The coating dries to touch in 2 hours
Even though it can be seen as a form of street art, for many communities graffiti vandalism is a huge problem, causing significant visual and financial damage as well as time-consuming efforts of removal.
As a response to this, Cortec® launched a new anti-graffiti application - MCI® Wall Defense, a clear, silicone elastomer-based anti-graffiti coating that can be applied to exterior concrete, masonry or metal surfaces. MCI Wall Defense is designed to be used over various types of surfaces that are coated or uncoated. Any tagging can be immediately removed by rinsing off with a cold water pressure cleaning.
This permanent coating does not need to be reapplied after graffiti removal like alternative sacrificial systems. Typical applications include: DOT, schools and universities, port authorities, transit authorities, transportation – railcars, parking decks, urban commercial properties and many more.
MCI Wall Defense can be recoated over itself, while other coatings, tagging, or graffiti will not stick. Its resistance starts to work 24 hours after coating. Substrates protectedare concrete, masonry, metal and wood.
Features
Excellent exterior durability
Breathable
Repellent type
VOC Compliant
High UV Resistance
Excellent gloss retention
Elastomeric properties
Hydrophobicity