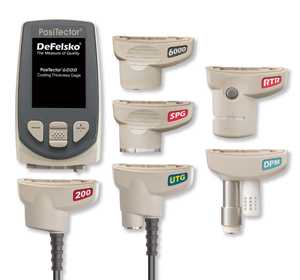 DeFelsko Corp. is announcing a breakthrough in coating inspection. The new PosiTector gage body accepts all coating thickness (6000), environmental (DPM), surface profile (SPG) and ultrasonic wall thickness (UTG) probes.
This innovation allows quick and easy conversion from a coating thickness gage to a surface profile gage, dew point meter or ultrasonic wall thickness gage with a simple probe change. Each probe retains its own unique calibration information allowing for full probe interchangeability. Long-form certificates of calibration are included with each probe.
Available as either standard or advanced models, each unit features built-in memory, onscreen statistics and USB mass storage. Advanced models also include high-contrast reversible color LCD, onscreen batch annotation, onscreen help, real-time graphing, picture prompting and more.
Exciting changes have been made to memory storage and downloading capabilities. PosiTector.net will allow you to upload stored measurements, generate detailed and customizable reports, and share your results with your colleagues via a secure internet connection. Alternatively, stored readings and graphs can be accessed using universal PC/Mac web browsers or file explorers. No software is required. Download and transfer options include WiFi, USB, Bluetooth, PosiSoft software and PosiTector.net cloud-based memory storage.
Visit Booth 2141 for assistance selecting the optimal instrument for your application.