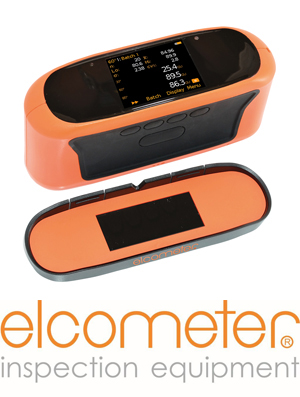 The new Elcometer 480 single-, dual- and triple-angle glossmeters set new standards in the field of hand-held gloss measurement. The Elcometer 480 includes menu-driven color display, robust and ergonomic design, statistics and graphing, and USB & Bluetooth® to Android and IPhone mobile devices.
Key features include:
•Measure gloss, haze and % reflectance in a single unit.
•Traceable to BAM Standards
•Up to 3 times faster than any other hand-held glossmeter in Standard Mode and 10 times faster in Scan Mode – providing real time, accurate gloss values over the entire surface area.
•Stores up to 40,000 readings in 2,000 alpha-numeric batches or connect your gauge via USB or Bluetooth®.
•Manually entered or automatically created test limits, when combined with the gauges's Differential Mode, provides users with instant Pass/Fail and variation from approved gloss values.
•Test limits can be set up on one gauge and seamlessly transferred via ElcoMaster™ PC software to any other Elcometer 480 either on your production line or your suppliers – ensuring uniform quality control inspection.
Each gauge is compatible with the ElcoMaster™ data management software, allowing gloss measurements to be combined with other key measurement parameters such as coating thickness, adhesion, climate and oven temperature profile data.
 For more information on the Elcometer 480 range of glossmeters, please call 1-800-521-0635 or visit www.elcometer480.com or www.elcometerusa.com.