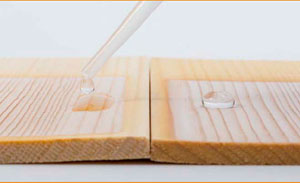 WACKER is premiering a silicone resin emulsion for wood protection coatings at Stand 1-510. Its superior impregnating effect enables long-term protection against moisture. Marketed as SILRES® WH, the product is so flexible that it even bonds to wood surfaces and thus retains the hydrophobic properties typical for silicones for many years. Long-term tests with impregnated wood show that the moisture- and damp-resistant properties of SILRES WH are fully intact after 15 years. Silicone resin additives, which have been successfully used on mineral substrates for decades, can now provide wood with lasting outdoor protection.
The 50-percent emulsion is based on a functional silicone resin and is suitable as a wood impregnant or as an additive for formulating film-forming, pigmented wood stains. Due to its hydrophobic properties, SILRES WH significantly reduces the water uptake of wood and, as a result, its moisture content. Thus, wood is better protected against typical damage caused, for example, by fungi, mold and insects or by cracks due to shrinkage and swelling. It is possible to reduce the use of biocides in formulations significantly. In wood stains and coatings, even low amounts of SILRES WH provide a long-lasting hydrophobic effect.
The resin produces a visible beading effect on wood surfaces. By providing wood with long-term protection, the product greatly reduces the frequency of renovating and recoating compared with conventional wood preservatives. Best results are achieved when mixing the additive with water in a 1:4 to 1:9 ratio. In water-based stains, a concentration of up to three percent SILRES WH is sufficient. Watch a video clip on SILRES WH at www.wacker.com/ecs-clips.
Less Dirt and More Color
A further ECS 2015 highlight is the new PRIMIS® line, comprising binders and additives for advanced, high-value paints and architectural coatings. The new line combines organic and mineral components to deliver a binder with a completely novel property profile. The elastic, acrylic ester-based, organic component performs a binder's traditional role, offering strong adhesion and cohesion, good mechanical properties and enhanced processability. The solid mineral components, on the other hand, have outstanding protective properties and ensure long-lasting, bright colors and reduced dirt pick-up.
PRIMIS AF 1000 offers improved scratch and abrasion resistance, optimized thermal conductivity and water-vapor permeability, and simpler and more even processing. Additionally, the dispersion is characterized by excellent film formation, even at low outdoor temperatures, and by its elasticity, while its surface exhibits maximum blocking resistance. The mineral components also improve fire performance. The dispersion's good pigment compatibility and color consistency keep exterior paints bright for longer – extending renovation cycles and, in turn, positively impacting overall costs.
The new PRIMIS AF 1000 dispersion is ideal for challenging exterior applications and expands WACKER's extensive portfolio designed for plasters and exterior coatings. Watch a video clip on PRIMIS AF 1000 at www.wacker.com/ecs-clips.
Silane-Terminated Polymers for High-Performance Adhesives
GENIOSIL® XT 50 and GENIOSIL XT 55 further complement WACKER's portfolio of silane-curing binders. Both grades are based on silane-modified polyethers with a high density of crosslinkable silyl groups that cure to a tight-mesh network that is very strong but elastic. Adhesive layers and sealing membranes formulated with GENIOSIL XT possess high strength. However, they are also highly ductile and will tear only when subjected to strong forces. Damaged material exhibits no tendency to tear propagation.
GENIOSIL XT thus represents the first technically equivalent alternative to conventional polyurethane-based systems. By virtue of their properties, the new polymers are ideal for applications that repeatedly subject them to dynamic forces, such as vibrations in vehicles and washing machines. Up to now, applications of this kind were essentially the domain of isocyanate-curing polymer systems.
Furthermore, GENIOSIL XT's low viscosity makes it easy to process at low temperatures. The binders can be formulated with and without plasticizers or fillers, and blends can be produced in any color. The compounds can be formulated for adhesion to many conventional substrates, such as metals, glass, cement, glazed tiles, wood, polycarbonate, and polymethyl methacrylate. Priming is unnecessary. As the polymers are also miscible with all other GENIOSIL silane-terminated polyethers, compounders can vary the properties over a wide range of formulations. Typical end products are industrial adhesives, liquid waterproofing systems, and coatings.
GENIOSIL XT 50 for Liquid Waterproofing Systems
GENIOSIL XT 50 is an alpha-silane-terminated polymer and lends itself to the production of tin-free adhesives and crack-bridging liquid waterproofing systems. These can possess tensile strengths of up to 9 N/mm2 and tear strengths of up to 50 N/mm (measured in accordance with ASTM D 624 B-91). What is more, GENIOSIL XT 50 can be formulated without fillers to make transparent, tin-free end products that have good mechanical properties.
GENIOSIL XT 55 is a gamma-silane-terminated polyether. It can yield shear strengths of over 5 N/mm2 combined with elongation at break of around 700 percent, the exact values depending on the formulation. Such formulations are also notable for their high tear strength and high elastic recovery. The polymer is therefore ideal for the production of high strength, yet extremely flexible industrial adhesives of the kind used, for example, in direct glazing of windshields inthe automotive industry. Watch a video clip on GENIOSIL XT at www.wacker.com/ecs-clips.