In today's manufacturing environment UV-curable coatings are king in regard to performance and productivity. However, the industry is facing new hurdles bringing innovations to the market. While UV-curable coatings started off with many challenges, they have been embraced by manufacturers of wood products, and the printing and packaging industry.
Today we face a new regulatory environment as a result of the Frank R. Lautenberg Chemical Safety Act (CSA), which went into effect in June of 2016. The new law amends the Toxic Substances Control Act (TSCA) with many changes that include risk-based assessments, public transparency and cost structure for funding activities under the new law. With the new law in place how does this affect the development and use of UV-curable coatings, inks, etc.? 
First let's talk about developing a new chemical for use in a UV-curable coating. Without going into details, a company allocates time, resources and funding to develop a new chemical to be used as a resin to formulate a UV-curable material. Potential improvements vary depending on what the application and requirements are. One trend in development is the need for low VOCs and a sustainable or "green" attribute. Once the development is complete, information is put together and submitted to the EPA for review. It is unlikely the submission goes without some questions and answers, but in the end the EPA will provide you an assessment with a few options to move forward. The best option is the approval to commercialize without restrictions. However, it is likely you might only be able to commercialize with restrictions. A significant new use rule (SNUR) would be assigned to the chemical with details about the SNUR spelled out by the EPA. For the players in the value chain to make this new material successful they will need to understand the SNUR and any requirements associated with it. Many, if not all, raw material suppliers have encountered this situation by now. The challenge now becomes how to convey the value of a new product while also convincing the market that the value is greater than the SNUR assigned by the EPA. Figure 1 is a picture of the current situation.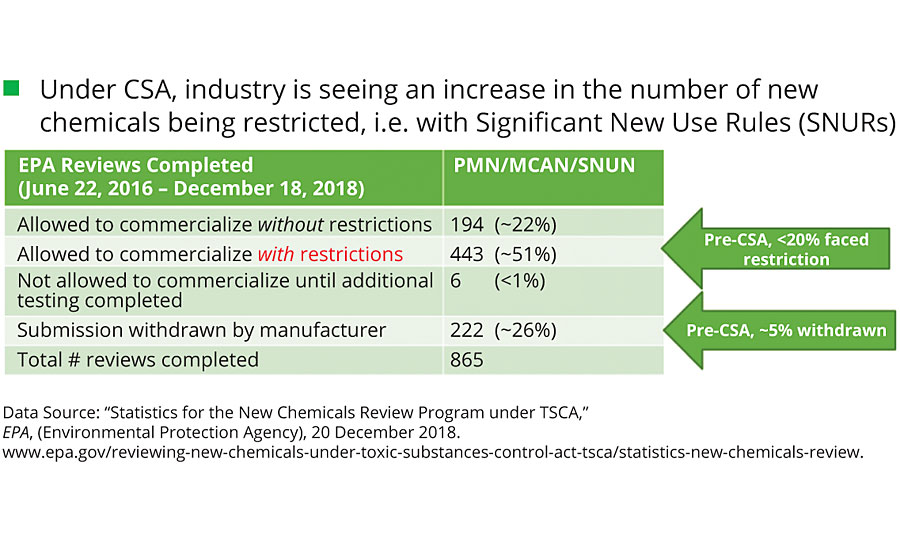 As a new material is presented to the users, the players in the value chain must communicate the SNUR and associated requirements. This is where the new regulatory environment affects the use of UV-curable materials. Depending on the severity of the SNUR or how impactful it is, companies must communicate and help manage the process of bringing innovation to the market. This becomes a very difficult situation. A manufacturer using an existing UV coating may ask, "Why should I look at this new material that is a stepwise innovation when I must implement processes, procedures or documentation to comply with the associated SNUR?" Often the easy route is to just continue with existing materials and forgo innovation and SNURs. As an industry we can coach, guide, communicate and help the end users of coatings put innovation in front of the consumers. A SNUR is not necessarily a bad thing. We just need to understand how to work with them. It will take time and resources, but the raw material suppliers (developers) can start at the top and work along the value chain coaching and guiding coatings end users. Often this means identifying existing processes, procedures and documentation systems that could be used to comply with a SNUR. Figure 2 gives a brief overview of a SNUR impact.
Looking specifically at UV-curable materials, they are developed for various applications in both 100% solids and waterborne formulations. Formulations could be for fillers, adhesives, coatings, inks, etc. Application is achieved by many methods such as roll, vacuum, spray and even 3D print, but one thing remains common, the resin in the coating is functionalized to be cured by free radical polymerization with UV light and a photoinitiator. Due to the functionality of photoinitiators, additives and monomers/oligomers, developers and users of UV-curable coatings must take into consideration how these materials can be used and disposed of safely. An area of concern with the EPA is potential release into the environment, particularly aquatic release. This is an area of opportunity for industry to work with end users to build robust procedures and documentation to manage a potential SNUR. Another area of concern specifically with waterborne UV coatings for spray applications is inhalation and lung toxicity. Even though waterborne UV coatings are applied in automated systems or spray booths, the design and function of the filtering media and exhaust system will come into question regarding fugitive release that could result in inhalation exposure. These areas of concern are great starting points for proactively addressing questions and managing potential SNURs on new innovative products.
Conclusion
Overall the regulatory landscape has changed. The goal is to modernize with health and safety in mind. At BASF we strive to develop innovative products that focus on end-user needs while driving sustainability, safety, health and performance. We understand the impact on innovation these regulatory changes have and focus on customers' success. We can help understand the changes and provide guidance toward managing compliance to restrictions. Ultimately BASF is creating chemistry in UV technology, providing customers with solutions that deliver higher performance and manufacturing efficiency, while meeting sustainability, health and safety initiatives.
To review statistics on EPA chemical registrations please view their website:
https://www.epa.gov/reviewing-new-chemicals-under-toxic-substances-control-act-tsca/statistics-new-chemicals-review