Dr. Crystal Morrison launched her leadership consulting firm, EverRise, last year to transform technical organizations. Recently, she also joined the ChemQuest Group, Inc. as a Director. She brings years of experience in leadership roles in academia, national labs and industry. PCI recently spoke with Dr. Morrison about her background, technology trends in the coatings industry, the role of innovation and leadership.
PCI: You have a very interesting background. Tell me more about your education.
Morrison: Sure thing. Thanks. I was born and raised in Arkansas where my love of science, particularly chemistry, led me to join the first class at the Arkansas School for Mathematics and Sciences. From there, I pursued a degree in Chemistry at the University of Missouri – Rolla (now Missouri University of Science and Technology), with a concentration in polymers and coatings technology. I studied conducting polymers at the University of Michigan and received my Ph.D. in Macromolecular Science and Engineering. Following graduate school, I was honored to receive the Harold Agnew National Security Postdoctoral Fellowship at Los Alamos National Lab (LANL).
PCI: You have experience at a national lab, small business and global corporation. Now you're an entrepreneur and have strategic partnerships with other companies. Tell me more about what you're currently doing and why.
Morrison: My journey is definitely unique! I deeply appreciate my experience with vastly different work environments, cultures and industries. At LANL, I learned from and closely collaborated with some of the most brilliant scientists and engineers in the world on projects ranging from carbon nanotube separations and characterization to aging behavior of polymer elastomers, foams and composites. Eventually, I decided to broaden my experience beyond the national lab environment and took a big leap. I moved across the country to Pittsburgh, taking a position at RJ Lee Group, which specializes in materials characterization, failure analysis and litigation support. I led technical and business development activities related to polymer materials and built project teams that supported a wide range of industries from biopharma and medical devices to oil and gas and additive manufacturing.
I continued my career growth at PPG and led global research for industrial coatings, later adding packaging coatings. The R&D portfolio and strategy my teams delivered created coatings technology for 11 unique market segments with over $2.5 billion in annual sales. As part of senior leadership at PPG, I was empowered to help shape and effect change in global markets and corporate strategy. I thrived at the intersection of business, leadership and innovation.
The commonality with my past positions is that I've always worked with polymer materials.
PCI: Your connection with the paint and coatings industry goes back further than your experience with PPG. Tell me more about your early work.
Morrison: Absolutely. I mentioned earlier that I studied chemistry as an undergrad at the University of Missouri – Rolla (now Missouri University of Science and Technology). The school is recognized in the industry for polymers and coatings research and has been offering paint short courses for decades. I was fortunate to take polymer and coatings courses from Dr. James Stoffer, professor emeritus of chemistry. Dr. Stoffer is a legend in the polymers industry; his pioneering research led to anti-corrosion coatings on aluminum for the military and aerospace industry. Outside of Rolla, my first internship was with Lilly Coatings in High Point, North Carolina. I worked in the analytical and formulation lab for the wood coatings unit. I had the opportunity to work on analytical methods for characterizing raw materials and coatings formulations; support color matching and color design service; and executing application studies with spray, roll coat and UV-cure equipment. (Coming full-circle, trials are underway at ChemQuest's Technology Institute – situated less than 100 miles from High Point – to address an ongoing need among wood products manufacturers for achieving superior finishes for cabinet, furniture and millwork by optimizing formulations and curing methods using microwave powered and UV LED wide-format curing systems.)  My internship at Lilly was an edifying experience that helped me refine my educational path. Lilly was acquired by Valspar in 2000, and Axalta bought Valspar's wood coatings unit in 2017.
PCI: What do you think are some of the most exciting technology trends in the paint and coatings industry?
Morrison: I think some of the most exciting trends are around alternatives for conventional solventborne coatings. Those alternatives include ultra-high solids solventborne systems; waterborne systems with improved application stability and performance; powder coatings with enhanced appearance and lower cure temperature; and radiation-cure coatings using UV and EB. Advances in powder resins and lower temperature cure as well as UV LED development are an entrée to unprecedented growth for both technologies, including in areas where conventional solventborne coatings dominate.
Current trends and market dynamics are very important and exciting. However, the increasing pace of technical advances requires us to think beyond the present. For me, exploring "what if…?" questions leads to transformational ideas. Asking "what if…" pushes us beyond current trends and preconceived boundaries and then out of our comfort zones.
I'm fascinated by adding functional dimension to coatings. Not only do you want to protect and aesthetically enhance a surface, you also want to add active functionality. For example, what if you could: 
Create touch-enabled surfaces connected to an Internet of Things (IoT) ecosystem? 
Capture and transfer energy throughout a coating? 
Modulate properties on demand in response to changing environments?
Create large-area spatial networks for sensing and signaling? 
In the above cases, the coating has an active role with the substrate and delivers high-level functionality over a wide surface area.
An area of research that I believe has tremendous potential is the intersection of materials by design, formulation, application science and interfacial behavior. I believe we're all guilty of restricting our thinking to the appearance or features of the paint or coating. Does it meet the requirements, and will markets readily adopt it?  If not, we'll just turn a knob in the formulation and/or try a new resin. That Edisonian approach may have worked in the past and may continue to work in a commoditized market. However, that approach is simply not enough to differentiate in a competitive market that will continue to evolve at increasing speeds. We need to understand intra and intermolecular behavior and structure-property relationships that drive behavior and performance. We need to understand the fundamentals of appearance as well as the changing interfacial behavior between surface and coating during application and service life, which, among other things, can be affected by varying atmospheric conditions. Quantifying application and curing dynamics over a wide range of climactic and factory-specific conditions across diverse geographic regions may mitigate against application failures.
PCI: What is the role of innovation in the paint and coatings industry?
Morrison: Great question. To start, I struggle with the overuse of "innovation." We like to smear "innovation" on everything. It's like peanut butter. We can smear peanut butter on celery to make it taste better, albeit celery is still a tasteless, fibrous vegetable stalk. Every year, we give out innovation awards and sponsor innovation forums. We create innovation centers and weave innovation into all of our glossy marketing materials and shareholder statements. We must ask ourselves, though, are we truly innovating or merely staging theater? 
To answer your question requires focusing on results-based, true innovation. True innovation is the process of, and product of, transforming an idea into intrinsic value. Through case studies and credible market data, true innovation is verifiably important to paint and coatings, having a central role in a company's growth equation. Equally important, innovation must be genuinely cultivated, not turned on an off because it's the current buzz word.
We often think of innovation as applying only to the technical space or new products, yet the industry is ripe with opportunity to innovate beyond the coating itself. There are opportunities to create and uncover value in sales, margin, throughput and cost, leveraging new business models in emerging markets, commercial and operational efficiencies including new distributed manufacturing methods, supply chain optimization, application methods and equipment and coating services.
PCI: What do you mean by true innovation?
Morrison: Again, true innovation is the process, and product of, transforming an idea into something of intrinsic value. When true innovation is woven into an organization's spirit and fabric, the organization can remain differentiated from competitors and constantly evolve and grow. You might be good at innovation theater, but in the absence of true innovation, you won't create any value. You won't differentiate. You won't grow.
PCI: What is the connection between innovation, leadership and sustainable growth?
Morrison: This connection is one of my favorite topics. I've said, and practiced, for a long time that "innovation is an act of leadership, not just creativity." As leaders, you must create an environment that allows and supports true innovation. You must reward the process of transforming new ideas. You must promote "what if…" rather than "we've always done it that way." Bias and arbitrary boundaries should be avoided. Consider the word INNOVATION. There are two I's and no U. As a leader, stop pointing to those around you and saying, "YOU need to just go innovate."  Instead ask yourself, "What do I need to do to create an environment that fosters innovation?" and "What do I need to do to become an empowering leader that inspires innovative thought and collaboration?" You must look at yourself as a leader first before scrutinizing the performance of your team. It's one thing to bring together exceptional scientists and engineers, whom you task to go innovate. It's another thing entirely to allow that to happen. On the growth side, it's rather simple. Unless you turn new ideas into value, you won't grow.
PCI You're obviously really passionate about innovation and leadership. Did you ever think you would leave science and technical leadership?  
Morrison: No. I always wanted to be a scientist. I love science, technology and engineering. I love seeing teams of diverse people and expertise come together to solve a huge challenge and deliver a profitable solution that exceeds all expectations. I'm a nerd and I'm OK with that. As a kid growing up in rural Arkansas, I burned the varnish off my mom's kitchen table working on my science fair project. At that time, I never dreamed I'd go to graduate school at the University of Michigan and hold a Ph.D. degree. In my Ph.D. program, I never dreamed that I'd end up at Los Alamos National Lab and become an expert in materials for nuclear weapons systems. At Los Alamos, I certainly never thought I'd move to Pittsburgh and lead research for a global corporation. Landing in Pittsburgh, I never thought I'd leave a successful, lucrative career to start my own firm. Our journeys are fascinating, right? All the knowledge we gain through education combined with our workplace experiences culminates into wisdom that can benefit others.
One of the things that I've learned along the way is the role of leadership. No matter where I've worked, whether it be academia, a national lab, small company or huge corporation, the single biggest (and unchanging) hurdle in moving brilliant ideas and promising technology to reality has always been people. Inspiring and motivating people is critical. Precisely, how do we lead and empower people for days, months, years and decades? Simply put, my training and diverse experience allows me to show organizations how to clear hurdles that prevent moving amazing ideas and technology to reality. I help technical professionals and organizations to uncover and unleash their hidden potential to achieve growth and long-term sustainability. When you consider what's at stake (i.e., true innovation), the breadth and scale of overcoming barriers, solving endemic R&D failures by leading would-be innovators to value creation across global markets, I don't think I've left science and technical leadership.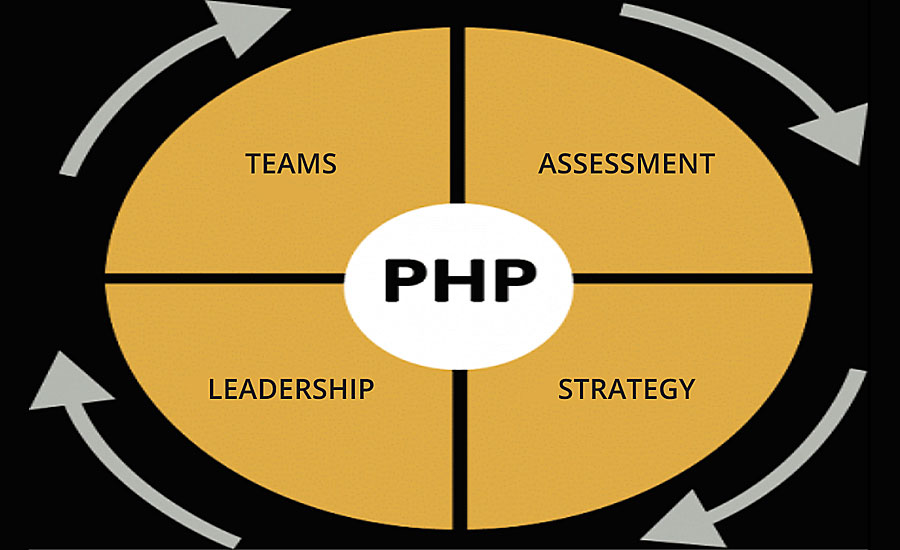 PCI: In 2018, you started your own firm, EverRise, and recently joined ChemQuest. Tell me more about those ventures and plans for 2019.
Morrison: Absolutely. I started EverRise a year ago to help technical professionals and organizations build stronger leaders. I deliver coaching, workshops and mastermind groups for emerging leaders to executives. I've gotten off to a great start and will continue to grow coaching services for senior R&D leaders and online development options. I'm also a Director with the ChemQuest Group, Inc., a global business strategy firm with expertise in specialty chemicals. ChemQuest's four service pillars include Business Strategy; Mergers, Acquisitions or Divestitures; Commercial & Operational Efficiencies; as well as Technology Planning & Development through the ChemQuest Technology Institute. I knew of ChemQuest's reputation for excellence well before I joined; my ChemQuest colleagues know and serve this industry exceedingly well. I look forward to collaborating with them to deliver multi-faceted, results-based innovation and leadership development to clients. We have plans to build leadership assessment and development into the four service pillars and offer specialized workshops. Stay tuned!