On Dec. 1, 2017, Holger Hüppeler took over the management of the Inorganic Pigments (IPG) business unit at the specialty chemicals company LANXESS. Prior to this transition, he had been Head of the company's Global Procurement & Logistics group function. PCI recently asked Hüppeler some questions about his first 18 months in his new role, trends in the pigments market and the future direction of the business unit.
PCI: What have you learned since becoming Head of the IPG business unit? Did anything surprise you?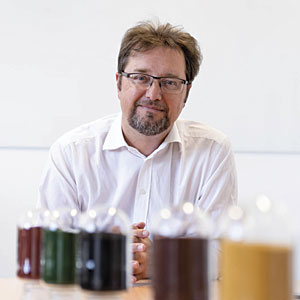 Hüppeler: Last year was very intense! My business unit encompasses production sites on five continents. The first six months of the year involved a huge amount of travel, basically a round-the-world trip, to get to know all the plants, my employees and our customers.
I'll admit that the complexity of the pigment business took me by surprise. At our main site in the city of Krefeld-Uerdingen in Germany, iron oxide pigments have been produced for more than 90 years for various industrial applications. The portfolio covers around 1,000 products with different application-specific properties. This meant that there was, and still is, a lot for me to learn.
This is particularly true when it comes to use in paints and coatings. I learned that iron oxide pigments do more than just impart color, they also – depending on the manufacturing process and the degree of milling – influence properties like viscosity and dispersibility in the end application. So, for example, it's possible to have two pigments that appear the same in terms of color, but influence the quality of the finished product in very different ways.
PCI: What in your professional background helped prepare you for your new role?
Hüppeler: I am familiar with both sides of the customer-supplier relationship – as head of the Procurement & Logistics department at LANXESS for many years, and from my previous roles in sales and marketing.
From my own experience, I know that long-term planning security in raw materials supply is an essential basic requirement for the economic success of manufacturing companies. In my opinion, raw material bottlenecks, as we have seen recently in the paint and coatings industry due to the high demand for micronized iron oxide pigments, can be more effectively offset by close partnerships between customers and suppliers.
I am therefore in favor of the highest possible degree of customer-supplier coordination. This includes the willingness to create a joint "demand forecast" to facilitate the best possible product availability in the long term. Additionally, cooperation efficiencies, for example in the form of standard order processing, can be realized through continuous dialogue.
PCI: What is your assessment of the demand trend for iron oxide pigments?
Hüppeler: Paints and coatings are the second largest application area for synthetic iron oxide pigments, accounting for approximately 25 percent of total global consumption – and this is a growing trend. The coming year is expected to see a continuation of the rising demand for iron oxide pigments in coatings applications on the level of growth as the global gross domestic product.
Most notably, the demand for high-quality pigments will increase due to the ongoing consolidation of the paint and coatings industry. The number of small and medium-sized manufacturers is steadily decreasing. At the same time, leading manufacturers are relocating their production centers and using their global production network to supply customers around the world. Consequently, globally uniform standards need to be adhered to and, of course, proven consistent pigment quality plays an important role in this.
Another key driver is the trend towards differentiation. This is happening because consumers want to individually design their own living space through their choice of colors. As a result, the number of pigment pastes has increased significantly. Many paint and coatings manufacturers no longer produce these themselves but purchase them instead from external paste manufacturers, which places high demands on the pigment quality, e.g. in terms of milling and color consistency. In turn, this requires the pigment manufacturer to have a high level of expertise and reliable production standards.
PCI: What are your plans for the future direction of the business?
Hüppeler: The global iron oxide production landscape has drastically changed over the past 20 years. Today, it is well known that more than 50 percent of all synthetically produced iron oxide pigments come from China. LANXESS, on the other hand, produces its iron oxides around the world. Our proximity to local markets and to our customers from the paint and coatings industry is part of our business strategy. This is why the continuous optimization of our global production network is one of my main objectives: we want to grow with our customers as a reliable partner.
After the successful commissioning of our synthesis site in Ningbo, we are now focusing our efforts on our production plants in the western regions, especially in Germany and Brazil. In 2018, we already undertook specific measures to increase the production capacities for micronized yellow and red pigments by a total of around 10,000 metric tons through targeted investments. Thus, LANXESS was able to compensate for the tightness of the market, which took place particularly in Europe and the U.S., and strengthen its market position.
In addition, we are also focusing on technical customer service, which is an important differentiation factor for LANXESS' Inorganic Pigments business unit. In the U.S., we have completed the modernization of our labs in the technical application center in Burgettstown, Pennsylvania. Here, our pigment experts deal with customer requests regarding the use of our pigments in customer-specific systems under real conditions and, among other things, develop formulating recipe recommendations.
PCI: What are the major developments that are currently impacting the iron oxide industry?
Hüppeler: Significant market-relevant developments with a global impact are particularly affecting pigment production in China. Here we are seeing the specific impact of protectionist trends in global trade on the paint and coatings industry; tariffs on iron oxide pigment imports from China to the U.S. have recently been raised significantly. The long-term consequences of this remain to be seen.
Furthermore, the strict implementation of environmental regulations in China, especially in the densely populated coastal regions, is having a visible effect. Here, the number of iron oxide manufacturers is steadily decreasing. The production is relocating inland, while just a few companies – including LANXESS – remain allowed to produce in the export-preferential east coast region because of their compliance with high environmental standards.
However, the emission problem of the Chinese iron oxide industry has not been fundamentally solved. In my opinion, it is just a matter of time until the government's environmental regulations take effect inland as well. The economic dimension of sustainability is therefore becoming evident in the Chinese pigment industry as well. That is why I was particularly pleased when our production site in Ningbo was awarded the "National Green Plant" certificate by the Chinese government. In this plant, we use state-of-the-art technology to prevent emissions. Currently, unfiltered laughing gas is generated by the Penniman production process for red iron oxide pigments in China, accounting for as much as 7.6 million metric tons of CO2-equivalents per year. If these production facilities were to use our Ningbo Process, the reduction of this greenhouse gas would amount to the total annual CO2 emissions of around one million Chinese citizens. 
Interview by PCI Magazine