Waterborne epoxy binders have demonstrated their capability to replace, and in some cases, even outperform traditional solventborne binders in many coatings applications. High-performance waterborne epoxy systems that meet stringent regulatory requirements are available on a global basis. These waterborne epoxy systems are formulated into coatings for shipping containers, railways, trucks and busses, agricultural and construction equipment, industrial finishes, automotive parts and accessories, industrial maintenance, as well as protective coatings for concrete and masonry substrates.
The global market for all epoxy types (waterborne, solventborne and solvent-free) being used in liquid, ambient-cure, epoxy formulations is estimated to be 941 KT; worth $2.36 billion USD.1 In 2015, the waterborne epoxy resin market for liquid coatings was estimated to be 30-40 KT global. In 2018, the waterborne epoxy market was estimated to have at least doubled, driven by significant growth of WB industrial coatings in China.
Three primary drivers for the development of new epoxy resins and curing agents have been lower cost, lower volatile organic compounds (VOCs) and higher performance (Figure 1). This article explores some of the newest product innovations developed to help the industry convert from traditional solventborne epoxy coatings to new higher performance waterborne epoxy coatings.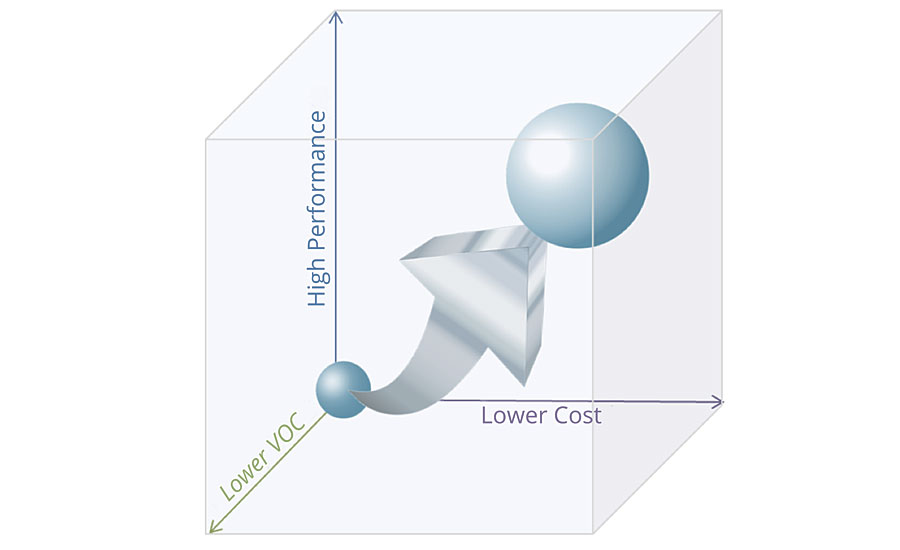 Higher Performance with Waterborne Zinc-Rich Epoxy Primers
Solventborne epoxy-polyamide coatings have a long history of excellent corrosion resistance in a wide range of protective coatings, including organic zinc-rich primers.2 However, one significant issue is that when a coating ­formulation contains up to 80% by weight zinc dust, then the resultant VOC content exceeds 450 g/L after thinning to application viscosity.
For the past few years in China, there has been an industry-wide initiative to convert the shipping container coatings market from solventborne (SB) coatings over to waterborne (WB) coatings to significantly reduce solvent emissions. As shown in Figure 2, epoxy zinc-rich coatings are used for the shop primer layer; as well as, for the zinc-rich primer layer on both the inside and outside areas of the shipping container. On the outside of the shipping container, there is an epoxy midcoat layer and an acrylic topcoat. On the inside of the container, there is typically an FDA (food grade) epoxy topcoat layer.3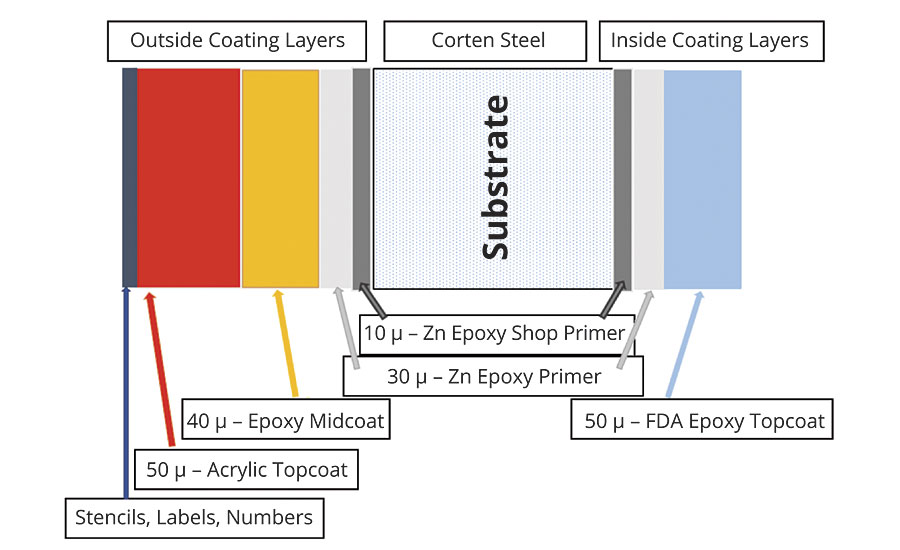 A new water-free amine called EPIKURE™ Curing Agent 8538-Y-68 has been developed for formulating waterborne zinc-rich epoxy primers. The "Y-solvent" in this curing agent is propylene glycol monomethyl ether. This unique curing agent encapsulates and protects the metallic zinc particles from water. When used with EPI-REZ™ Resin 6520-WH-53, more than four hours of pot life is achieved without significant hydrogen gas generation (foaming). Typical properties of the binder system are found in Table 1.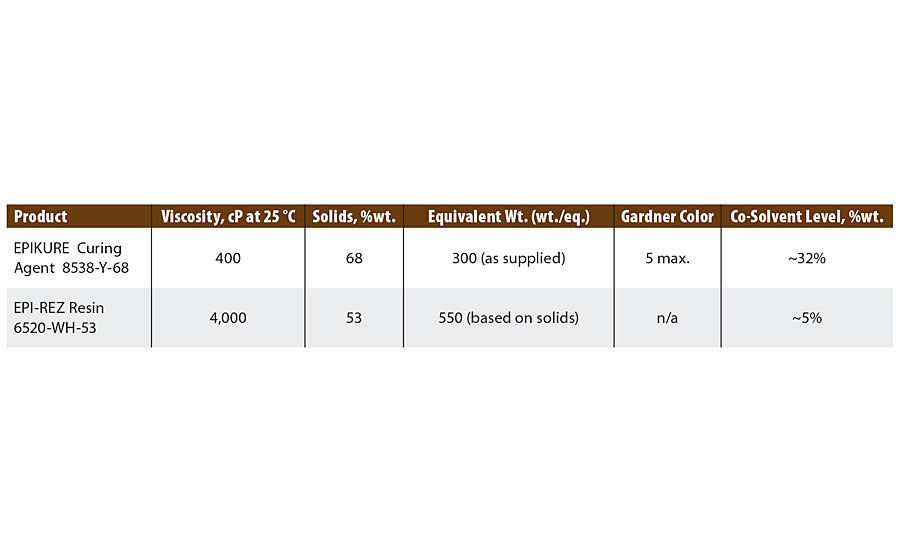 The suggested starting point formulation4 uses an excess of epoxy resin equivalents to maximize the corrosion resistance performance. When the pigmented curing agent component (Part A) is stored at 50 °C for one month, or stored at 23 °C for three months, the salt spray resistance is unchanged across the working pot life of at least four hours (Figure 3). Further work has validated up to six months of stability.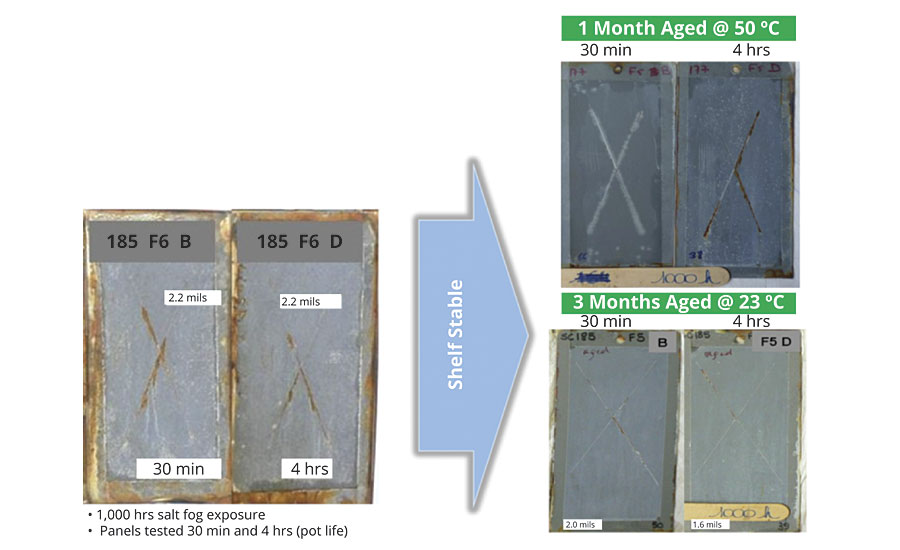 Dry times of the WB zinc-rich formulation can be reduced by choosing appropriate alcohol or glycol ether cosolvents. Recoat times of only a few minutes (5-6 min) have been validated in commercial trials when adequate airflow is used to accelerate water evaporation. As shown in Figure 4, grit-blasted steel panels (SA- 2.5 ½ ) coated with the waterborne epoxy zinc-rich primer outperform the solventborne zinc-rich primer, which is sold commercially for this same application. The superior flexibility of the WB epoxy primer is clearly shown in Figure 5.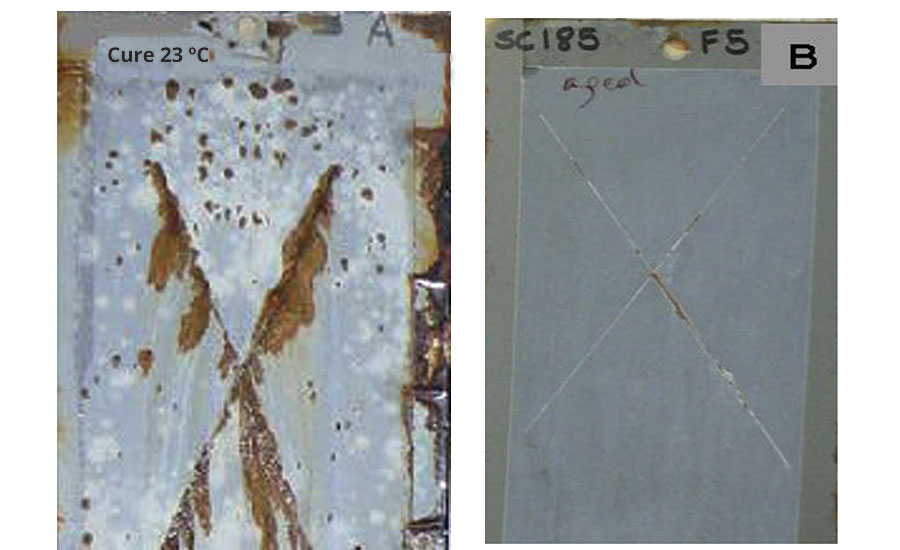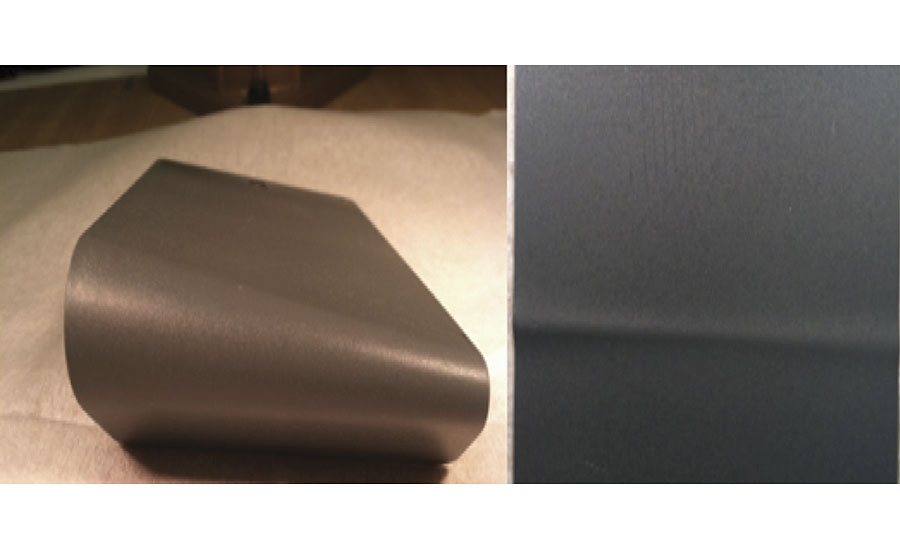 To significantly reduce the VOC level of organic zinc-rich epoxy primers, a new WB epoxy binder system and starting point formulation have been developed that deliver superior performance, excellent formulation stability, long working pot life and fast recoat times. The zinc paste based on this curing agent does not outgas during storage and offers superior storage stability (six months minimum).
Cost-Effective Waterborne Epoxy Binder System with Improved Performance
Based on Voice of Customer discussions, we discovered that some end-use customers would like to use waterborne epoxy coatings, but the price delta compared to solventborne alternatives is too high of a hurdle. To address this need, we developed a more cost-effective waterborne binder system called the NextGen Epoxy™ waterborne system. This new binder system offers the performance of a traditional epoxy binder system but at lower applied cost. The typical properties of a new waterborne amine curing agent and the cost-effective epoxy resin dispersion are summarized in Table 2.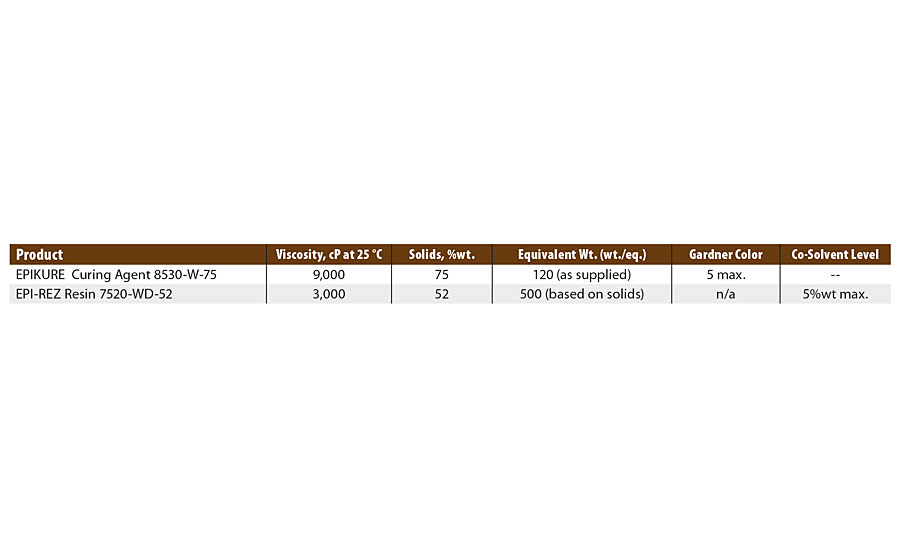 Cost-Effective Waterborne Coatings on Concrete
The performance of this cost-effective binder system in a high-gloss, white enamel on concrete5 is shown in Table 3. This waterborne formulation contains less than 100 g/L VOC. The gloss level and corresponding mix viscosity over the pot life are shown in Figure 6.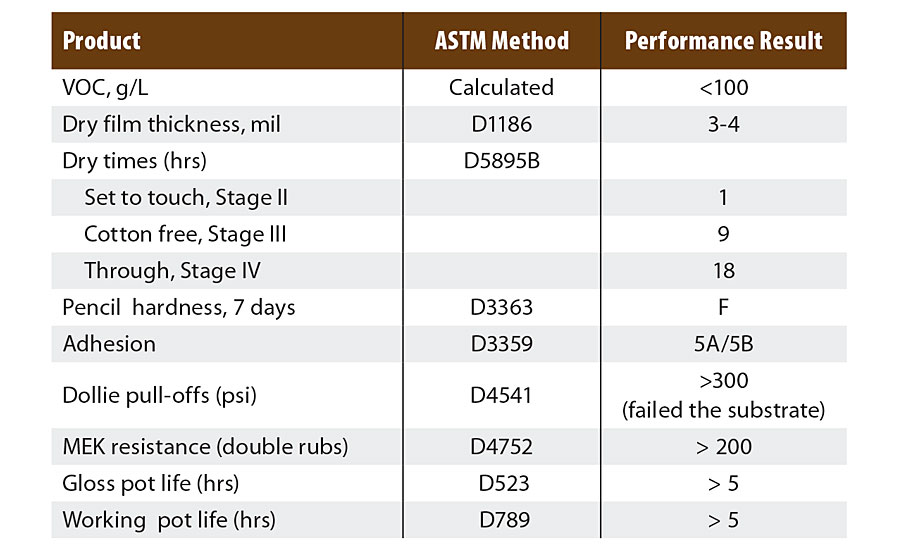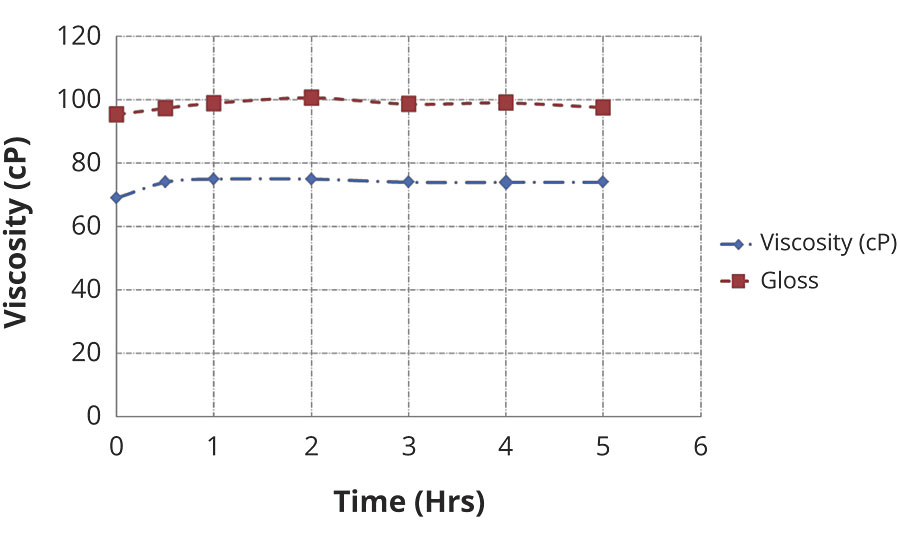 Cost-Effective Waterborne Coatings on Metal
This same binder system can be formulated at less than 100 g/L VOC to provide superior protection for metal substrates. A white waterborne epoxy primer6 achieved superior corrosion resistance after 1,000 hrs of salt spray exposure (ASTM B-117). The exposed panels had 0-2 mm scribe creep with no field blisters on cold-rolled steel panels at 3-4 mils DFT. Evaluation of wet adhesion and dry adhesion yielded a 5A rating (no adhesion loss). The cost-effective epoxy dispersion (ER7520) and the new curing agent (EK8530) were evaluated for hotbox stability and freeze-thaw stability (Figure 7). Both products passed one month at 125 °F (52 °C) in a hot box and passed 3+ freeze-thaw cycles (freeze to -5° C and warm to 23° C = 1 cycle).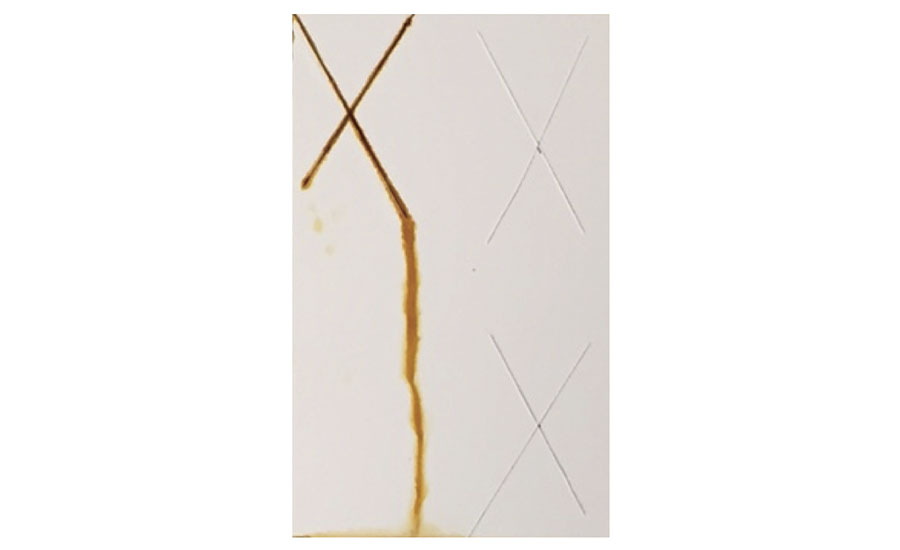 The NextGen Epoxy waterborne system provides excellent corrosion resistance, faster dry times and superior adhesion when used in an anti-corrosion white metal primer. This same binder offers longer pot life, higher gloss and superior adhesion in a white enamel formulation for concrete protection. This waterborne binder system offers traditional epoxy performance at lower VOC levels (<100 g/L VOC) with the added benefit of lower applied cost.
A Global Drive to Lower VOC Limits
In the United States, the South Coast Air Quality Management District in California has stringent regulations with VOC limits ranging from 50 to 350 grams per liter.7 In June 2018, the U.S. EPA designated 51 areas of the country as non-attainment zones. These areas will likely adopt lower VOC limits in the future.8
The Canadian national regulation for AIM9 covers 53 coating types with VOC limits of 100 to 800 g/L. Environment Canada is considering adoption of lower VOC limits that align with the VOC regulations in California. In Europe, the primary regulations are the Industrial Emissions Directive 2010/75/EU and the Decorative Paints Directive 2004/42/EC that applies to epoxy flooring systems. In recent years, China has become a major player when it comes to enforcing lower VOC regulatory limits.
It's not a matter of IF, but WHEN more stringent VOC regulations will impact you and your customers. Coatings manufacturers who wait until they are forced by the regulators, or by their own customers, to offer more environmentally preferred coatings with lower VOCs run the risk of being left behind by the market leaders, or are missing out on new business opportunities that come with little or no advance notice.
To avoid this risk, some formulators are adopting a "leap-frog" strategy to develop ultra-low VOC formulations now. Using this strategy, formulators develop new products at the lowest possible solvent content in one single step. This eliminates the time, technical resources and money spent to reduce the solvent levels in smaller, stepwise increments.
Waterborne System for Ultra-Low-VOC Formulations
To meet VOC levels of 50 g/L or lower, a new epoxy dispersion named EPI-REZ Resin 7720-W-50 was introduced at the American Coatings Show in April 2018.10 Typical properties are shown in Table 4.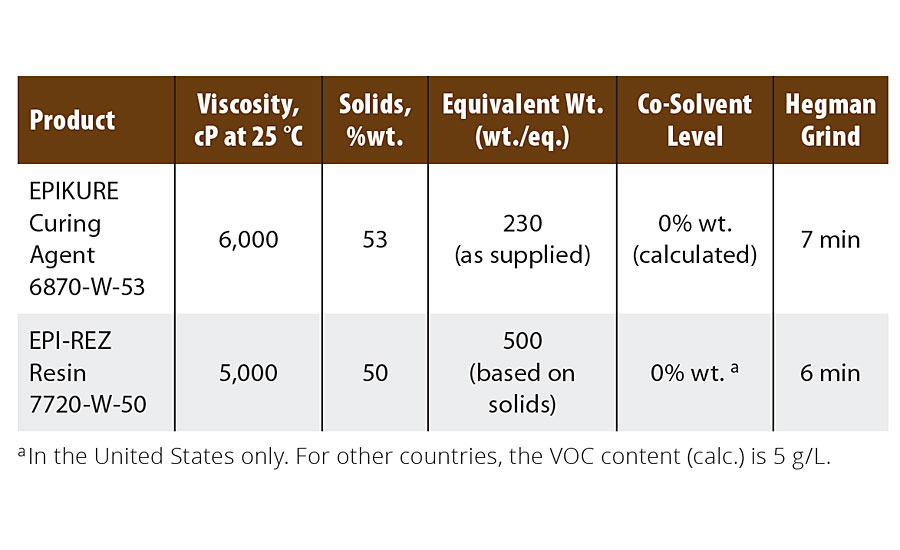 In a white primer at less than 50 g/L VOC,11 this waterborne system provides superior corrosion resistance compared to a commercial solventborne epoxy coating (200 g/L VOC). Table 5 summarizes the performance results and the salt spray exposed panels are shown in Figure 8.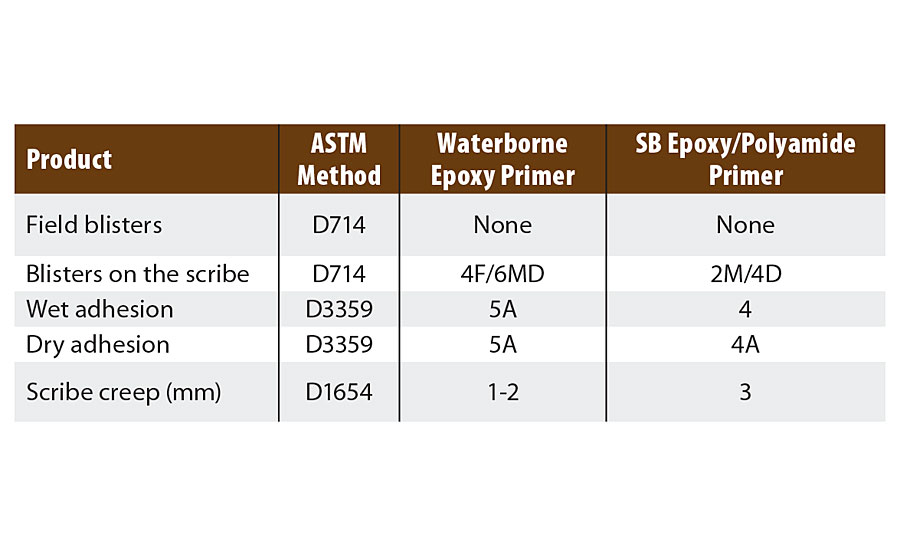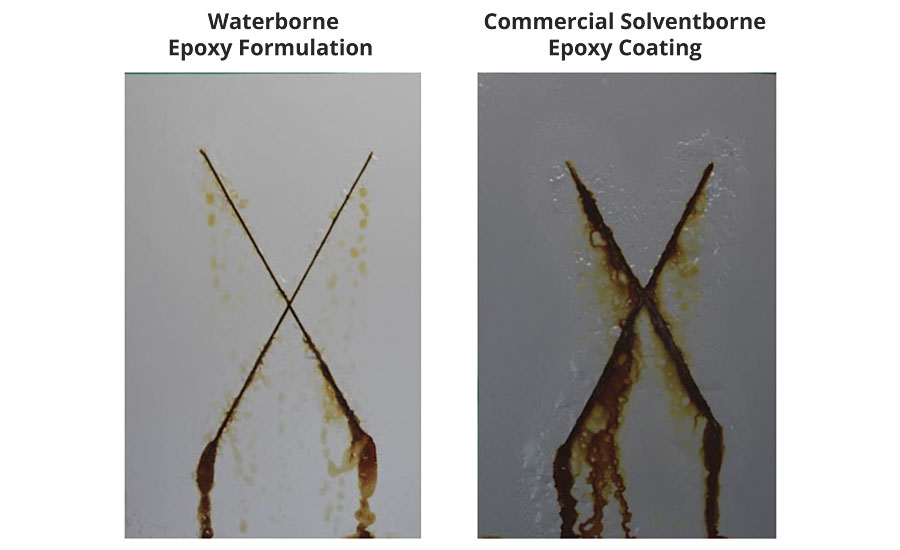 For concrete or masonry protection, the new epoxy dispersion (ER 7720W50) was combined with EK 6870W53 to develop a high-gloss enamel12 and a semi-gloss white topcoat.13 When used with EK 8530W75, a high-gloss clear enamel14 can be formulated at less than 50 g/L VOC. Compared to liquid epoxy resin emulsions, ER 7720W50 coatings will dry faster due to lacquer dry of the solid epoxy resin (Table 6).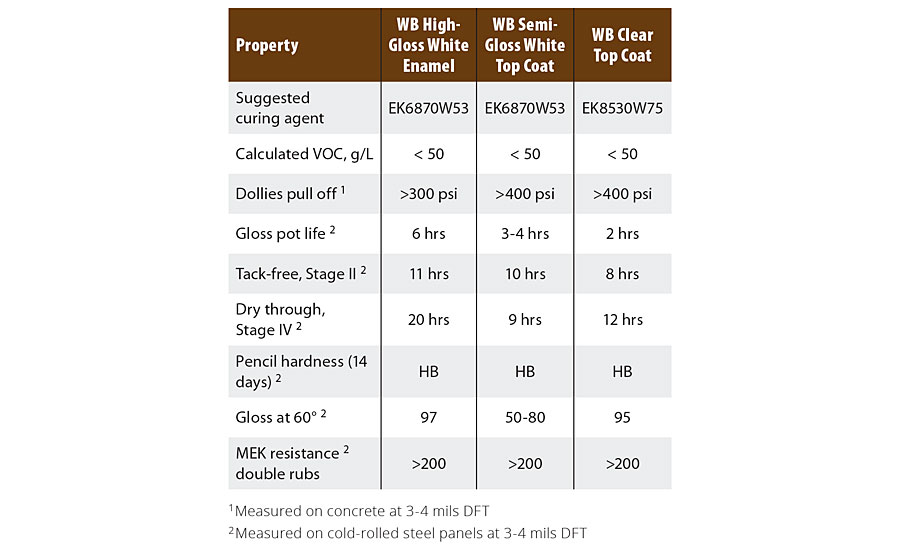 Conclusions
On a global basis, the adoption of lower VOC regulations continues moving forward unabated; causing a "green wave" of change across the coatings market. New waterborne epoxy resins and amine curing agents offer traditional epoxy performance while meeting the market's desire for higher performance, lower cost and lower solvent content.
For higher performance, a waterborne zinc-rich primer based on EK 8538-Y-68 offers superior storage stability, excellent corrosion resistance and improved flexibility. For lower overall application costs, a novel waterborne curing agent (EK 8530-W-75) and a cost-effective epoxy dispersion (ER 7520-W-50) provide superior protection on concrete or metal at formulated VOC levels less than 100 grams per liter.
Since VOC limits will continue to fall, coatings formulators should consider adopting a "leap frog" strategy to develop ultra-low-VOC formulations today. An ultra-low-VOC epoxy resin dispersion (ER 7720-W-50) enables formulators to develop high-performance epoxy primers, midcoat layers and clear coatings at less than 50 g/L VOC. Leveraging the key drivers of better performance, lower cost and lower VOC is important as waterborne systems continue replacing solventborne epoxy/polyamide coatings on a global basis. 
References
1   2015 estimates based on external market analysis reports.
2   Starting Point Formulation 1021 "SB Epoxy Zinc-rich Primer using EPON™ Resin 1001-CX-75 and EPIKURE™ Curing Agent 3115-X-70" from Hexion Inc.
3   Steinecker Containerhandel, "Technical Specification for a Typical Steel Dry Cargo Container - 20'x8'x8'6" Type with Side Door", Section 5.2 Coatings, pp. 14-15.
4   Starting Formulation for WB zinc-rich epoxy primer is available upon request from authorized Hexion representative.
5   Starting Point Formulation 1791 "Waterborne Gloss White Enamel based on EPI-REZ Resin 7520-WD-52/EPIKURE Curing Agent 8530-W-75" from Hexion Inc.
6   Starting Point Formulation 1790 "Waterborne White Primer based on EPI-REZ Resin 7520-WD-52/EPIKURE™ Curing Agent 8530-W-75" from Hexion Inc.
7   https://www.arb.ca.gov/coatings/arch/rules/VOClimits.pdf "Summary of Architectural Coating Rules in California" Revised December 13, 2016.
8   https://www.paint.org/colorado-aim/ "Colorado to Develop Architectural and Industrial Maintenance (AIM) and Consumer Product Rules", July 17, 2018.
9   http://laws-lois.justice.gc.ca/eng/regulations/SOR-2009-264/page-5.html#h-16 "Volatile Organic Compound (VOC) Concentration Limits for Architectural Coatings Regulations (SOR/2009-264)".
10 ER7720 Press Release from ACS 2018 dated April 9, 2018, "Hexion Introduces its Newest Member of the EPI-REZ Waterborne Epoxy Family" http://investors.hexion.com/static-files/b2532853-18ca-4a10-bdb0-2751c6dc8d36.
11  Starting Point Formulation #1793 "Waterborne White Anti-Corrosive Primer (< 50 g/L VOC) using EPI-REZ Resin 7720-W-50/EPIKURE Curing Agent 6870-W-53" from Hexion Inc.
12 Starting Formulation #1794 "Waterborne High-Gloss White Enamel (< 50 g/L VOC) using EPI-REZ Resin 7720-W-50/EPIKURE Curing Agent 6870-W-53" from Hexion Inc.
13 Starting Formulation #1795 "Waterborne Semi-Gloss White Top Coat (< 50 g/L VOC) using EPI-REZ Resin 7720-W-50 / EPIKURE Curing Agent 6870-W-53" from Hexion Inc.
14  Starting Formulation #1796 "Waterborne Clear Coat (< 50 g/L VOC) using EPI-REZ Resin 7720-W-50/EPIKURE  Curing Agent 8530-WH-75" from Hexion Inc.