The TiO2 industry braced for an extremely difficult second quarter of 2020, as economies were crippled by COVID-19 and resulting lock-downs across the world. Sales were in line with expectations expressed at the beginning of the quarter, but the actions of the major global producers minimized impact. TiPMC believes that the details support that the worst is over for these producers. TiPMC believes the industry is poised for a strong recovery, based on:
Estimates are that sales outside China decreased by 17% YoY in 2Q 2020. June and July orders were much more normal.
Global prices held while Chinese exports fell in May and June.
The speed of the return and the extent it happens during 2020 is the "magic question". However, even moderate return indicates momentum toward high-capacity utilizations into 2021.
An analysis of sales data and capacity utilizations among the global TiO2 producers shows reason for post-pandemic optimism.
The trend in demand since 2016 – the recognized recovery from the super-cycle – shows a downward trend for sales outside China, not sustainable in a GDP-based industry. 2016 is seen as the last "normal" year, with the normal seasonal cycle expected in the industry (Figure 1).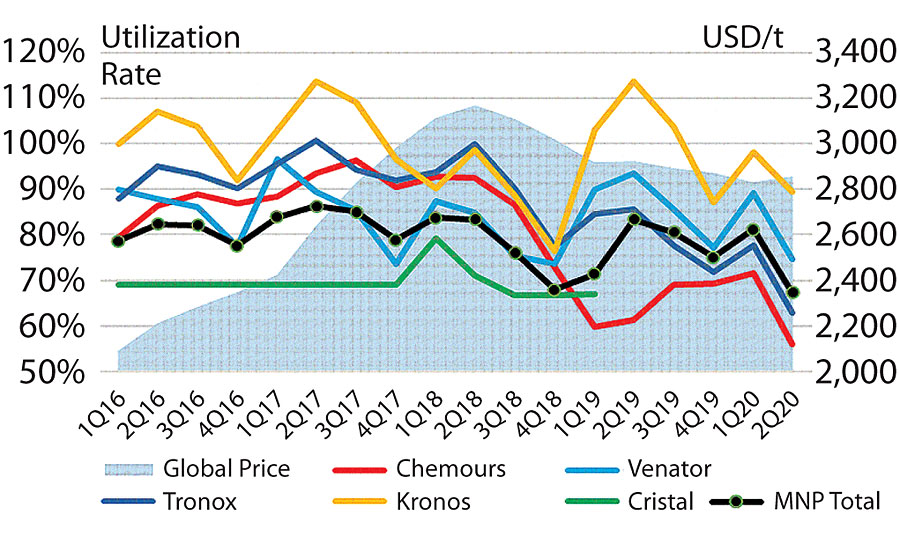 The rapid growth and restocking of 2017-2Q2018, coupled with the destock of 3Q2018- 2Q2019, become very apparent. Although 2019 has the look of a "normal" seasonal cycle, the sales volume during the cycle was severely impacted by the destock and the trade war. Trade wars and the pandemic have disrupted the cycle over the last four quarters and will likely impact the next two. The flattening of Chinese exports and the near-zero capacity addition outside China since 2016 lend to the promise of higher utilization rates (Figure 2).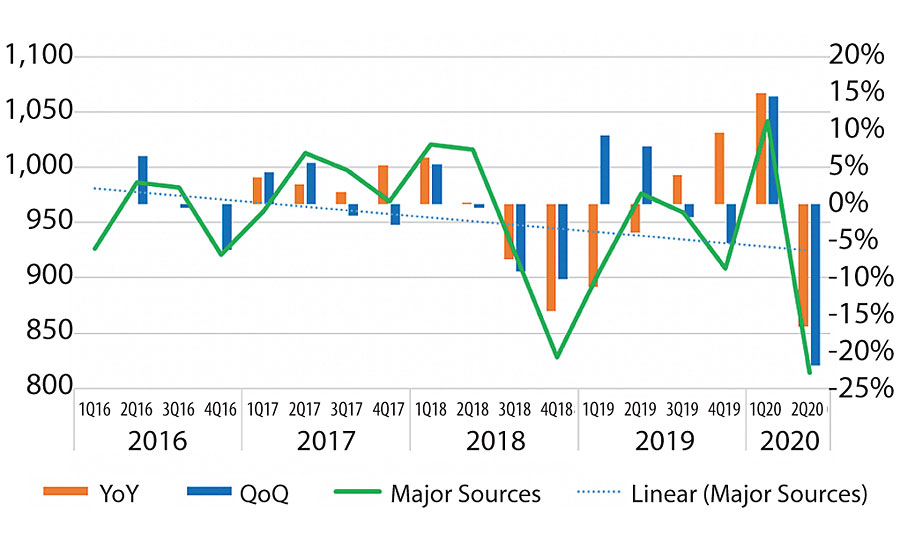 Viewing MNP utilization rates over the past 4.5 years, if rates ae sustained in the low 80s upward, pricing momentum is maintained. "Special circumstances" can lead to price stability below 80%. The strict adherence to the principles of value stabilization by Chemours in the first half of 2019 is an example. The resolve of all producers to maintain prices during this past quarter is another example.
What Is Next?
Predicting the length and depth of the impact of COVID-19 on TiO2 sales is difficult. However, when it occurs, TiO2 consumers are likely to see upward price pressure. Rapidly improving global economics and low inventories will result in a change in the demand trend over the past several years. New capacity investment has not occurred outside China, limiting available supply. The most relief could come from the performance of producers – in terms of increasing available capacity – through unlocking their "hidden plant".
TiPMC believes that consumers who have worked with TiO2 producers to stabilize pricing will soon reap the benefit.