Although paint and primer technologies are developing rapidly, pretreatment development has been largely incremental in recent decades. Traditional phosphate pretreatments are known to be hard to maintain, and generate hazardous waste and rinse water streams that can be costly to dispose. Physical pretreatment methods such as grit blasting rely on surface profiling for paint adhesion but suffer from inconsistent results and rapid degradation of prepared surfaces. Since surface preparation steps are crucial for the success of any coating system, new, innovative pretreatments represent an important step in maximizing performance. The lack of next-generation pretreatments is amplified as new alloys and multi-metal components become more common and are no longer optimal substrates for existing pretreatment technologies. As applicators look for easy solutions that are cost effective to apply and offer high performance, a pretreatment that can comply with regulations and be applied to a wide range of metals will represent a huge step forward in development.
LumiShield's new aluminum oxide-based surface preparation, Lumidize ® , represents a new class of pretreatment that is environmentally responsible, while maximizing performance of paint and powder coating layers at a low cost. Lumidize is electrodeposited, making it highly adherent to many types of metal, and presents an ideal surface for painting. The resultant coating stack is adhered to the metal in a strong chemical bond. Unlike other pretreatments, the process is applicable to multi-metal components and a range of paints, requiring a single solution for many situations. Once applied, the aluminum oxide offers corrosion protection of the metal surface, allowing ample time for inspection and painting.
A Multi-Metal Pretreatment Process
Generally, surface pretreatments are metal specific, using a chemical reaction to create a thin layer on the substrate. The surface reaction relies on extremely specific solution conditions and is hard to control and vary. LumiShield's electrodeposited aluminum oxide coatings platform can be applied to any metal. Since the chemistry is driven by electrical current, it can be performed at ambient conditions, and the de-energized solution contains no reactive materials. The LumiShield process uses a standard plating line with common surface cleaning and activation steps as well as multiple rinses. For mild steel, the cleaning steps are generally water jet washing and electrocleaning, depending on the cleanliness of the initial surface. The activation step uses a common acid immersion activation to remove surface scale prior to plating. The Lumidize process itself is applied with a standard plating tank, using liquid circulation at ambient operating conditions and with insoluble anodes. Once completed, the Lumidize layer is rinsed and dried to form the final coating. This process has been used primarily on mild steel, creating a coherent thin film with a slight blue color on the surface. Under magnification, the surface has a 'cracked glass' appearance.
Once applied, the aluminum oxide coating offers moderate corrosion resistance of the steel surface, even in the presence of an acidic environment, for at least 96 hrs (Figure 1). Unlike physical preparation methods, such as sanding or abrading, this means that the applicator has ample time to assess the surface, retouch as necessary and apply paint layers without fear of pitting or degradation that could lead to a complete recoat.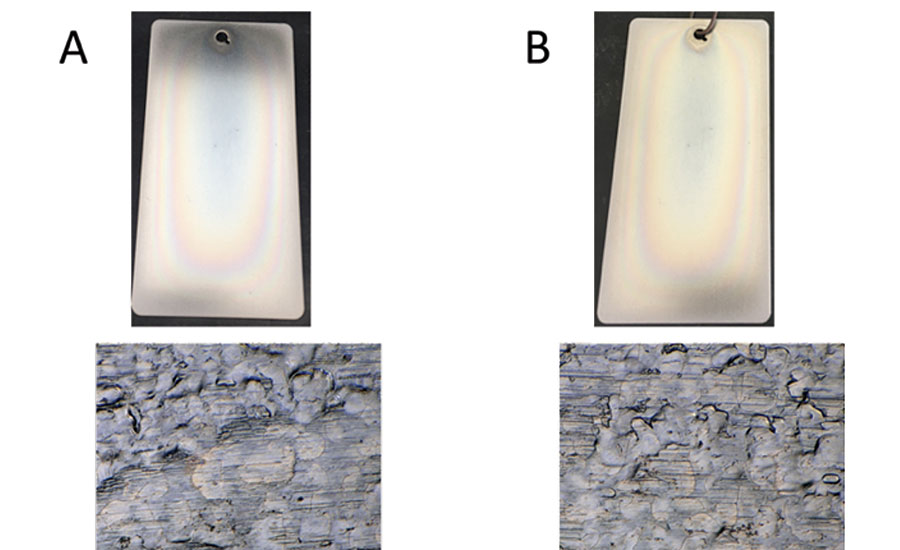 The dried aluminum oxide layer forms an ideal surface for strong paint adhesion. The native surface structure and composition of the thin film form a chemical bond with paints that become strongly anchored to the metal surface. Initial crosshatch adhesion testing shows a minor improvement in adhesion using aluminum oxide over iron phosphate. However, once the surface is exposed to accelerated corrosion test conditions, the difference in adhesion is vast. With iron phosphate, corrosion easily exploits any damage sites or deficiencies in the coating, showing extensive delamination, blistering and corrosion under the paint layer after only 500 hrs. Since Lumidize does not rely on the paint remaining a complete blocking layer, even with intensive scribe damage to the base steel, corrosion is unable to undercut the paint, and almost no scribe creep is seen up to 1,500 hrs of neutral salt spray exposure (Figure 2).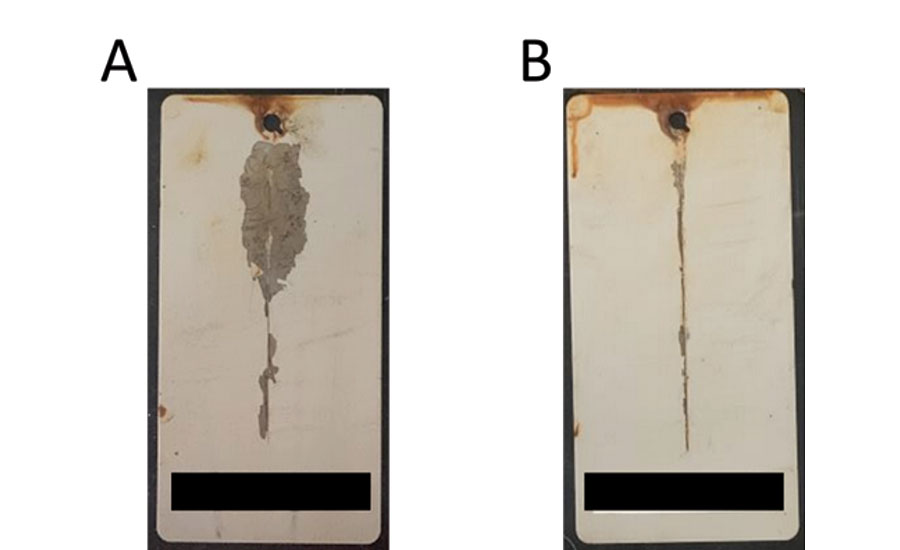 Along with mild steel, the aluminum oxide coating has also been successfully applied to stainless steel, aluminum alloys, nickel-plated steel and zinc-galvanized steel. Each metal requires slight variations in application conditions, but all were coated using the same solution and plating tank. In each case, a complete coating of adherent aluminum oxide was applied by electrodeposition. In the case of aluminum alloy, the coating has been applied to 2024, 7075 and 6061 alloys and shows equal performance to trichrome-based sealing methods up to 2,000 hrs of scribed salt spray exposure (Figure 3).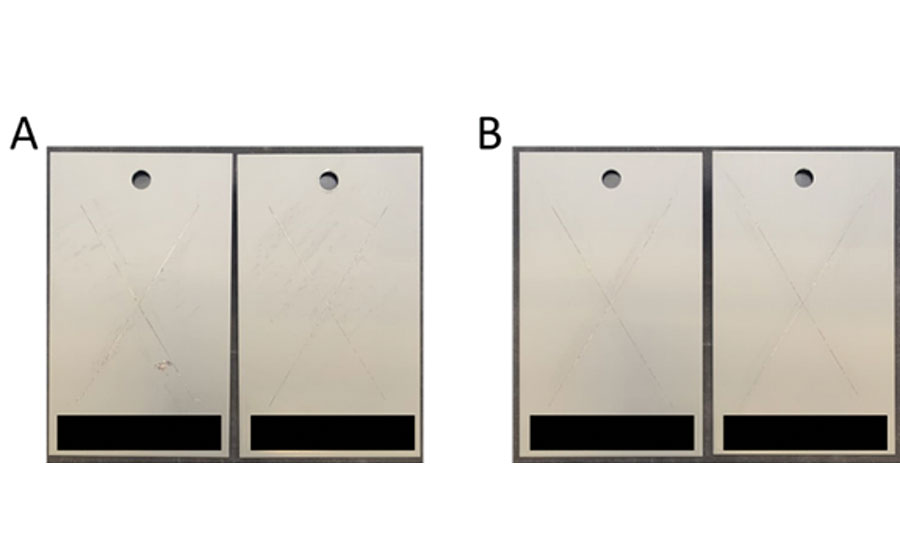 It has even been shown possible to apply the coating to a multi-material component constructed mostly from mild steel with welded stainless-steel fittings. In this case, all surfaces, including weld, were coated completely and simultaneously, removing the burdens of masking and variations in required pretreatment for each metal individually. In Figure 4 a masked section of stainless steel is shown to illustrate the coating on stainless steel and mild steel applied simultaneously with mask line clearly visible.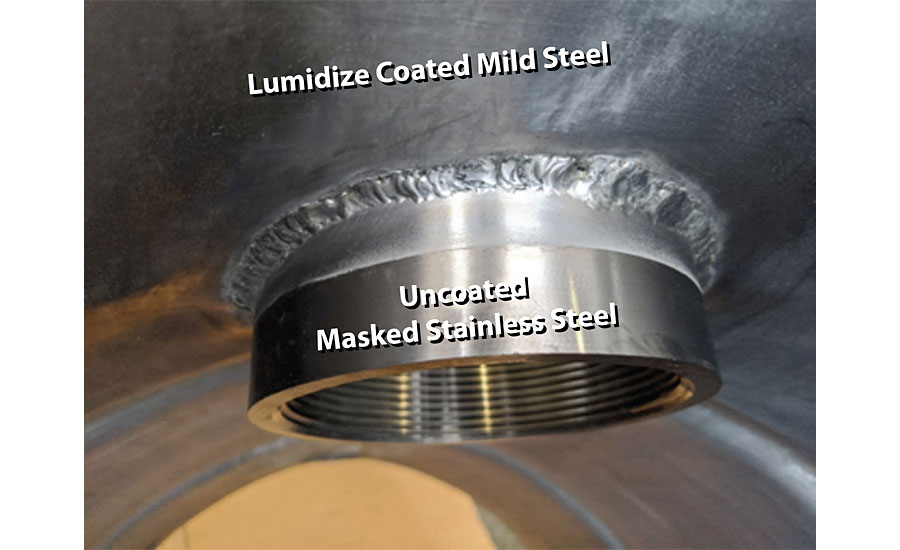 This multi-material component test was part of LumiShield's initial demonstration at industrial scale in partnership with Epiphany Water Solutions. For this demonstration, LumiShield's process was successfully ported from a controlled laboratory environment to a small industrial pilot at 100 gallons. Using a custom-designed anode, LumiShield's coating was successfully applied to test parts of both mild steel and mild steel combined with stainless steel that were subsequently left for three days prior to painting with no degradation. The parts were then painted with an epoxy coating and are currently under assessment in field testing. The scaled process used industry-standard soak cleaning and activation by acid prior to the plating process.
The Perfect Future Pretreatment Compliment to Direct-To-Metal Paints
The need for next-generation treatments for direct-to-metal (DTM) applications is growing. DTM coatings are seen by many as the future for corrosion-resistant paints, with a single organic coating layer cutting application time and cost, as well as having huge potential benefits in lightweighting. In recent years there has been substantial development of new, functional, single-coat paints with enhanced physical and corrosion-reducing properties. One of the keys to unlocking the full potential of these coatings is in effective pretreatment. As part of a DTM coating stack, LumiShield's aluminum oxide pretreatment could form the ideal partner, giving strong adhesion to functional paints for industry.
LumiShield has already started to show promise in this area by application of a commodity polyurethane topcoat directly to Lumidize. Traditionally polyurethane coatings are considered to have bad metal adhesion, requiring one or more epoxy primers for optimal performance. With this new aluminum oxide pretreatment, the surface can chemically bind polyurethane directly, enhancing adhesion to the point where it is able to outperform a traditional epoxy, polyurethane coating stacks with phosphate pretreatment.
The polyurethane shown is a standard polyurethane furniture powder coating with no anti-corrosion properties, and yet after 500 hrs of salt spray exposure on a scribed panel, the polyurethane shows far less delamination using ASTM D1654. This shows that even with an unoptimized paint, superior corrosion resistance can be achieved using a single DTM polyurethane coating on aluminum oxide. By incorporating a chemical seal after the Lumidize treatment and with a white polyurethane, the DTM adhesion was improved further with no scribe creep evident after 1,500 hrs of salt spray exposure (Figure 5). This shows that with the development of next-generation single-layer paints it is possible to chemically optimize the aluminum oxide coating for even better coating stack performance.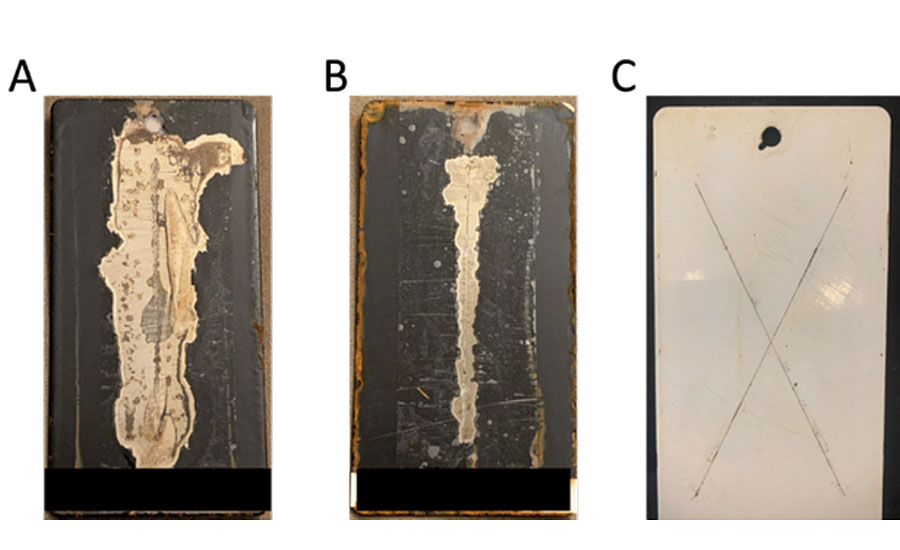 Summary
Overall, LumiShield provides a new approach to pretreatment technology with an electrodeposited aluminum oxide coating that improves performance, conforms to current and future regulatory guidance and at a lower cost. This coating can be applied easily using existing electroplating equipment and techniques, and is a zero-HAP and zero-VOC process. The electroplated nature of the coating vastly improves adhesion with no technical barrier for application to any metal surface, including new alloys and complex multi-metal parts. Once applied, Lumidize forms an ideal surface for chemical paint adhesion, creating a strong bond from paint to metal for a range of paint classes. An ideal potential use for this aluminum oxide coating is as a compliment to next-generation DTM paints. Already, standard polyurethane topcoats have been shown with improved adhesion direct to Lumidize over systems with primer, and this is likely to represent a huge market opportunity for paint manufacturers in the future.
LumiShield is based in Pittsburgh and is seeking partners who want to create differentiated, high-performance product offerings using novel pretreatment technology. We are interested in working with metal finishing operations and paint applicators who want to deploy sustainable solutions for their customers. Our environmentally responsible outlook ensures regulatory compliance well into the future, even as restrictions continue. When combined with sustainable paints and powder coatings, LumiShield's pretreatment can help to futureproof coatings systems in many industries.
For details, contact LumiShield at info@lumishieldtech.com.