The coatings industry will play a major role in our near future's sustainable way of life. It is interwoven with basic human needs such as creating a home, connecting friends and family through means of transportation, as well as with healthy ways of earning a living in an industrialized economy.
Living up to this relevance, coatings solutions are expected to enable aesthetic and agreeable long-term protection for surfaces, while utilizing the least possible number of resources.
Accordingly, new generations of pigments for coatings must provide more than color for surfaces. Not only must they enable the aesthetic visual appearance through colors and effects, they are also required to contribute to a comfortable, safe, and sustainable future.
Driven by the creation and production of solutions to improve the human condition, new pigments are developed with the aim to safely deliver color and comfort for sustainable prosperity. Providing functionality that goes beyond aesthetic appearance, pigments for coatings are evolving into all-around talents that combine various benefits, such as reducing resource consumption, protecting surfaces and the materials they coat, and increasing comfort in everyday life.
This article reviews a new generation of coatings and color materials supporting the "Cool City" initiative showcased across the United States as well as the industry collaboration of CoolSeal by GuardTop® and Sun Chemical's Color Materials division. This collaboration combines Sun Chemical's unique near infrared (NIR) reflective pigments with CoolSeal's benefits for a sustainable urban life. The collaboration:
Enables solar heat management functionality in end-user applications that increases convenience and contributes to sustainably reducing avoidable resource consumption.
Allows for the creation of more durable coatings using inorganic pigments that can extend the substrate's lifetime and reduce resource consumption for repeated renovation.
Reduces energy consumption in coating production thanks to the easy dispersibility of pigment preparations.
Supports environment, health and safety (EHS) compliance as well as eco-label-compliant end-user products by reducing formulations to the essential minimum number of raw materials.
Delivers on Sun Chemical's sustainability strategy focusing on collaboration, products and services and operations, and supports various United Nations sustainable development goals.
Reducing Heat Load in Urban Spaces
Solar heat management in coatings applications is no longer a niche requirement, especially in North America where pioneering coatings producers have proven their heat reduction competence in various architectural, automotive, and industrial markets. The usage in coil coatings for roofing applications or façade painting and stylings for the automotive industry are just a few examples. What these applications have in common is that they reduce the heat built-up in central living areas, thereby increasing comfort and reducing the need for resource-intensive air conditioning.
The increasing heat in urban habitats is a key topic for a sustainable and healthy way of life. According to the World Meteorological Organization (WMO), the urban heat-island effect can raise temperatures by 5 °C to 10 °C.1
Correspondent to this concern, the United States Environmental Protection Agency (EPA) has started the Urban Heat Island Program, pointing out that urban heat islands occur when cities replace natural land cover with surfaces that absorb and retain heat. The organization wants to fight the resulting energy costs from air conditioning as well as heat-related illness and mortality.2
In 2015, the United Nations set 17 sustainable development goals as the heart of the 2030 Agenda for Sustainable Development. These 17 interconnected global goals are designed to be a "blueprint to achieve a better and more sustainable future for all." Sun Chemical is most closely aligned with nine of the 17 goals; those impacting climate change and resource conservation, sustainable use of natural resources, as well as food, safety, and health.
One popular example of active engagement for healthy city life is the Cool Pavement Program in Phoenix, Arizona. The cool pavement coating CoolSeal by GuardTop® reflects a higher portion of the sunlight that hits it, hence absorbing less heat.
During a year-long study led by the City of Phoenix and Arizona State University, CoolSeal was found to have an average surface temperature 5.8 °C to 6.6 °C cooler than the control pavement. Even at sunrise, pavement coated with CoolSeal was an average of 1.3 °C cooler than traditional pavement.3
Measuring Total Solar Reflectance in Coating Stylings
In reaction to the emerging relevance of solar heat management, producers have started to work with tools calculating the total solar reflectance (TSR) value of a surface, which enables them to design long-lasting products with reduced heat build-up. Thus, calculating the formulation-specific TSR of a coated surface has become a key competence in the creation of a styling. Due to the low TSR of carbon black, which is leading to a high heat build-up in end-user applications, the development of deep black functional pigments as an alternative has been a key innovation goal.
Figure 1 shows how formulations with new inorganic black pigments reach around 80% TSR in the near infrared (NIR) spectrum, compared to around 10% TSR of carbon black pigments. At the same time, the reflectance in the visible spectrum stays at a nearly identical black appearance.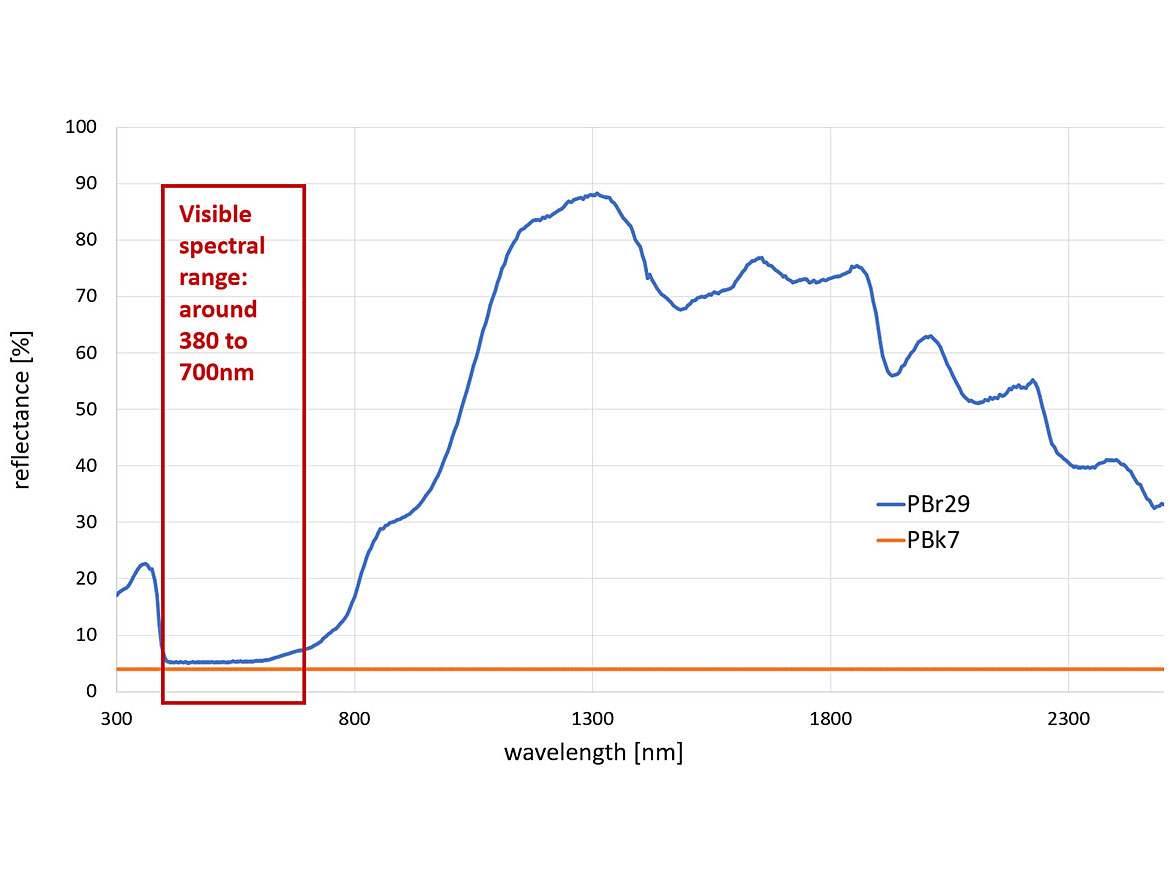 Modern pigment chemistries enable these attractive TSR values on a coated surface either by directly reflecting solar energy from the heat-relevant NIR spectrum or by staying transparent when being applied to an NIR-reflective surface. Figure 2 shows the different usage of NIR-reflective and NIR-transparent pigment solutions in coatings applications.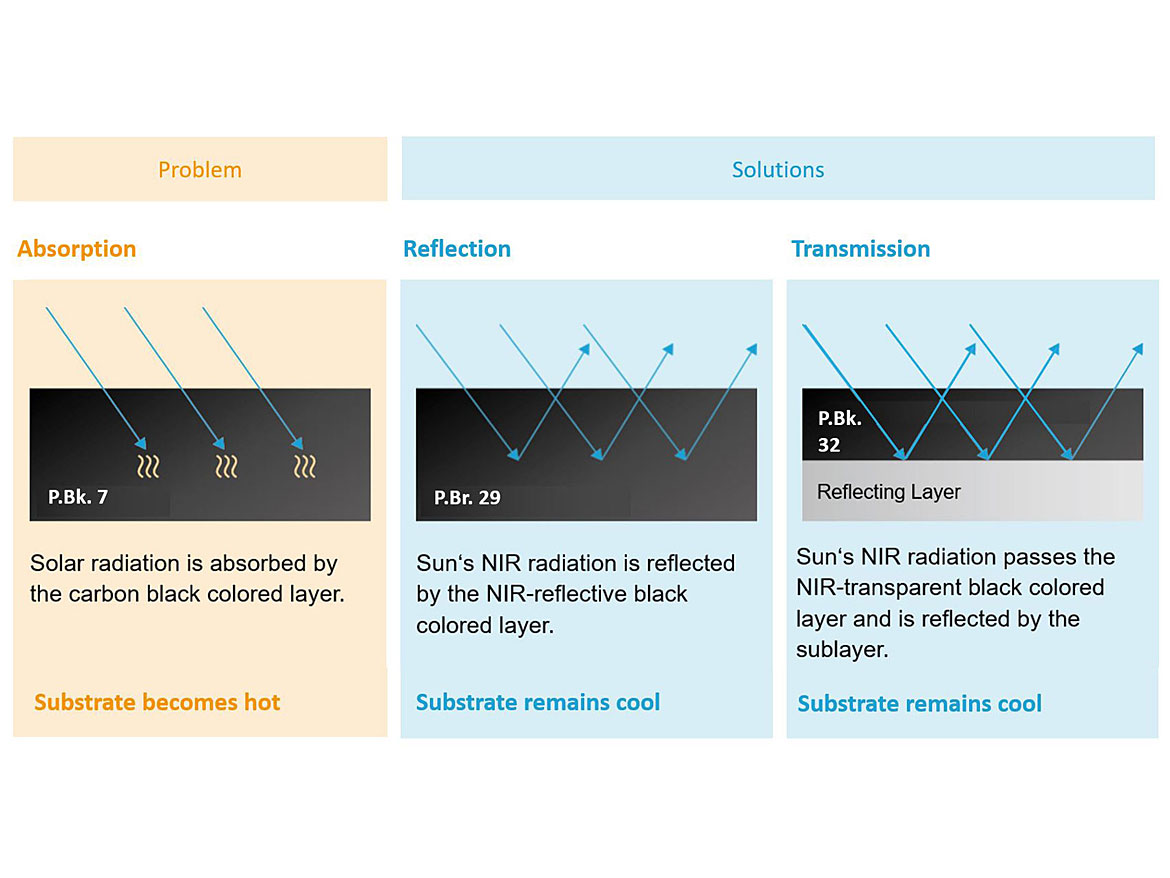 More Durable Coatings with Inorganic Color Materials
In addition to the heat reduction of human habitats, the reduced heat stress of coated materials comes with an additional protective function, leading to a longer lifetime. The surface color is a relevant factor influencing its heating behavior and goes hand-in-hand with the heating of the carrier material. The trend of anthracite window frames and doors on the dark surfaces of carrier materials can lead to thermal expansion and significant stress in the same or adjacent component. This stress can result in the destruction of the material.
In asphalt pavement, one of the most problematic failure modes is cracking caused by thermal fatigue. Asphalt pavement expands and contracts as it heats and cools throughout the day, causing cracks within the pavement. These cracks can allow water intrusion, further degrading the pavement. Many sealcoats will fill in existing cracks to reduce water damage, but only special asphalt coatings with NIR-functional pigments may reduce the surface temperatures to manage the problem at its source.
Apart from the protective functionality of reduced heat load, NIR-functional inorganic pigments come with outstanding durability properties. Pigment Brown 29 is a complex inorganic pigment based on iron oxide. In the production process of coatings, this chemistry delivers extremely high heat stability and good chemical resistance. In end applications, the outstanding weather fastness leads to non-fading of the coloristic appearance and consumes fewer resources due to the reduced requirement for regular renovation.
Reducing Energy Consumption in Paint Production with Dry Pigment Preparations
Delivery form is an important innovation field for increasing the sustainable properties of color materials. While pigment preparations are often stabilized as a liquid, paste, or slurry to simplify their usage in coatings production, dry pigment preparations come with improved cleaning and storage properties.
Dry pigment preparation in the form of granules simplifies the handling, speeds up the throughput within the production plant, and reduces the energy required in the most energy-consuming processing steps of coating creation. Thus, the increased value in use combines economic and environmental impact to gain sustainability advantages. An important area of development is also the creation of easy dispersible pigments. The aim is a new technology that enables coatings companies to reduce the time and cost in the production process.
Figure 3 shows a conventional coatings dispersion process that includes pre-dispersion and a complex milling process that ultimately takes several hours for the generation of the desired color. If a dry pigment preparation is used, the time- and energy-intensive dispersion process can be omitted completely. Instead, the granules are simply stirred into the binder.
Since the granules are already optimized for dispersion, the quality control process is also simplified. Used in the production of functional asphalt coatings, the granule pigment preparations eliminate the need for in-process tint strength and mass tone testing. If the occasional adjustment is required, pigment can be added to a finished batch without any need for re-grinding or re-milling.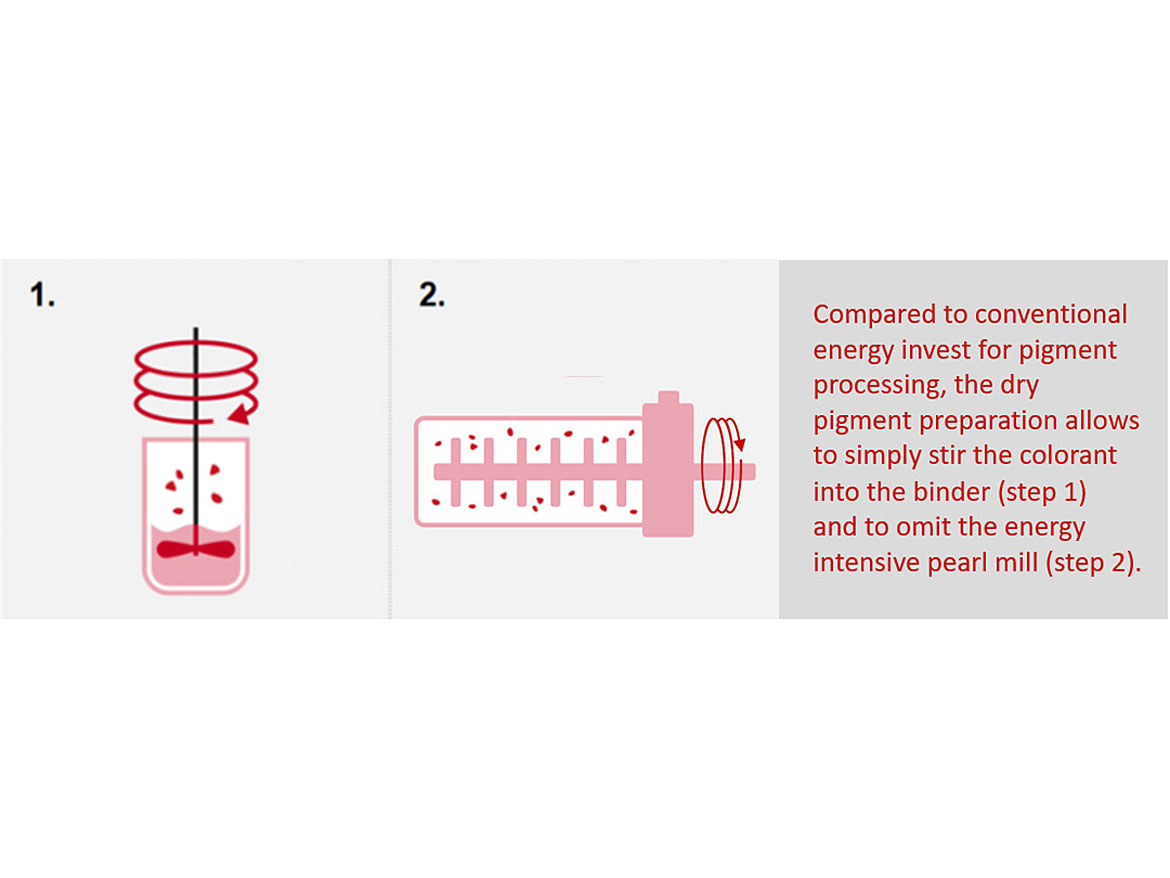 Reducing Formulations to the Essential Minimum Number of Raw Materials
In addition to special functionalities and distribution forms for resource reduction, the strengthening of sustainable pigment properties also considers the trend of reducing components to the essential minimum number of raw materials. More accurate analytical possibilities and better knowledge about the effect substances might have on the environment and on human well-being, have led to stricter global regulations. A few examples include the evolving global ban for lead-chromate, limits for volatile organic compounds (VOC), the reduction of biocides, and APEO (alkylphenol ethoxylates)-free paint.
Accordingly, the use of volatile organic compounds in asphalt has been a subject of regulatory scrutiny for decades. This has led to the development of waterborne asphalt emulsions that use zero VOCs. These coatings are formed from strictly essential raw materials and are routinely sampled by state and federal agencies to ensure quality and EHS compliance. Typical sealcoat testing puts the total VOC content at less than 25 parts per billion.
With an increasing number of global laws and regulations, non-governmental organization initiatives, as well as eco-labels for consumer guidance, the relevance of all components of a coating's formulation have also become an important parameter for pigment development.
While the usage of a higher number of additives tends to make the paint production more complex, it also becomes a requirement to indicate the usage of specific components. Thus, an important area of development is the creation of universal, but additive-free pigments that do not negatively influence coating formulations with unwanted components. In addition, due to the high relevance of environmental, health, and safety regulations, expert teams now consolidate the latest global standards, translating new findings into requirements for production and product innovation.
Conclusion
As the coatings industry is working on integrated ways to make carbon dioxide footprints of their products and value chain transparent and comparable, aiming for sustainable advantages has become a decisive factor in the development of new coating solutions. The application of a cool asphalt surface enabling solar heat management in Phoenix, Arizona is a lighthouse project for the functional design of industrial coatings.
Dr. Jana Heiler is the Global Commercial Marketing Manager, Pigments for Architectural & lndustrial Coatings at Sun Chemical. To learn more about Xfast Black and Sicopal Black functional pigments for solar heat management, visit www.sunchemical.com/solar-heat-management-pigments. Davis Koleas is the Sustainability Director at CoolSeal by GuardTop. Learn more at https://guardtop.com/coolseal/.
References
World Meteorological Organization Website. https://community.wmo.int/activity-areas/urban/urban-heat-island (08-07-2022).
United States Environmental Protection Agency Website [https://www.epa.gov/green-infrastructure/reduce-urban-heat-island-effect (08-07-2022)
Website of the City of Phoenix with information about the Cool Pavement Program. https://www.phoenix.gov/streets/coolpavement (08-09-2022).