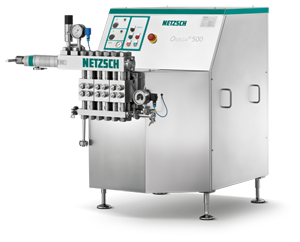 NETZSCH Premier Technologies LLC is introducing the Economic Dispersionizer OMEGA® – a hybrid machine combining homogenizing and macro-cavitation principles. The OMEGA is a machine with a novel NETZSCH disperser body that ensures a maximum and reproducible dispersion result by optimal utilization of turbulence, cavitation and shearing forces. The OMEGA is a versatile system that can be used in many different fields of application. It works with considerably lower energy consumption with very little heat development during the dispersing process, and with less wear.
There is no limit to the viscosity of the material that can be produced and/or fed into the OMEGA. This is a huge advantage over other high-pressure homogenization (HPH) units in the market place. Additionally, the OMEGA operates at much lower pressures than conventional HPH machines and offers easy maintenance, repeatability in process targets, easy batch changeover, and does not require mechanical seals, grinding media, and wearing wetted parts often associated with media mills.
Also on display in the NETZSCH booth is the LME20 Horizontal Disk Mill with patented milling disc technology, and an upgraded MASTERMILL submersible mill platform, the MASTERMILL3. Visit Booth 822 to learn more and to enter the company's drawing for a free Google Nexus 7 Tablet.