Anti-corrosion coatings are used to protect metal or other surfaces from natural degradation caused by different corrosive agents such as moisture, chemicals and salt. Worldwide, corrosion causes huge financial losses in a large number of industries. It also gradually weakens structures, posing a threat to property and life. Anti-corrosion coatings are one of the most effective and economical solutions for tackling corrosion. They act as a barrier between the surface and the corrosion agent, and prolong the life of the structure as well as enhance its efficiency. Anti-corrosion coatings can be classified into epoxy, polyurethane, acrylic, alkyd, zinc, chlorinated rubber, and others (including silicates, fluorocarbons, co-polymers, ceramic, graphene and glass flakes). The type of anti-corrosion coating used depends on the properties required for the specific application.
Anti-corrosion coatings have become a necessity for industries to safeguard the huge investments they make in terms of money, property and safety of workers. These coatings are used extensively in industries such as marine, oil and gas, petrochemical, infrastructure, and power generation, among others. The global high-performance anti-corrosion coating market size was estimated to be USD 10.5 billion in 2018. For the past few years, the demand for high-performance anti-corrosion coatings has increased slightly year-over-year, led by demand from the oil and gas industry. On the other hand, the demand from the marine industry has weakened as a result of low demand in the new shipbuilding market. However, manufacturers are positive about a recovery in shipbuilding manufacturing, which is likely to drive the demand for overall high-performance anti-corrosion coatings, and the market is projected to grow at a CAGR of around 4.0% between 2019 and 2024.
In 2018, epoxy-based anti-corrosion coatings were the largest segment of the market, with a share of 41%. The growth is attributed to their widespread use and advantages such as good corrosion protection and water resistance. Polyurethane-based anti-corrosion coatings were the second-largest segment, with a share of 21%. Epoxy-based anti-corrosion coatings are expected to remain a lucrative market until 2023 due to their versatility (in formulation) compared with other types of anti-corrosion coatings. In addition, this type of coating can be used in multi-component coatings. However, acrylic-based anti-corrosion coatings are expected to register the fastest growth in the market during the forecast period because of their good anti-corrosion properties and increasing demand for waterborne acrylic-based anti-corrosion coatings (Figure 1).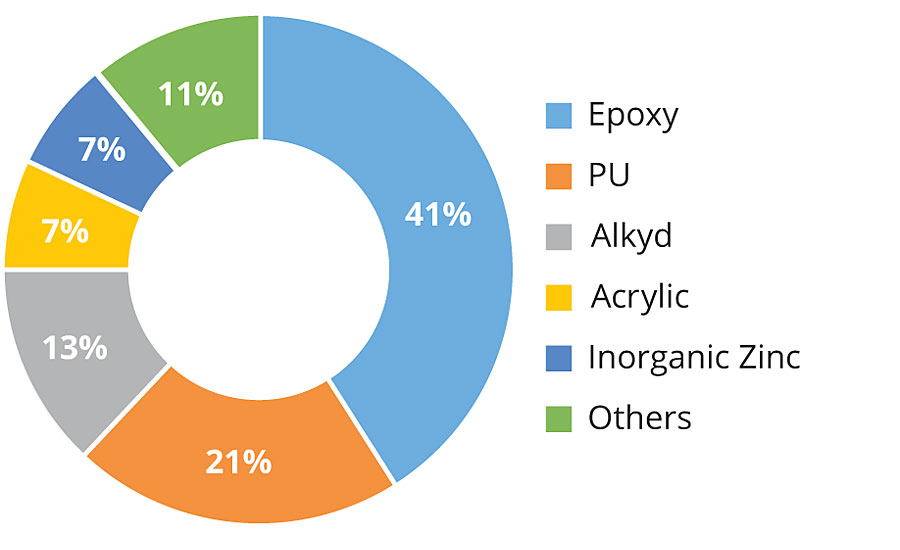 Demand for High-Performance Anti-Corrosion Coatings
The shipbuilding industry is a highly concentrated market, with Korea, China and Japan accounting for more than 85% of global production. As of March 2018, the global order book registered ships totaling approximately 78 million compensated gross tonnage (CGT), thus continuing to remain at historically very low levels. This represents a decline of around 10% year-on-year, and is almost 66% lower than the peak in September 2008. The order book continuously declined after 2008 before stabilizing in 2013 and stayed above 120 million CGT throughout 2014. With deliveries stable and new contracts at record lows, the order book again decreased substantially in 2016. During January 2016–2018,  one-fourth of the order book witnessed a decline. New ordering picked up again after the first quarter of 2018.
With the relatively high global GDP growth and recovery in trade volumes, demand for shipping was expected to grow by 3.4% in 2018. While the United Nations Conference on Trade and Development expects an annual growth of more than 5.0% of containerized and bulker trade until 2023. Crude oil trade is expected to increase by only 1.2%. Although shipbuilding demand is not monotonically related to demand for shipping, these projections provide insights about the demand for ships to be considered, in addition to the replacement of existing ships being scrapped.
In the past three years, the United States has surpassed both Russia and Saudi Arabia as the world's top producer of oil and natural gas. As the installation of pipelines increases, so does the threat of corrosion, which is a reminder of the need for pipeline protection. A 2016 study by the National Association of Corrosion Engineers pegged the global cost of corrosion at $2.5 trillion. If the industry continues its upward trajectory, the impact of corroded steel pipelines on the financials is expected to multiply.
According to the Interstate Natural Gas Association of America, gas consumption in the U.S. and Canada will increase by an average of 1.2% each year until 2035, which will result in more than half a million miles of new pipeline being built.
On the other hand, a strong world economy will lead to solid increases in oil demand. The International Monetary Fund expects global economic growth to rebound, and strong economies will, in turn, use more oil. The demand is expected to grow at an average annual rate of 1.2 mb/d (million barrels per day). By 2023, oil demand will reach 104.7 mb/d, up by 6.9 mb/d from 2018. As has been the case for some years, China and India together will contribute nearly 50% of global oil demand. As China's economy becomes more consumer-oriented, the demand for oil will slow down by 2023, compared with the 2010-2017 period. In contrast, the demand for oil will slightly pick up pace in India.
There is no peak in oil demand, and the growth will slow down to 1 mb/d by 2023 after expanding by 1.4 mb/d in 2018. There are signs of substitution of oil by other energy sources in various countries. A prime example is China, which has some of the world's most-stringent fuel efficiency and emissions regulations. As the country recognizes the urgent need to tackle poor air quality in cities, efforts for keeping the air quality are intensifying. Sales of electric vehicles are rising and there is strong growth in the deployment of natural gas vehicles, particularly into fleets of trucks and buses. A rising number of electric buses and LNG-fueled trucks in China will significantly slow the demand for oil and gas in the coming years (Figure 2).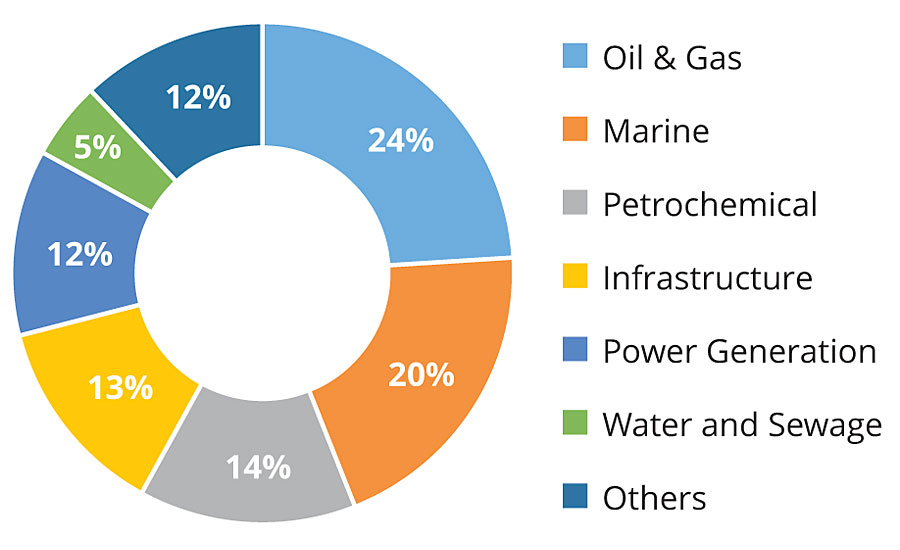 APAC Emerges as Strategic Location for Anti-Corrosion Coating Manufacturers
The global anti-corrosion coating market was dominated by APAC due to the number of end-use industries as well as the growth in the region. The Middle East and Africa are also emerging as strategic locations for anti-corrosion coating manufacturers after APAC (Figure 3).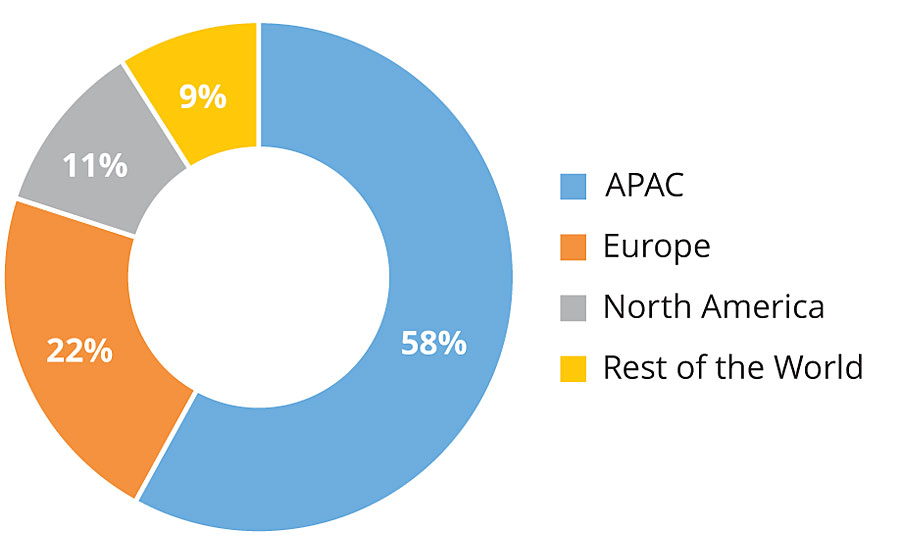 Increased investments in the construction, marine and energy industries in China and India are accountable for changing industry trends, which is anticipated to boost the anti-corrosion coatings market. China is the largest consumer of anti-corrosion coatings. This is mainly attributed to the growing energy demand and need for maintenance in the transportation industry. Government rules and regulations are expected to encourage the utilization of anti-corrosion coatings in several industries. The need for high-quality infrastructure in developing countries such as India and China has been driving the market in the recent years. In emerging economies such as India, increased foreign direct investments are anticipated to enhance market growth. China is one of the major producers as well as consumers of anti-corrosion coatings. Rapid urbanization has highly contributed toward the growth of construction, chemical and power generation sectors. All these factors are driving the anti-corrosion coatings market in China.
Demand for Green and Advanced Technologies Is on the Rise
Consumer demand for environmentally friendly products has created a huge impact on the product value and innovation in the high-performance anti-corrosion coatings market. Nowadays, end users of high-performance anti-corrosion coatings prefer those products that provide water, chemical, acid, and hydrocarbon resistance; improved productivity and increased service life of the component; reduced maintenance costs; along with ease of application and easy cleaning. An increase in demand has, therefore, aided innovations in technologies, exceeding consumer expectations. 
For more information, e-mail vikash.kumar@marketsandmarkets.com.