The global decorative coatings market was USD 65 billion in 2018 and is projected to reach USD 82 billion by 2023, at a CAGR of 5%, between 2018 and 2023. Decorative coatings are applied to the interior and exterior surfaces of residential, commercial, institutional and industrial buildings. These coatings are used at room temperature. On the basis of their usage for aesthetic and protective purposes, decorative coatings can be categorized into surface preparatory products such as putty and primer; and paints used for aesthetic and protective purposes, namely, top coat and base coat. The top coat and base coat impart aesthetic properties, as well as weather resistance, washability, anti-fungal and anti-dampening properties to the surface.
Increasing Construction Activities Boost Market in Asia Pacific (APAC)
Growing construction activities are leading to the increasing demand for decorative coatings in APAC. In addition, the eco-friendliness of decorative coatings and rising per capita consumption are acting as major drivers for the market in the region. This scenario is providing many opportunities for the industry players that are willing to invest in the APAC decorative coatings market. APAC is taking insights and ideas from the developed regions such as Europe and North America to keep abreast with the changing regulations related to health and safety. R&D trends and strategies that are prevalent in Europe and North America with respect to the decorative coatings market can also be witnessed in APAC. For example, green coatings (low VOC) are expected to be one of the leading technology trends in the region.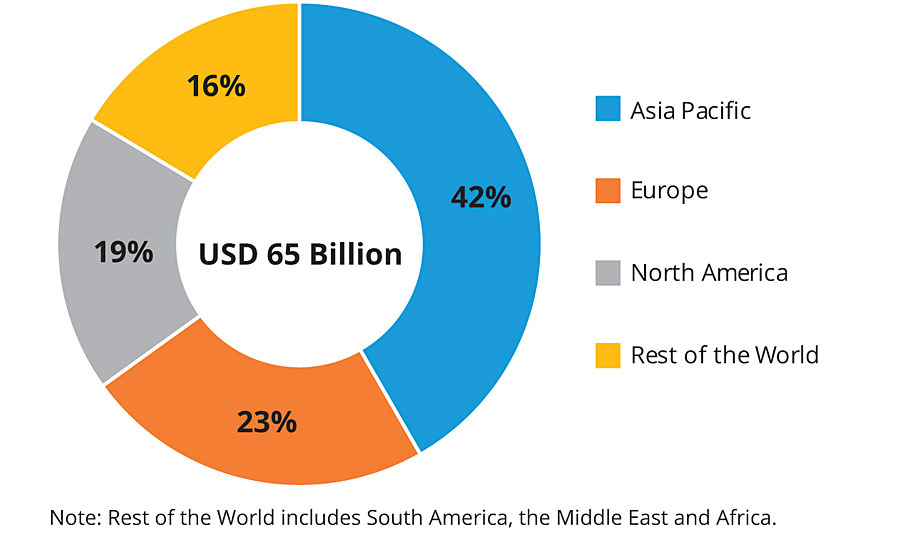 APAC accounted for the largest share of 42.0%, in terms of value, of the overall decorative coatings market in 2018. Factors such as huge and increasing addressable population base and rapidly growing construction activities are driving the APAC decorative coatings market. The APAC decorative coatings market is fragmented and competitive, with a large number of small players, especially in China. Compared to the mature markets, the market in APAC is projected to register a higher CAGR of 6.6% between 2018 and 2023.
Waterborne Coatings Segment to Dominate the Market
The shift from solventborne to waterborne coatings has been a trend mostly witnessed in the decorative coatings market. The increasing demand for green products has created the need for supplies of green raw materials for coatings, most notably, waterborne resins. For instance, advancements in waterborne alkyd technologies have enabled the production of almost zero-VOC alkyd resins with the same performance as that of solventborne alkyds.
The majority of decorative coatings are waterborne, and include:
Wall primers and sealants;
Interior flat and semi-gloss wall paints;
Interior and exterior trim finishes;
Exterior house paints.
In addition to reducing VOC emissions, waterborne decorative coatings reduce the risk of fire hazards, are easier to clean up (creating less hazardous residues) and result in lower exposure to organic vapors. However, special equipment might be required for the application, as water in the formulation can cause corrosion on the equipment. For instance, waterborne paints can corrode plain steel and aluminum. Humidity needs to be controlled to achieve the best film formation.
Higher Economic Growth and Growing Incomes Boost Demand
Decorative coatings are usually applied to surfaces of stationary structures such as buildings, bridges and roads, or parts of the stationary structures that include facades, pavements and pre-fabricated materials. These coatings can be used for protection as well as aesthetic purposes. The use of coating resins determines properties such as water, corrosion and scratch resistance, and gloss or matt finish, and the overall performance of the coating product.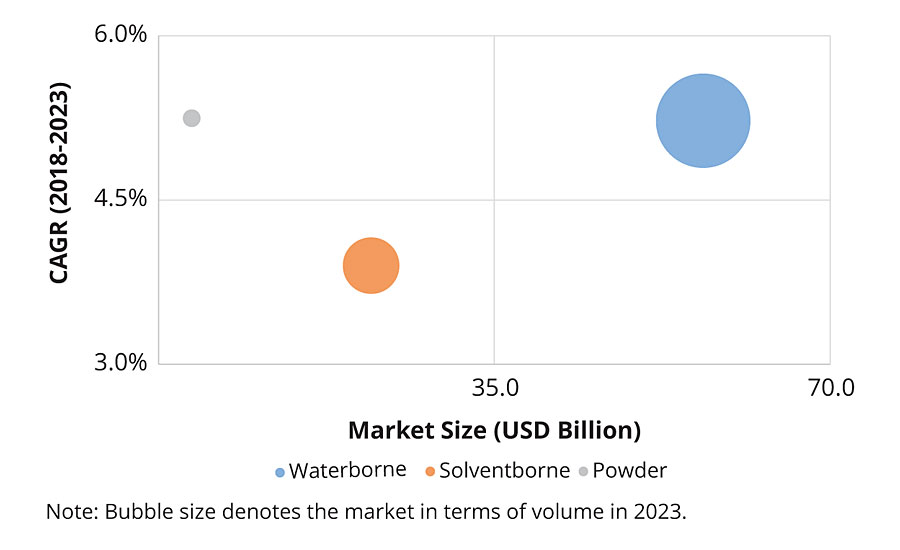 Higher economic growth and increasing incomes over the last few years have resulted in the construction of many new houses and the remodeling of old ones. Decorative coatings for residential construction application include new paint and repainting. These coatings mainly include decorative and functional products such as paints, stains, lacquers, primers and cleaners. New paint and repainting have both interior and exterior applications.
Non-residential construction includes all commercial and industrial buildings, and public and private infrastructures. Recent innovations in building material composition and technology have enhanced the durability, wearability and resistance of decorative coatings from fading. Owing to the increasing number of commercial buildings and consumer awareness about environment-friendly coatings, the demand for decorative coatings is increasing globally.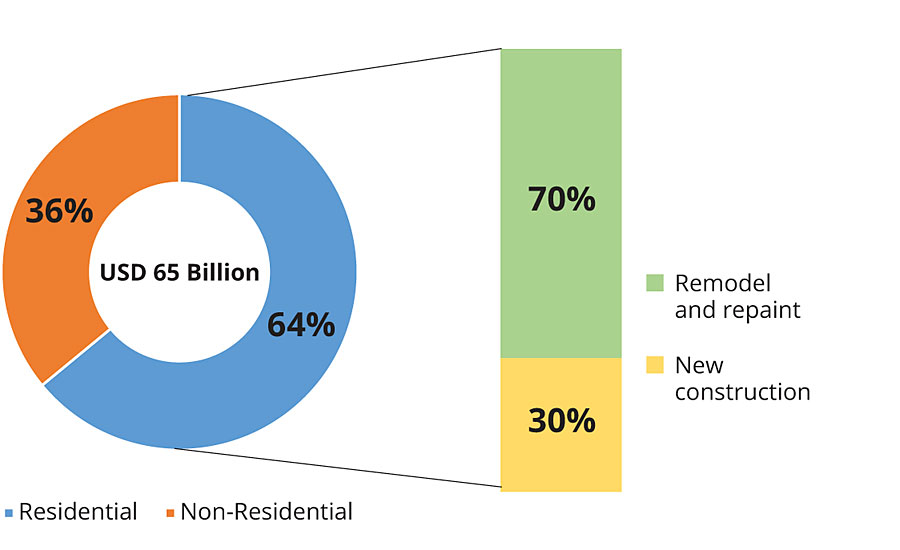 Environment-Friendly Coating Systems Gaining in Popularity
Environment-friendly characteristics have been one of the most important trends witnessed in the coatings industry in the last 10 years, mainly influenced by stringent EU regulations related to factors such as the reduction of VOC emissions. This has shifted the demand from solventborne coatings to environment-friendly products such as waterborne and powder coatings.
New rules and regulations such as the Eco-product Certification Scheme (ECS) are managed and delivered by Green Council (GC) and set by the European Commission and Federal Government agencies. These regulations ensure a green and sustainable environment with minimum or zero harmful VOC emissions. In addition, the regulations on lead control in household and decorative paints were implemented in 2016, after the Quality Council of India (QCI), Pollution Control Board Authorities and the National Referral Centre for Lead Projects in India (NRCLPI) made a strong recommendation to Gazette of India (GOI) to fix lead content below 90 ppm for all decorative and household paints. These regulations encourage decorative coatings manufacturers to invest in bio-based raw materials. In addition, the government regulations regarding air pollution in the United States and Western Europe will continue to drive the adoption of new, low-polluting coating technologies.
In the past few years, decorative coatings have gained popularity as a VOC-free and lead-free technology due to stringent environmental regulations. Moreover, in mature economies such as Western Europe and the United States, the need for manufacturing eco-friendly decorative coatings is increasing from industrial, residential and non-residential construction sectors because of the growth in awareness about the benefits of these coatings. The awareness about eco-friendly paints and coatings is leading to the development of new materials and new formulations, and the advancement of equipment and application processes, which are, in turn, driving the demand for decorative coatings. The decorative coatings companies are contributing to a greener environment by launching premium products that are eco-friendly. This will help the companies achieve sustainable growth in the near future. 
For more information, e-mail vikash.kumar@marketsandmarkets.com or annirban.bhattacharya@marketsandmarkets.com.
References
1 https://www.marketsandmarkets.com/Market-Reports/architectural-coatings-market-186634159.html
What to Read Next:
Silicone-Based Technology for Decorative Paints