The impact of a light stabilizer in a coating applied on a wood substrate is twofold. Firstly, without light stabilization, the coating will quite rapidly undergo cracking and subsequent blistering. The coating will delaminate completely from the wood substrate, leading to severe degradation of the wood now unprotected. Secondly, the light stabilizer present in the coating also has the ability to quite significantly slow the color change of the wood itself (darkening or lightening depending of the type of wood). Hence, to ensure extended durability, longer service life and keep the aesthetics of wood finishes for exterior applications, it is necessary to protect them from adverse factors such as UV radiation, humidity and climate changes, with the adequate light stabilizer solution.
Light Stabilizers for Waterborne Wood Coatings
Waterborne thermoset and UV-cured wood coatings are increasingly popular globally because of their more environmentally friendly aspects with lower VOC emissions compared to solventborne coatings. But most of the light stabilizer additives available today require additional mixing time, as well as the addition of co-solvent anti-foaming additives or alternative water-dispersed stabilizers, which lead to significant formulation costs. Furthermore, our investigations have shown that parameters such as particle size of dispersed light stabilizers, storage, pH and areas of application have a decisive influence on the performance and stability of the water-dispersed additives.
Clariant has made an important step forward by developing a complete portfolio of proprietary, highly effective light stabilizer additives dispersed in water to deliver the highest active content for a wide spectrum of applications. Moreover, the dispersed light stabilizer additives offer ease of use (simple stir-in) and a long shelf life. The newly developed UV absorber Hostavin® 3315 DISP, together with the hindered amine light stabilizer Hostavin 3070 DISP, form a complete UV-stabilizing package for water-based coatings. Hostavin 3315 DISP is a high-performing photo-permanent UVA extending the UV protection of coatings. Hostavin 3070 DISP is a unique polymeric radical scavenger that improves the durability even further. The solution is a label-free (no hazardous sustances), non-bleaching and non-extractable water-dispersed polymeric HALS that is fully soluble in coatings.
These solutions for waterborne coatings have been awarded Clariant's EcoTain® label. The products have undergone a systematic, in-depth screening process using 36 criteria in all three sustainability dimensions: social, environmental and economic. EcoTain products significantly exceed sustainability market standards and have best-in-class performance. Furthermore, environmental certifications like Ecolabels are particularly important for the do-it-yourself (DIY) consumer market.
Testing
To show the high effectiveness of these UV stabilizers, the light stabilizing effect of the preparations in a water-based acrylic clearcoat was tested using different combinations of our new UV absorber dispersion with HALS dispersion in comparison to a standard stabilizer package for waterborne coatings. All other relevant parameters such as film thickness, curing conditions and active stabilizer concentrations were held constant. Tests were carried out in a Weather-Ometer. Loss of gloss, color stability, cracking and visual evaluations were monitored.
As can be seen in Figure 1, in a wood clearcoat formulation the improved protection with Hostavin dispersion additives versus standard products can be clearly observed visually.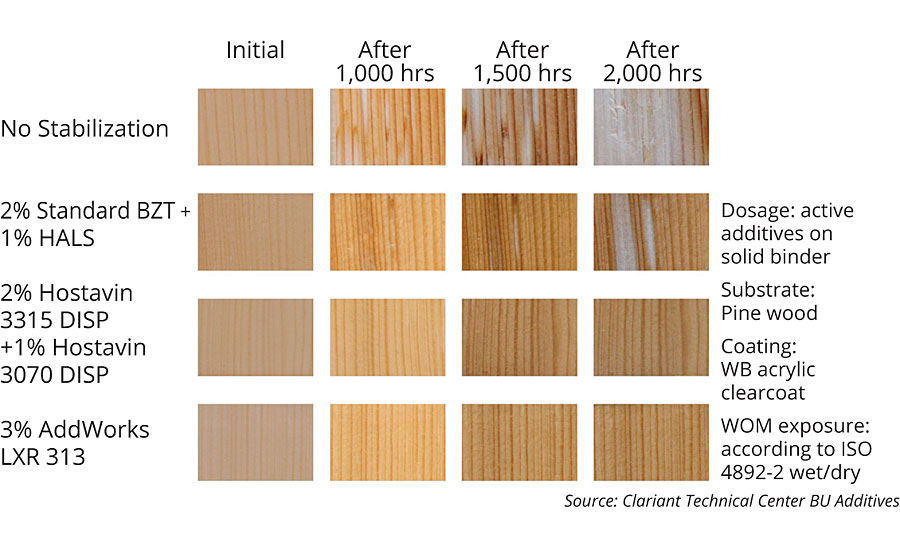 The Right UV Protection
These new dispersion additives provide excellent outdoor protection for all water-based polymeric binders used in exterior applications such as coatings, grouts and plasters. When it comes to the more traditional but still widely used solventborne paints and coatings, specific products are available, including the recently developed synergistic light stabilizer solution of UVA and HALS (AddWorks® LXR™ 313) for high-performance applications, compatible with both waterborne and solventborne coatings. 
What to Read Next:
Clariant Grows Sales in First Half of 2019
Novel Sugar-Based Neutralizing Agent for Ecolabel-Certified Paints