Site-applied polyurethane coatings for wood flooring are forecast to grow at a 5.5% CAGR rate for 2018-2023. This is more than double the estimated U.S. GDP rate during the same time period as reported by ChemQuest's American Coatings Association U.S. Market Analysis report. This includes the residential and commercial market sub-segments, as well as new unfinished wood floor installations and restoration of existing wood floors in the built environments.
These coatings are usually one-component (1K) solventborne or two-component (2K) waterborne (WB) polyurethane (PUR) coatings. In the past, 1K solventborne polyurethane coatings were the premier coating product on wood floors. Polyurethane-coated floors are extremely durable and have a very desirable, warm look. However, with the advent of stricter volatile organic compound (VOC) regulations, and the desire for low-odor coatings, 2K waterborne polyurethanes are being used as high-performance coatings on wood. These coatings provide durability, stain resistance, easy cleanability, adjustable gloss levels, improved adhesion to reactive substrates and enhanced aesthetics. However, their 2K format requires measuring and mixing at the job site. This type of formulation also typically has a limited pot life, and the recoat window is slightly shorter, which may require the coating to be scuffed before applying a second coat. Unused material from 2K systems adds the extra task of proper disposal.
A new waterborne technology allows a 1K wood floor coating to have similar properties of a 2K formulation. This new technology, which is based on an innovative polyurethane dispersion (PUD), enables the coating to be applied by a less experienced crew. Additionally, unused material can be taken to other job sites as pot life is no longer an issue.
The New Dispersion
Bayhydrol ® UH 2874 was developed in response to the need for a waterborne resin that can be formulated into a 1K polyurethane floor coating while still maintaining the properties of a 2K floor coating. This new PUD gives 1K waterborne floor coatings the physical properties desirable for a high-performance coating, such as excellent black heel mark resistance (BHMR), good chemical resistance, sandability, blocking and good physical drying characteristics.
In addition to the exceptional physical characteristics of this PUD, it is also innovative in its chemical nature. Bayhydrol UH 2874 is composed of 40% bio-based material, and the backbone of the resin contains double bonds (unsaturation). Air oxidation of the double bonds leads to a crosslinked coating, improving the physical properties. The dispersion's chemical properties and some of the physical properties of a cured film made from the dispersion are outlined in Table 1. The cured film of this resin has a relatively high elongation.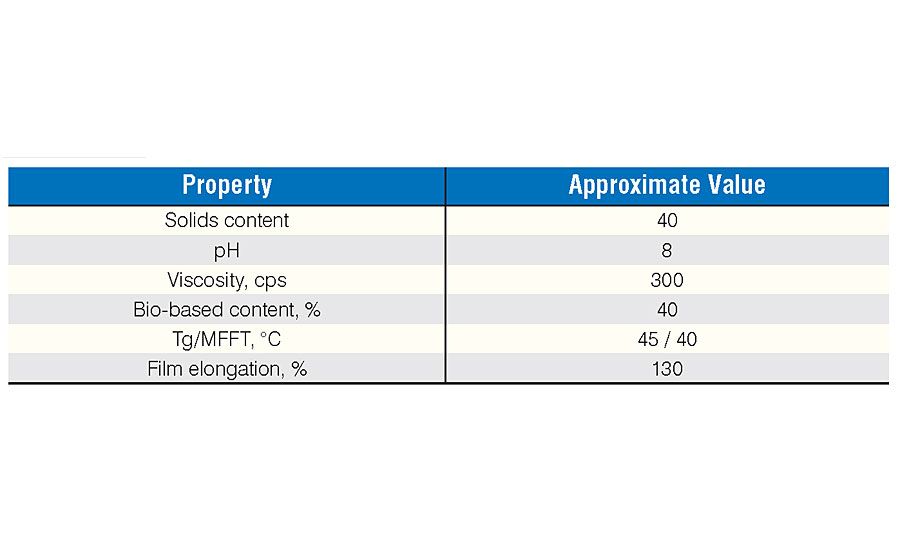 Comparison of the New Dispersion in 1K Coating Formulations and a Standard 2K Polyurethane Formulation
The new polyurethane dispersion was benchmarked in a matte and a gloss formulation versus a standard 2K waterborne polyurethane formulation. The formulation components, liquid resin properties, film physical properties and chemical properties of the cured film are outlined in Table 2. The 2K waterborne formulation makes a glossy coating with excellent chemical resistance properties. The matte 1K waterborne formulation creates a lower gloss, lower hardness coating, with only a slight lowering of the chemical resistance properties, which would also occur in a matte 2K formulation. The gloss 1K waterborne formulation produces a high-gloss, lower hardness coating, with the same chemical resistance properties as the 2K formulation. The dry time is similar for all three formulations. The final cure time for the formulations based on the new dispersion is improved when compared to the 2K formulation. BHMR was excellent for all of the coatings.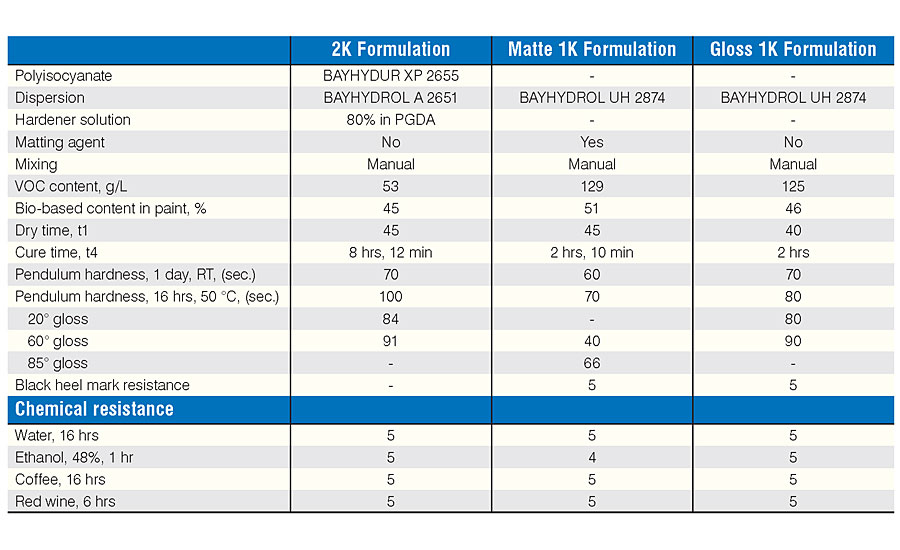 Comparison of the New Dispersion in a 1K Coating Formulation to Standard 1K and 2K Coatings Available in the Market
A comparison of the properties of the new dispersion in a coating formulation against standard 1K and 2K floor coatings available in the market is given in Figure 1. When compared to the 2K formulation, the new dispersion formulation is faster drying with a longer pot life. Chemical resistance and BHMR are not significantly impacted. The new dispersion formulation also has the same dry time and pot life as the 1K formulation. The chemical resistance, abrasion resistance and BHMR are improved.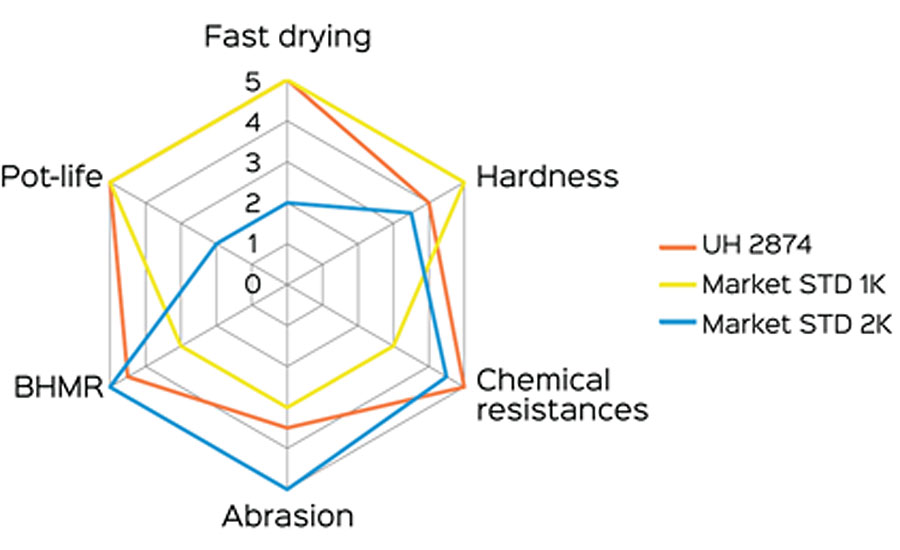 Comparison of the New Dispersion to 1K and 2K Acrylic/Polyurethane Formulations
The new dispersion was compared to a self-crosslinking polyacrylic resin (PAC) in a series of experiments in both 1K and 2K coating formulations. The new resin provided a harder, higher gloss coating with similar solvent resistance. The only negative result was in exposure to 100-proof ethanol, which caused whitening and some softening of the coating (Table 3).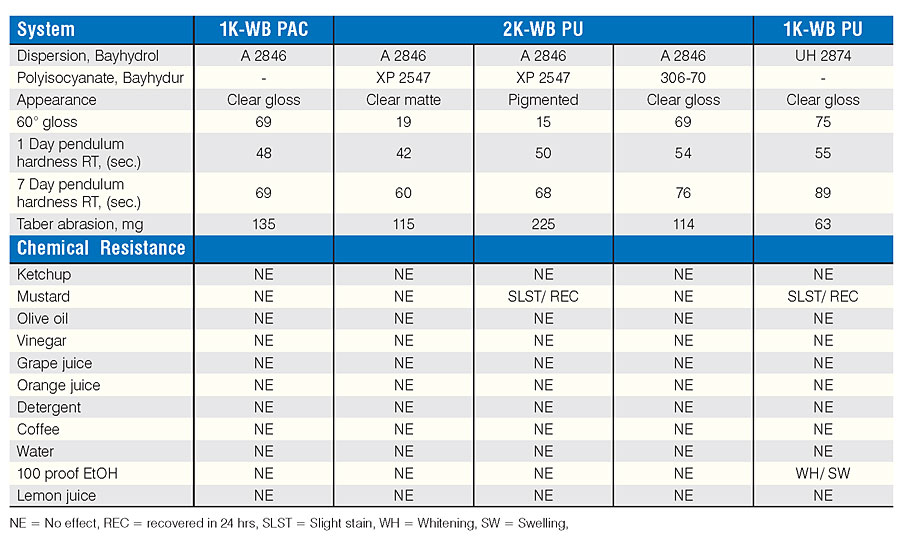 New Formulations Require Low Amounts of Cosolvent
The coatings market continues to work toward achieving ultra-low VOC formulations. Formulators are targeting 100 grams per liter, with some proposed targets as low as 50 grams per liter. This presents a challenge for waterborne formulations that require a coalescing agent to form a continuous film. While the new resin easily achieved 100 grams per liter on non-porous substrates, some porous substrates create a greater challenge. Low-VOC formulations were developed using the new dispersion. Even on the most difficult, porous substrates, good coatings can be prepared with less than 100 grams per liter in the formulation.
Conclusions
A new dispersion provides 1K, low-VOC floor coatings with the properties of a 2K floor coating. These 1K coatings have excellent solvent resistance, black heal mark resistance, sandability, blocking and good physical drying characteristics. These formulations were compared to a 1K standard floor coating and a 2K standard floor coating present in the market. While the abrasion resistance was lower, the 1K dried quicker and had an unlimited pot life when compared to the 2K formulation. It was also favorable over several self-crosslinking acrylic coatings.
These results point to a minimal tradeoff of ultimate performance for the ease of use of a 1K system. The 2K waterborne polyurethane has the best overall properties, but the 1K system is quicker to dry and much easier to mix and apply.
Bayhydrol ® and Bayhydur ® are registered trademarks of Covestro.