Soybean oil is one of the most sustainable, bio-renewable, abundant and economical materials capable of competing with petroleum-derived products. For over 60 years, it has been used as a drying oil for solventborne alkyd coating resins. Due to environmental regulations, the coatings industry has been under pressure to develop environmentally friendly formulations including low-VOC solventborne alkyd coatings, waterborne, high-solids and powder variations.
As a result, coatings scientists have revisited three key attributes of soybean oil: hydrophobicity, unsaturation and carbon chain lengths. The hydrophobic nature of soy contributes to a variety of performance improvements in coatings, while the C18 carbon chains improve flexibility in the coating film.
Building up this highly sustainable raw material's unique chemical structure with multiple unsaturation sites enables it to undergo various chemical transformations, producing polymeric materials with versatile applications in paints and coatings while still retaining the inherent property of hydrophobicity.
Soy opens many opportunities for crosslinkable resin technology, contributing to coating hardness, durability and impact resistance.
Research funded by the United Soybean Board has focused on a multitude of soybean derivatives including stable, waterborne architectural coatings and high-performance, low-VOC industrial coatings.
In this article, we briefly review examples of soybean oil-derived materials such as solvent and waterborne alkyds, powder coatings, polyurethanes, powder coating resins, soy-modified latexes, reactive diluents and functional additives.
Soybean oil is a global product. The U.S. is the largest producer of soybeans, with Brazil and Argentina following at No. 2 and No. 3, respectively. Since 1980, U.S. farmers have increased soy production by 96% while using 8% less energy. The U.S. Soy Sustainability Assurance Protocol describes the regulations, processes and management practices to ensure sustainable soybean production. This third-party verification focuses on four sustainability directives: biodiversity, conservation, public labor, health and welfare, and continuous improvement in technology and cultural practices. 1 Over 95% of the U.S. soybean farmers participate in this protocol.
U.S.-grown soybeans and the resulting oil are the highest quality in the world. Compared to other oilseeds, the consistency  as well as lower color, odor and impurities  are superior to other oils.
Soy as a Building Block in Coatings
Soybean oil is commercially and abundantly available in unrefined or refined/bleached/deodorized (RBD grade). The primary unsaturated fatty acids in this triglyceride include polyunsaturates of linoleic (C-18:2) and linolenic (C-18:3) acid with monounsaturated oleic acid (C-18:1). The double bonds contained in these fatty acids provide reactive sites and serve as the foundation for chemical intermediates.
The fundamental attributes contributing to the performance of soy-based coatings include:
C18 Carbon Chain

Hydrophobicity
Flexibility
Molecular weight

Double Bonds

Film hardness
Durability
Impact resistance
Reactive sites
Soybean oil retains the inherent properties of the C18 fatty acid backbone even after transformation. The unique, functional properties, namely hydrophobicity and flexibility, result in outstanding high water repellency and impact resistance. The long carbon chain contributes to building molecular weight to increase strength, toughness, corrosion and chemical stress crack resistance, resulting in excellent adhesion to substrates and outdoor durability.
The double bonds provide opportunities for reactivity with other chemistries including epoxidation, alcoholysis, transesterification, acidulation, metathesis, isomerization, acrylation and other forms of polymerization (Figure 1). These modifications result in new resin development for further improvements in film hardness and durability.
Soybean oil has four fundamental building blocks that are commercially available (Figure 2).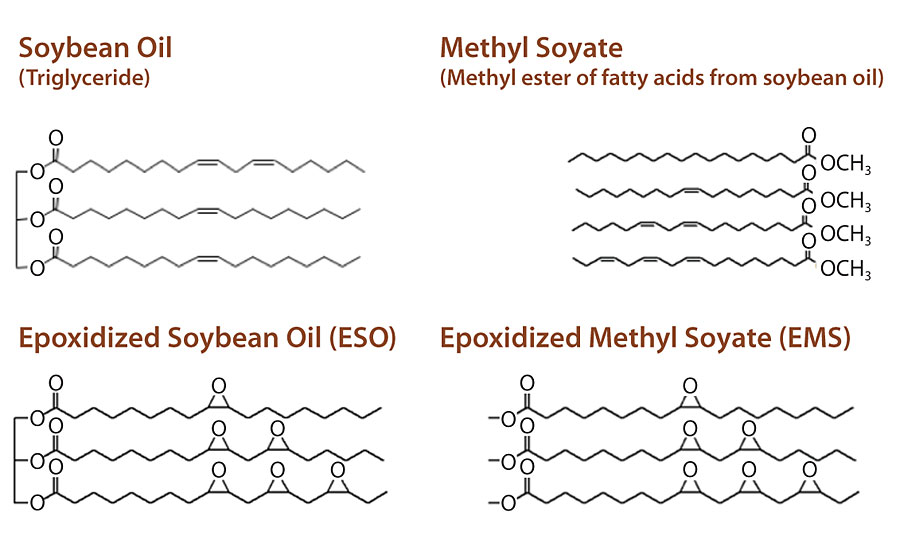 Epoxidized soybean oil is produced by the oxidation of soybean oil with a peroxide or a peracid to convert the double bonds into epoxy groups. ESO offers a higher chemical reactivity. For many years, it was used as a green plasticizer for PVC. However, chemists have discovered that the reactive epoxy groups lend themselves to great opportunities for a multitude of chemistries.
Additionally, high oleic soybean oil (HOSO) is now also commercially available, with methyl soyate and epoxidized versions of high oleic soybean oil in development. The development of coating resins based on HOSO is recent. Due to the high oleic content, hydrophobicity properties are further enhanced, leading to even higher water contact angle and water repellency. A comparison of compositions is outlined in Table 1.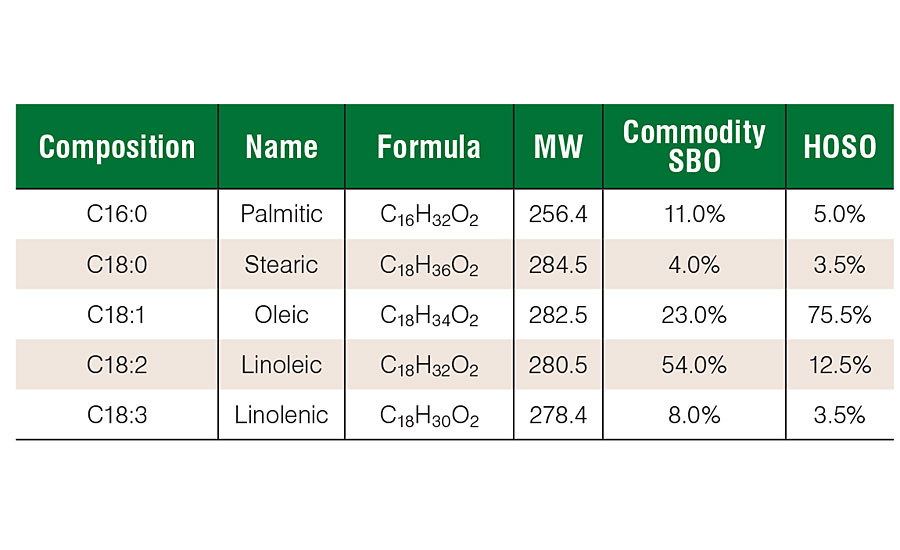 Soy-Based Coating Resins and Intermediates
To meet the challenging environmental regulations, lower VOC and water-based alkyd resins are rapidly expanding. Coupled with the need for bio-based, economical raw materials, soybean oil is a natural choice. Novel chemistries for high-solid alkyds, alkyd emulsions, acrylic alkyd hybrids and water-based alkyds are also increasing in popularity, particularly for architectural coatings.
Soy-based polyols are sustainable, economical and versatile in a multitude of applications. The inherent properties of soy, including hydrophobicity and flexibility, dominate as desirable properties in polyurethane coatings.
Variations of pathways to synthesis of these polyols include epoxidation, hydroformylation/hydrogenation, ozonolysis and transesterification.
Polyols with primary and secondary hydroxyl functionality are commercially available from various domestic sources. Applications of soy polyol include 1K and 2K polyurethanes, polyurethane dispersions, reactive diluents, melamine and acrylic-urethane coatings.
Other chemical intermediates include:
Acrylated epoxidized soybean oil: Obtained by ring-opening esterification between acrylic acid and ESO, acrylated epoxidized soybean oil is highly reactive for thermal and ultraviolet-initiated polymerization for UV-cure coatings.
Diacids: Various diacids derived from soy can be used in applications such as polyamide ink resins, epoxy curing agents, corrosion inhibitors, epoxy esters, waxes and specialty polyesters.
Sulfated high oleic soybean oil: Variation of sulfated soybean oil that exhibits vastly improved properties for dispersing, cleaning, lubrication and detergency. Sulfated HOSO is excellent as a dispersant and suspension aid in latex systems and paints. It can also be used as a grinding aid for pigment dispersions.
Projects Sponsored by the United Soybean Board
Because of the potential for bio-based products to create new markets for soybeans, U.S. soybean farmers have invested millions of dollars to research, test and promote bio-based products. Much of this work was done through the United Soybean Board, which is composed of 78 U.S. soybean farmers appointed by the U.S. Secretary of Agriculture to invest soybean checkoff funds. Examples of commercialized and licensable technologies are outlined below.
Water-Based Soy-PET Alkyd
This resin is a hybrid of recycled PET and soybean oil in combination with waterborne alkyd-acrylic technologies. Benefits include a non-yellowing, low-odor, smooth finish coating with a 60% reduction in VOCs. Sherwin-Williams has commercialized over 10 soy-based products, including ProClassic interior water-based acrylic alkyd, ProMar 200 interior water-based acrylic alkyd, and Pro Industrial Enamel 100. These meet LEED requirements for green building and are also certified by the USDA BioPreferred program.
Alkyd Latex
This short oil chain-stopped alkyd latex, based on soybean oil, is designed for non-highway pavement marking paint. This latex requires no coalescing solvent for film formation and is free of alkylphenol ethoxylates. Reichhold has commercialized this resin under BECKOSOL AQ ® 400.
Impact Modifier for Epoxy Coatings
First Source Research developed this licensable soy-based impact modifier technology for epoxy resins. Benefits include improved adhesion and flexibility, impact resistance, corrosion and solvent resistance.
Soy-Based, Zero-VOC Coalescent for Waterborne Coatings
Based on soybean oil, this coalescent contains zero VOCs and more than 85% renewable content. It has excellent coalescent efficiencies and is low in color and viscosity. It has broad formulation latitude for architectural paints and has been commercialized by Arkema under the name of Vikoflex ® 2200.
Soy Reactive Diluent
Based on an intermediate of soybean oil reacted with ethanolamine, this workhorse reactive diluent is lower in cost and enables Rust-Oleum to achieve less than 250 VOCs in a multitude of wood stains. Performance attributes include improved dry time, water repellency, wood penetration, pigment dispersion and tannin blocking.
Soy-Based Wax
Iowa State University has patented licensable technology for several coatings applications. The Estercoat soy-based ethylene glycol diester material is designed to be an alternative to paraffin wax used for cardboard and paper coating. The original Estercoat consists of three components: stearic acid monoester, diester, and diester with pendent hydroxyl group. The esters are mixed in a proper ratio to provide optimal hardness and cohesiveness. This allows greater water resistance in addition to pulpability and recyclability. The Amidecoat is a hard and high-melting wax made from soybean oil. It can potentially be used as an alternative to carnauba wax for applications such as an additive in latex systems for water repellency or micronized for slip/mar resistance additives.
Powder Coating Resins
Battelle has a licensable powder coating resin technology based on soybean oil. This resin is 84% bio-based and excels in low-temperature-cure applications (135 C vs. 200 C). Performance attributes include flexibility, toughness, chemical and corrosion resistance, and outdoor weatherability.
Conclusion
Soybean oil is economical and abundantly available from soybeans sustainably grown in the United States. The hydrophobic nature of this bio-based raw material is a dominant performance attribute in a multitude of coatings applications. In conjunction with double bonds, novel chemistries can be derived to impart film hardness and resistance. These benefits result in excellent water, polar solvents and corrosion resistance for long-term durability.
Reference
1 U.S. Soy Sustainability Assurance Protocol.