PITTSBURGH – The exterior of the historic battleship USS Iowa has been repainted using PSX
®
ONE coating, a one-component acrylic-siloxane coating introduced last year by PPG Industries' protective and marine coatings business (PMC). The ship, which was originally commissioned in 1943 and served in the Atlantic and Pacific fleets during World War II, opened July 7 as an interactive naval museum at the Port of Los Angeles in San Pedro, CA.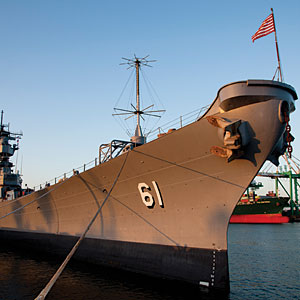 Mike Getscher, Operations Director and Chief Engineer for the USS Iowa, said PSX ONE coating was specified for the restoration project because it offers durability and ease of application. "We checked out a number of different coatings, and we selected the PSX ONE coating because it has unlimited recoatability and will keep its sheen longer than traditional epoxy coatings without chalking up," he said. "Also, as a one-component coating, it was easier to apply than a two-coat system."
Getscher said nearly 900 gallons of PSX ONE coating were applied – in standard naval Haze Gray as well as black, red, white and blue – to the exterior surfaces of the USS Iowa. A crew of as many as 20 workers at a time painted the 887-foot-long battleship from March through May, after which the ship was towed from Richmond, CA, north of San Francisco, to its new home at Los Angeles Harbor in San Pedro, CA.
PSX ONE is a high-gloss acrylic-siloxane coating that provides high color and gloss retention in a durable, low-VOC, non-isocyanate formulation. It is engineered for inland marine, petrochemical, water, wastewater and other applications; and it can be applied by brush, roller or spraying. The coating offers excellent abrasion resistance, wide cure temperature flexibility and unique surface tension to minimize rust and dirt-streaking.
Known as the "battleship of presidents," the USS Iowa hosted more visits by U.S. presidents than any battleship in history, such as its historic escort of President Franklin D. Roosevelt to the Tehran Conference in November 1943, where he met secretly with Winston Churchill and Joseph Stalin to plot war strategy. The ship's restoration, which is expected to cost $12 million, is being funded by a $3 million grant from the state of Iowa as well as through private donations.
Beginning July 7 the USS Iowa opened for interactive tours, enabling visitors to envision life at sea during active duty. They can see President Roosevelt's stateroom and see inside a large gun turret and an armored conning tower (pilothouse).