A significant way to attract potential buyers is by visually appealing to them. Changing a car's shape and color has the benefit of offering a fresh new look that aligns with current trends and tastes, showcases innovation, and  becomes a valuable marketing tool.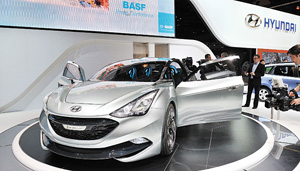 A co
ncept car from BASF and Hyundai, the HED-7 is a milestone on the road to the car of the future. Press photo BASF.
Very often the color and shape of a vehicle work synergistically to stimulate a positive consumer response and boost unit sales. The roll out of these new cars undergoes a strict process for the selection of the most attractive colors for that particular body style, which are then engineered over a lengthy period to ensure a high degree of customer satisfaction in decorating and protecting the vehicle. A key aspect of this comes from color design, which, as is the case at BASF, takes as its primary task the creation of hues, shades and effects into a harmonious combination that strikes the perfect balance between the car and color.
Psychological Aspects of Color
Humans are able to identify approximately six million distinct colors in varying shades of hue, saturation and lightness/darkness. However, only a small fraction of colors produce an emotive response on the part of the viewer.
When using color as a means to communicate with the buyer, it is increasingly important to understand the psychological aspects of color. First of all, how colors interact with their surroundings must be considered. In this sense, the colors are relational, that is, the impression given by a particular shade is relative to other colors in its vicinity.1 The light source, intensity and angle of viewing also strongly contribute to the overall effect.
Most studies show that differences in lightness/darkness as well as saturation (chroma) hold the dominant sway on people's reactions. Families of hues such as blues and reds are found in almost all color palettes, but the subtleties among them are different. Many types of blue colors are created, with varying degrees of saturation and lightness. They can be intense or very pale, brilliant or grayish, and these find a good fit in an automotive program. Reds, on the other hand, usually fall into fewer variations, mainly staying in the intense, deep saturated areas or eye-catching brilliancy. These have been given names such as "fire engine" red, "cherry" red, "maroon" and "orange-red." Other reddish colors, although technically feasible, are not as visually attractive and, therefore, remain low in popularity. The various color families with their psychological association can be grouped as shown in Table 1.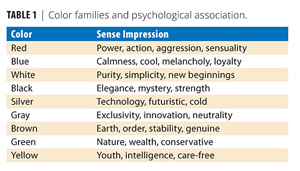 Color Design and Selection
The automotive design process begins several model years ahead of actual production. This is primarily because of the rather intensive engineering work necessary to ensure that the coating for a given color will perform to all stringent specifications during the service life of the vehicle. The designer looks to many different areas to understand the role color is playing and is being shaped by society. Color design teams study color in textiles, fashion, interior design, furniture, pop art and electronics, among others, to help provide  information about the major hues and shades that are at the forefront of coloring objects and surroundings. Texture and gloss are also taking on a stronger role in shaping the impression color has in the market. There are several additional factors for impacting peoples' moods, optimism and desire for certain colors. Social movements and economic indicators are just two of the examples that might make the automotive color palette more somber or vibrant.
Once these major coloristic themes have been distilled, the hard work of putting these various color positions and effects onto cars begins. The colors that are created need to reflect state-of-the-art paint technology and application techniques.
The design process involves creating fanciful names for the colors too. This gives an excellent way to connect to the consumer, and the selection of the right name oftentimes boosts sales if it is fresh, catchy and doesn't give the impression of being overused and time worn.2 Of special consideration is how regional and cultural orientation affects color marketing. For example, many areas that receive a lot of sunshine often tend to avoid heat-absorbing colors such as black. Similarly, depending on which country you're selling a particular color to may impact how the consumer base accepts it. The color of mourning is a good example of this, as many regions of the world have a different color (not black) to reflect sorrow.
As in any field, the experts have a very keen ability to discern the nuances of design. The psychological impact of a given color position speaks very strongly to designers, who are able to quickly ascertain if a color space will appeal to the mass consumer base. This makes the oftentimes right brain-dominated area of color selection a very complex process. Colors that ultimately make it to a car body line have gone through numerous iterations of small but significant color variations to hit that special sweet spot of a perfect fit for color impression.
Tools of the Trade
Technology is absolutely critical in a successful introduction of color innovation in the automotive world and is something the team at BASF is highly focused on. As previously mentioned, the ability of the coating to perform across a dizzying array of wet and paint film testing makes the paint formulator's job increasingly challenging. The predominance of the so-called "metallic" coatings in the North American region have underscored the significance of having a robust paint formula meet application requirements with high transfer efficiencies.
At the heart of this are the pigments. These coloring agents are truly "high performance," because of the challenging technical criteria under which they must perform. Consider that a colorant must have some of these properties:  a) be insoluble in most solvents and water used as thinners, b) be lightfast and show only the slightest amount of fading (if any at all) for up to two years in hot, sunny conditions, c) not interfere negatively in any physical paint characteristic such as adhesion and protection against stone chips, and d) maintain a very consistent color position so that the master target is matched very closely. Add to this the regulatory laws under which it is scrutinized and the cost-conscious mindset of the coatings manufacturer. All these properties are extremely difficult to optimize in a single colorant that, most of all, must produce an aesthetically pleasing and innovative color that the automotive buyer wants.
Equally indispensable is careful selection and use of effect pigments. These pigments of a relatively macroscopic flat shape have been the fundamental differentiators in the world of metallic colors. Ranging from simple aluminum platelets to complex, multi-layered interference flakes on unique substrates such as muscovite, glass, silica or alumina, this class of pigment allows for a multitude of combinations to tremendously expand the finished color possibilities. Because of the large shape, these effect pigments appear to have varying degrees of coarseness, texture and sparkle. It is important for these pigments to orient in a paint film as much as possible in a parallel manner. By doing so, these pigments then reflect light in a very dynamic fashion, showing an interplay of lightness and darkness that accents the shape of the object on which it is painted. By combining effect pigments with highly transparent colored pigments, the resulting deep saturation can be coupled with sparkle or pearlescence. Designers love the almost limitless options to show off their creativity using these effects.
Color Popularity Predictions
A lot of energy is spent by car manufacturers and coatings suppliers to determine color preferences. A snapshot of the current builds at automobile assembly plants provides valuable insight into current trends, which, in turn, shape the future of the color palette.
Over the last several years, the dominance of black, white, silver and gray has been well documented. The reasons for the strength of these color families are many, among which are the ease of resale and relative conservative impression they convey. But based on research, color trends have been pointing recently in other directions, and a shift in the popularity of certain shades is underway.
The recent rise in the number of gold and brown cars in Europe, for example, has matched what consumers' color preferences have been tending towards. For 2016, BASF predicts a re-emergence of the green color space. Many types of green are possible, ranging from sporty green non-metallics, to deep saturated yellow-shade greens. These make good use of the available pigments for the resurgence in this color space.
Another color family is the berry reds. Pigments with high light transparency work extremely well with new effect pigments to generate rich, elegant colors with an almost three-dimensional look. Both these colors areas reflect the need for people to take a more active role in their lifestyles to make a positive change. Whether by reducing their eco-footprint or showing the courage to break out of existing norms, people are experimenting more with color and it is showing with choices in car colors.
Conclusion
The world of automotive design is an exciting field. With a combination of color trend research, chemistry, marketing know-how and creative risk, the colors being considered for OEM vehicles today and for the future continue to show a high degree of innovation and beauty. The interplay of aesthetic "feel" for a color and the chemistry and engineering necessary for long-lasting protection make high-level performance a reality. 
References
1    Berns, R. Principles of Color Technology, New York:  John Wiley, 2000, 2f.
2    How color and flavor names affect choice, http://www.brandingstrategyinsider.com/2010/02/how-color-and-flavor-names-affect-choice.html, accessed 15 July, 2012.