One of the primary needs in epoxy-based coatings are low-VOC systems that are able to achieve the performance of traditional solventborne epoxy/polyamides while having significantly lower applied cost than alternative solid epoxy resin-based waterborne systems.
Since the 1950s, epoxy primers and midcoats for protective and civil engineering coatings have been primarily solventborne. These systems have provided excellent performance for over six decades. In order to address the issues of solvent emissions from these systems, avoid flammability and improve worker safety, high-performance waterborne epoxies have grown significantly in the epoxy coatings market.
Initially, these waterborne offerings battled to achieve performance similar to their traditional solventborne epoxy/polyamide counterparts. Responding to this market need, Hexion Inc. embarked on a project to develop water-based epoxy products that are able to achieve this desired performance.
In 1998, the company introduced its NewGen™ waterborne (WB) epoxy system comprising of EPI-REZ™ Resin 6520-WH-53 with EPIKURE™ Curing Agent 6870-W-53. The system provided formulators with a high-performance, lower-VOC water-based epoxy system with performance that rivaled or surpassed the performance of solventborne epoxy/polyamides. For nearly two decades it has been the benchmark for water-based epoxy systems, as exhibited in Figure 1.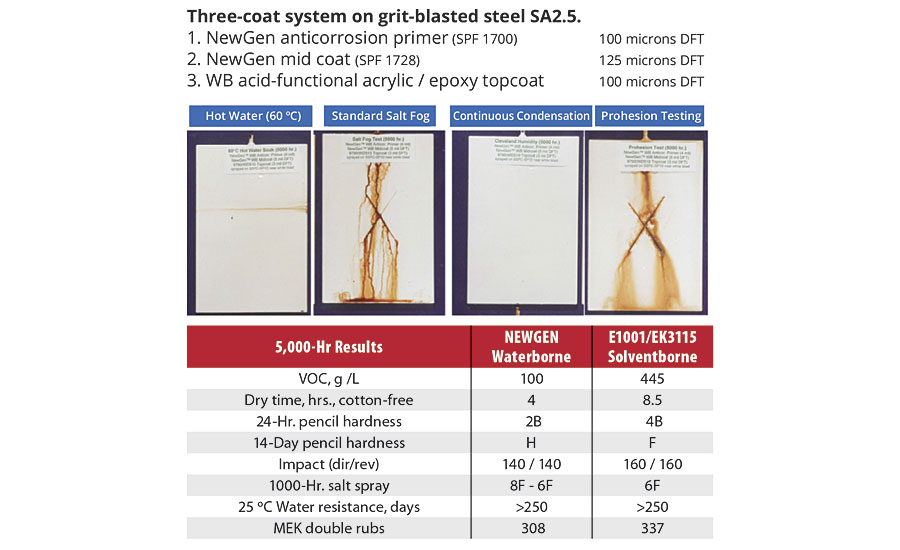 Hexion conducted extensive Voice of Customer interviews to determine what refinements or improvements were needed by the epoxy market. The feedback obtained from these interviews was that a new generation of water-based epoxy was needed that provides the performance and VOC capabilities of the NewGen System while reducing the price delta when compared to solventborne epoxy/polyamides.
This feedback from the epoxy water-based marketplace led to the introduction of the NextGen Epoxy™ WB system at the American Coatings Show in April, 2016. This system is comprised of EPI-REZ Resin 7520-WD-52 and EPIKURE Curing Agent 8530-W-75. This system provides comparable performance to the NewGen Epoxy WB system but at a significantly reduced applied cost.
The price reduction was achieved by a combination of factors, including manufacturing   improvements and the development of an innovative, value-engineered curing agent.
High-Performance WB Epoxy Coating On Metal
A water-based epoxy system based on EPI-REZ Resin 7520-WD-52 and EPIKURE Curing Agent 8530-W-75 allows formulators to develop high-performance coatings for metal and concrete applications. Formulations with a VOC less than 100 g/L are attainable. These products are low odor and ideal for indoor applications. If properly formulated, products can be developed that achieve more than 1,000 hours ASTM B-117 salt spray results with 0-2 mm scribe creep at 3-4 mils dry film thickness (Figure 2). Faster dry, through-cure and return to service are also attainable. Additionally, this dispersion and curing agent exhibit improved storage stability and excellent freeze-thaw stability (passes 3+ cycles; -5 °C to 23 °C).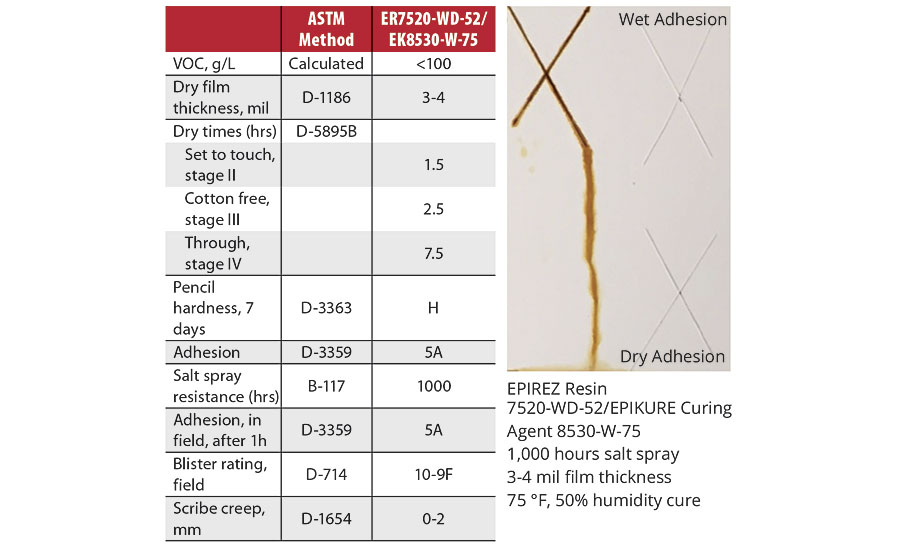 The curing agent contains no added solvent. It is supplied at 75% weight solids and has a low color value. The product's viscosity, as supplied, is 10,000 cP at 25 °C and may be further reduced with water, if desired.
Improved Performance on Concrete
The water-based epoxy system first achieved commercial success as the backbone of a water-based concrete coating for civil engineering use. This formulation exhibits high gloss, 3+ hours pot life, less than 100 g/L VOC and fast return to service. The system exhibits a constant viscosity and gloss profile, as exhibited in Figure 3.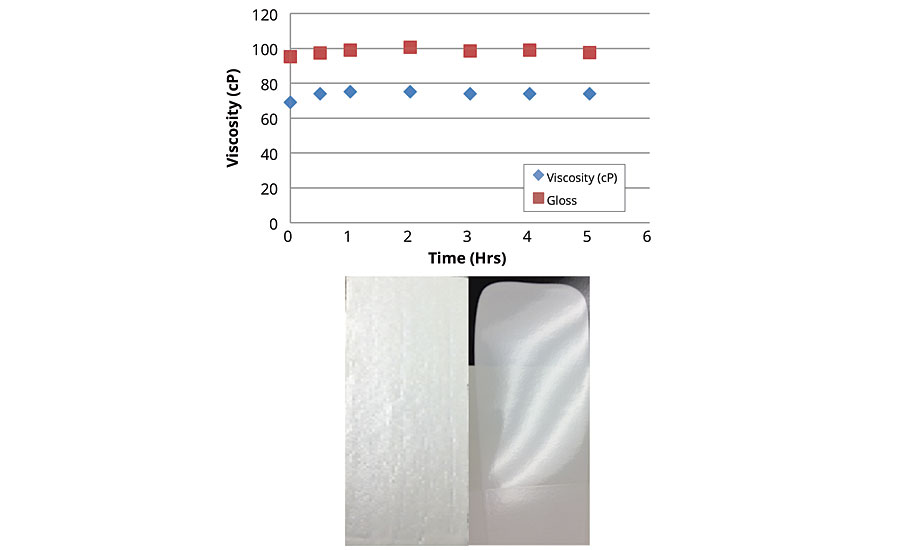 Table 1 illustrates the physical attributes that are attainable by using the system as the basis for a high-gloss, water-based epoxy coating for concrete.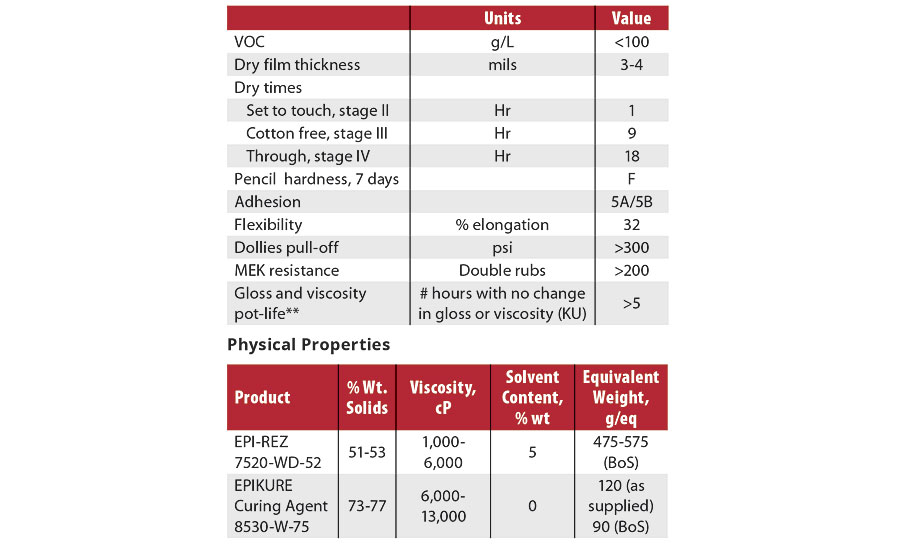 Conclusion
Hexion's new waterborne epoxy system addresses the market's need for a more cost-effective waterborne binder system that offers lower VOC and superior performance properties. This novel water-based epoxy system, which offers comparable performance to traditional solventborne epoxy/polyamide systems, can also be applied on civil engineering concrete substrates, and has a lower applied cost.