To prepare for a world of big data and interconnectivity with third parties, businesses will need to improve their data management capability, including defining, cleaning up and maintaining data. Data is only valuable when it comes from a reliable, secure source, is structured within an architectural environment that accommodates internal and external data, and is regularly maintained.
The TiO2 World Summit, which took place October 3-5 in Spain, granted big insights into the worldwide titanium dioxide (TiO2) market situation and served not only as a meeting point for the international players but also updated the participants on the latest innovations, trends and directions. It became clear that market tracking and research is and will be one of the key elements for businesses to succeed in the titanium dioxide industry and make the right, sustainable decisions.
TiO2 is processed from titanium including minerals like rutile and ilmenite. The raw materials are treated with chlorine or sulfuric acid and then oxidized and upgraded to 98% TiO2 or higher. The end product is mostly used in the accommodation and car industry as a paint, coatings, paper or plastics raw material. In 2016, the global use of TiO2 was shared by 60% in paints (including coatings), 25% for plastic and 11% for paper. Other minor areas of use are inks, fibers, food and cosmetics.
When talking about the global TiO2 market, it is inevitable to take a closer look at the situation in China, serving as the main production and export area as well as the main consumer region for TiO2. Market intelligence firm CCM and trade analysis firm Tranalysis, both brands part of the parent company Kcomber, have released an online platform for data mining, structuring, analyzing and visualizing to enable fast and ambitious market research on China's and worldwide TiO2.
This article gives an overview of the current TiO2 situation in China compared to the global trend, and introduces how the information of internal market research combined with data from search engines, news and industry websites, e-commerce platforms, and Customs can be turned easily into structured, meaningful market insights and serve as a reliable forecast tool to stay ahead in the game.
The TiO2 Trend in China
From 2013 to 2015, Chinese TiO2 prices decreased - affected by oversupply and a depressed international as well as domestic economy. However, China's TiO2 industry recovered in 2016 with an overall operating rate exceeding 82%, downstream demand increasing and more trades being made.
China's TiO2 price kept climbing in 2016 due to lower capacity triggered by supply-side structural reform, higher costs on ilmenite, more demands from the downstream real estate and automobile industries, and larger export volumes.
Regardless of the negative price development, titanium dioxide production in China grew constantly from 2013 to 2016, due to the high demand in the country itself as well as in international markets. The national TiO2 capacity totaled 3.59 million t/a, and the combined output of 39 TiO2 companies that maintained consecutive production reached 2.2 million tonnes, up by 11.80%.
In 2017, the Chinese government started to implement stricter environmental protection measurements, which led to forced production limitation and even shut downs of some companies. The results are a falling operating rate of manufacturers to less than 60% in the middle of the year.
In 2010, China became the largest TiO2 producer in the world. Since then, China is one of the major influencers of the global TiO2 market. However, the four largest TiO2 manufacturers are not from China. Those are Chemours, Christal, Tronox and Huntsman. The recently merged company, Lomon Billions (the merger of Henan Billions and Lomon - two of China's largest TiO2 producers) is the fifth largest producer in the world and the dominant manufacturer in China. However, even though Lomon Billions is the largest Chinese producer, the enterprise only accounts for about 5% of the global capacity, while the other Chinese producers combined to reach a global share of 48%. This shows the highly decentralized character of China's industry with plenty of small- and middle-scale producers.
Besides being the largest producer, China is also the leading consumer of TiO2 in the world. After all, the country had a global share of TiO2 consumption by 32% in 2016, mostly needed for the booming car manufacturing and construction industries. Other major consumption regions are the European, Middle East and Africa region (EMEA) with 31% in 2016, and the Americas with 20% (Figure 1).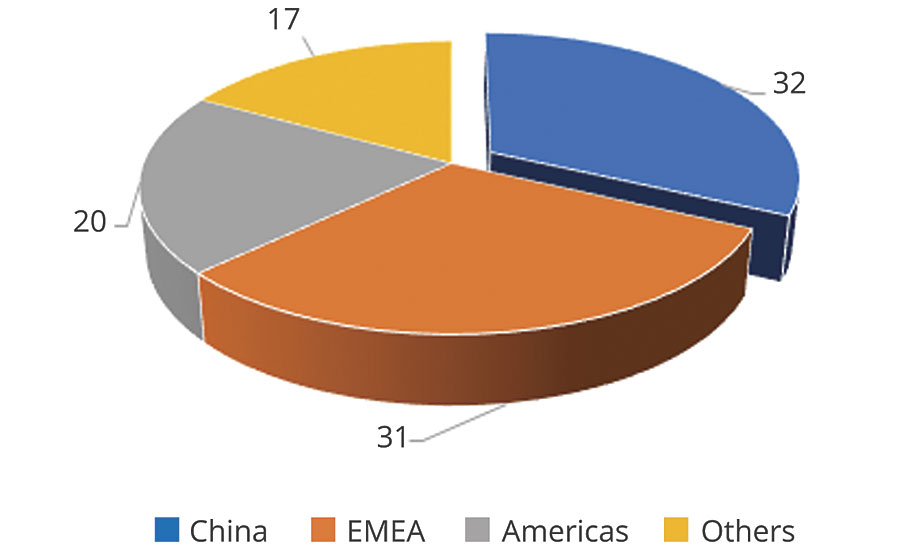 One of the main factors for China's huge TiO2 demand is the recovered macro-economy and the GDP increases by 6.70% YoY in 2016. As a result, the downstream demand of TiO2 substantially grew as well (Figure 2).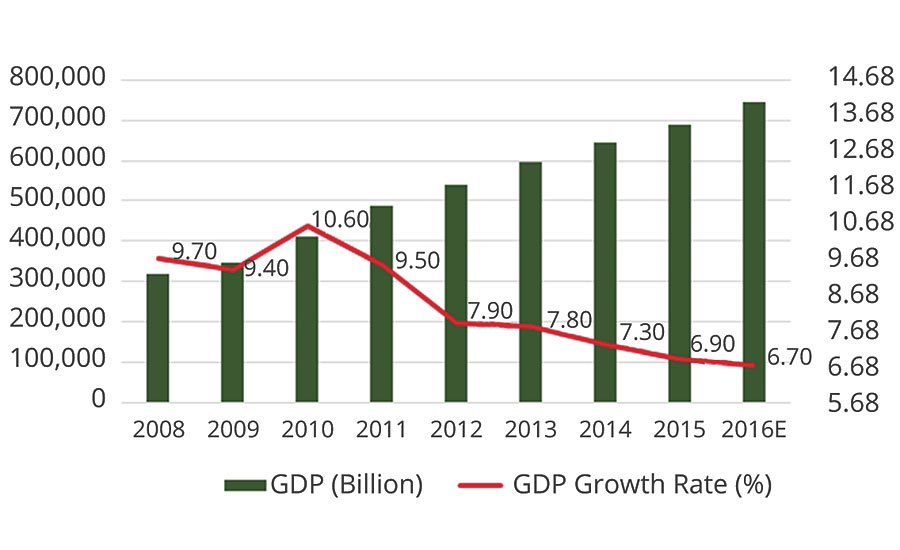 In the last 10 years, the consumption of TiO2 in China has increased on average 8% every year, caused by the high need of paint, plastics and fibers. This is demonstrated in the share of TiO2 by industry in 2016, where paint accounted for almost 60% of the total share, while one-fifth of TiO2 is used in the plastics industry and 3% in paper products (Figure 3).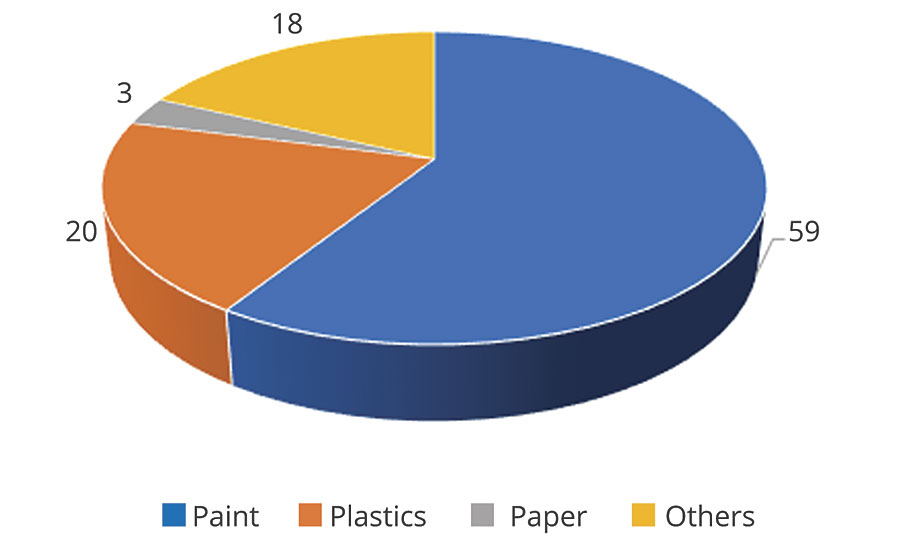 What's more, China is additionally the largest exporter of titanium dioxide. In 2016 China exported over 700 thousand metric tons of titanium dioxide around the world. The main export destinations were India, the United States and South Korea. This was a large increase in the 540 thousand metric tons exported in 2015. In 2016, for the first time China exported more titanium dioxide than the United States. The United States exported an estimated 650 thousand metric tons of titanium dioxide pigments in 2016, with about 30% headed for Western Europe, 16% to Mexico and 10% to Canada.
The trend for anatase, rutile and nonpigment TiO2 has developed differently in the past years, with rutile TiO2 becoming much more important for China's exports than the other specifications. 
Overall, China's imports have witnessed a declining trend in the period from 2008 to 2016. The country already became a net exporter of TiO2 in 2010, when the export volume surpassed the import volume. The import volume fluctuated several times, falling under 200 million kg in 2012, was able to recover and dropped again in the year 2016 (Figure 4).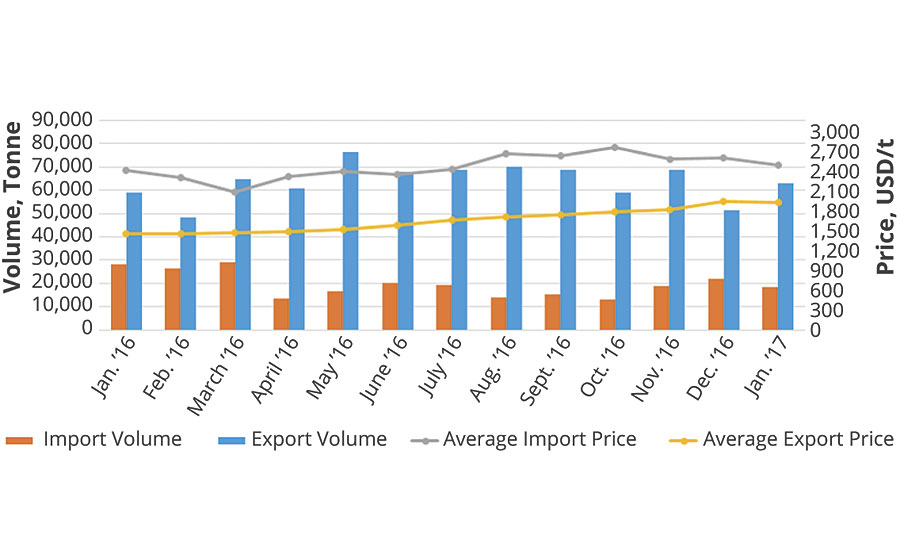 The TiO2 E-Commerce Trend in China
China is the largest e-commerce market in the world, driven by the largest population with an ever-busier lifestyle and less time for physical shopping. In the first quarter of 2017, online retail sales in the country went up by more than 32% year-on-year, reaching 1.4 trillion yuan. This is about USD210.8 billion.
China's e-commerce companies are booming, benefitting from the convenience of clients to compare different products and suppliers online, see reviews, order online and get the products delivered, available on just one platform. Hence, it is not a surprise that the development of the largest e-commerce enterprise in China, Alibaba, has shown immense growth in the last years. The e-commerce giant Alibaba accounts for more than 10% of China's retail sales and about 75% of the national online sales. However, online sales in China are still only accounting for 15% of the national total.
As for TiO2-related e-commerce platforms, the main websites to consider are 1688.com, Yclmall.com and jwelltitanium.com. 1688.com is the world-leading B2B purchase platform, owned and operated by Alibaba Group. It has by far the greatest number of users in China and therefore has developed into the largest e-commerce platform of TiO2 in the country. Yclmall.com is operated by the Titanos group for the purpose of purchasing titanium dioxide, carbon black, pigment, resin and similar products. Besides serving as an e-commerce platform, it also provides services for technology, logistics and trade issues. Jwelltitanium.com, founded by Pangang Group, allows products to be up for sale or auction, offers information about supply chains of steel and titanium dioxide, and facilitates spot transactions. It aims to build the most influential integrated e-commerce platform for the industries of vanadium-titanium and other chemicals.
Data-Based Analysis of TiO2 Market Trends
To prepare for a world of big data and interconnectivity with third parties, businesses will need to improve their data management capability – defining, cleaning up and maintaining data. As mentioned earlier, data is only valuable when it comes from a reliable, secure source, is structured within an architectural environment that accommodates internal and external data, and is regularly maintained.
However, data are nothing but a raw material. They are a necessary condition for insight, but not a condition that necessarily creates insight. Analysis of data is the key for real insights in the subject and the fundament to make sustainable and reasonable business decisions with long-term goals and success.
The data gathered by e-commerce platforms is one of the most important assets they gather since it enables capturing the consumer information to implement the most personalized shopping experience and tailor-made marketing. This huge data management is the key advantage that many online retailers have on their physical counterparts.
For example, the analysis of Alibaba purchase data regarding titanium dioxide in July and August 2017 can show the most popular titanium dioxide brands in the market as well as the related enterprises from the perspectives of buyers and suppliers. This gives a good overview of the hottest products in the market and the trade price that is used on average. Buyers and suppliers can use this information for their reference in negotiations with their business partners.
Furthermore, e-commerce platforms can also reveal the most popular keywords that users are searching for. In Alibaba, the most used keywords for TiO2 in August were Factory Direct Sale, Product Origin, Goods for Export, Spot Goods, and Product of Quality. These are very valuable insights for every marketer and business developer to enhance their promotion strategy.
Data from search engines can show precisely what, when and how people are searching for topics and products around TiO2. Search engines even now track which region the request is coming from. When manufacturers and traders of TiO2 use this information, they can understand the needs of potential clients and optimize their own marketing campaigns on targeted audiences, time periods, communication channels and many more areas (Figure 5).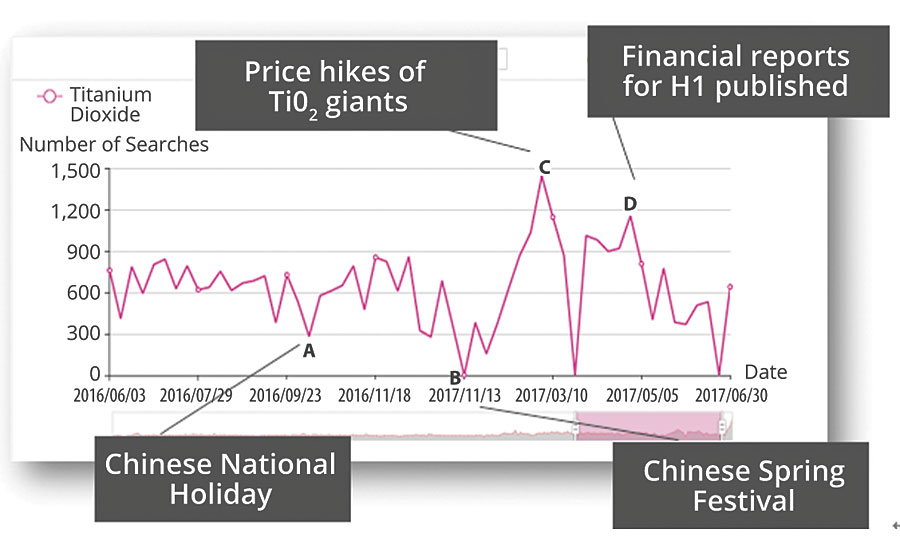 Baidu.com is the largest Chinese search engine. With Baidu Index, a data-sharing platform based on mass data about hundreds of millions of users, people can discover the search volume of a certain keyword, how price changes during a specific period of time, how people respond to price volatility, and much more information.
The analytics also show the number of searches by region, which indicates where the most active and engaging market players are. According to CCM's research, the search activity per region is highly related to the activity of the TiO2 industry in China's provinces.
From Jan. 2016 to June 2017, the top nine places by search volume of titanium dioxide were Guangdong Province, Shanghai City, Zhejiang Province, Jiangsu Province, Beijing City, Hebei Province, Henan Province, Sichuan Province and Fujian Province. The ranking was the same as that of coating output in 2016.
There are many benefits of using big data technology for TiO2 market research. This method enables real-time updates about TiO2 trends, which is faster and more reliable than traditional methods of information gathering. The information is furthermore free from any artificial intervention since it consists of the pure data without any subjective interpretations. As seen in the example before, organic search data can reflect the consumer demand quite well. All in all, big data-based analysis of TiO2 is cost effective and time saving for users.
Innovative Data Analysis Platforms
Kcomber has published two online platforms, developed by the market intelligence brand CCM and trade commercial brand Tranalysis. Those two platforms are using the big data of search engines, e-commerce, news websites, as well as Customs, and combine those with in-house technology and market research to enable a unique and innovative way for users to find the high-quality information they are looking for in the TiO2-related industries. Furthermore, the information can be automatically turned into scalable charts, graphics and customized reports for immediate use on business meetings and decisions.
CCM Online Platform
CCM's Online Platform serves as the database for many years of market research by in-house industry insiders and experts in the form of market data, monthly newsletters and industrial reports on TiO2 in China. Based on this foundation, the platform offers many analytic tools to get valuable insights into China's TiO2 market.
CCM gathers the previously bespoken user data from search engines and e-commerce platforms to process them into market analysis tools. The search popularity index crawls data from all big search engines like Google, Baidu, Yahoo, Yandex, Naver and more, and combines them into one chart that represents the hot spots of TiO2 over time. The ups and downs can be related to market events, which validates the tracking of search and be prepared for growing or declining attention.
In another function, CCM gathers and analyzes data from e-commerce and companies directly for close price monitoring. Combined with the price forecast algorithm, which includes historical data, upstream and downstream development, public statements and more factors, this Price Analysis Function not only shows the historical price by country, region and manufacturer, but also gives a forecast for the next months. The function also crawls the internal market research information of CCM and external news information to give the full insight into China's TiO2 price trend.
The last major function of the online platform combining big data crawling is Company Research. It allows users to search for TiO2 in China, which will show all TiO2-related enterprises. Starting from choosing the enterprise of interest, there are many segments to click for detailed information. On the one hand, the function shows the company relations, including all clients, suppliers, subsidiaries, the parent company and other related enterprises crawled from CCM's internal enterprise database. This gives an overview of all relations between manufacturers, traders and buyers in the TiO2 market to understand the supply chain flow. On the other hand, it reveals related indexes of the chosen enterprise, such as contact information financial info, legal status, products portfolio, export and import data, related news from valuable media websites, production info, and company dynamics. Users can get all relevant data and information of companies in this easily navigable database (Figure 6).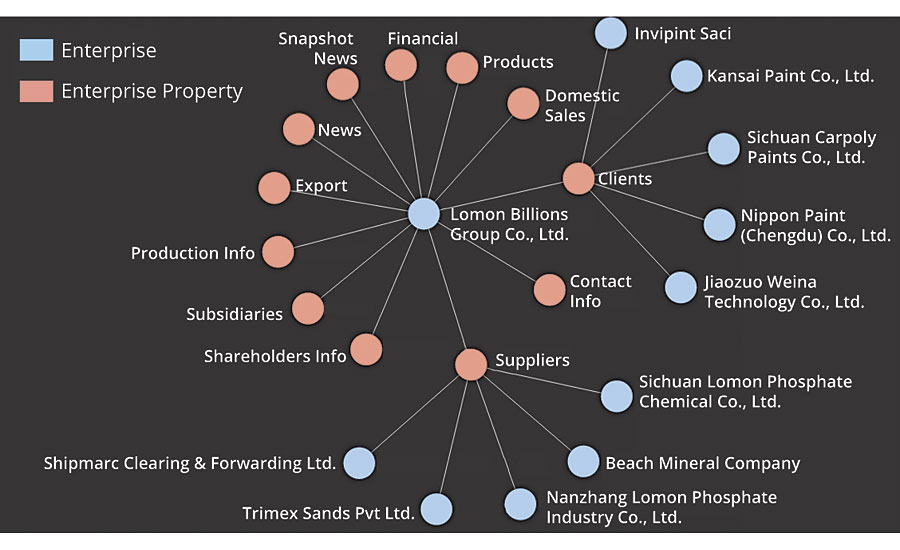 Tranalysis IE Wizard
Kcomber's trade brand Tranalysis has recently opened the import and export analysis online platform IE Wizard. IE Wizard is a multidimensional online trade data analysis platform. The main functions are a trade data processing platform, analysis and analytic tools, aggregates trade circulation data, and carrier for trade analysis products.
IE Wizard is a connectivity and automation tool for raw trade data in China and worldwide. Based on the global Customs import and export information as well as trade data from reliable industry websites, IE Wizard connects all related commodities and enterprises in real trade flows and visualizes the results in immediate usable and adaptable charts for convenient trade analysis.
Conclusion
China's TiO2 market is the key area to look at for future development. Supported by the booming downstream industries, production is likely to grow further in the future, and China might become an even bigger influencer of the global market.
Even though it can be considered to be still in the early state, China's e-commerce will definitely grow fast in the near future, and enable a supportive consumer and supplier analysis. The data crawled from news and industry websites as well as from search engines and e-commerce platforms help to monitor, understand and forecast the trend of TiO2 in China and worldwide.
Kcomber's market and trade research, combined with the external crawled data, enables a comprehensive and insightful view on the development of TiO2 in China. While constantly searching for more reliable data sources and enhancing the platforms with AI and automatically report writing algorithms, market and trade research is on the brink of a new technology level, moving away from human-based market research and report writing towards AI and algorithm-generated, customized reports and analysis.