The transportation industry is a vast ecosystem that covers everything related to the major modes of transport, namely road, rail, marine and air transport. This industry includes goods as well as passenger transport. The transportation industry is among the world's most competitive industries. This is driven by ever-evolving technologies, regulatory policies and consumer expectations. The industry influences and is influenced by competitiveness and user dynamics across its allied industry segments, thus adding complexity in operations and necessitating continuous innovation.
The global transportation coatings market size is estimated at USD 26.2 billion in 2018, and is projected to register a CAGR of 4.4% by 2024. The transportation coatings industry includes automotive OEM, refinish, marine, aerospace and rail (Table 1). Automotive OEM coatings leads the transportation coatings market, and the market is expected to grow more as the demand for new passenger and commercial vehicles will increase in the coming years (Figure 1).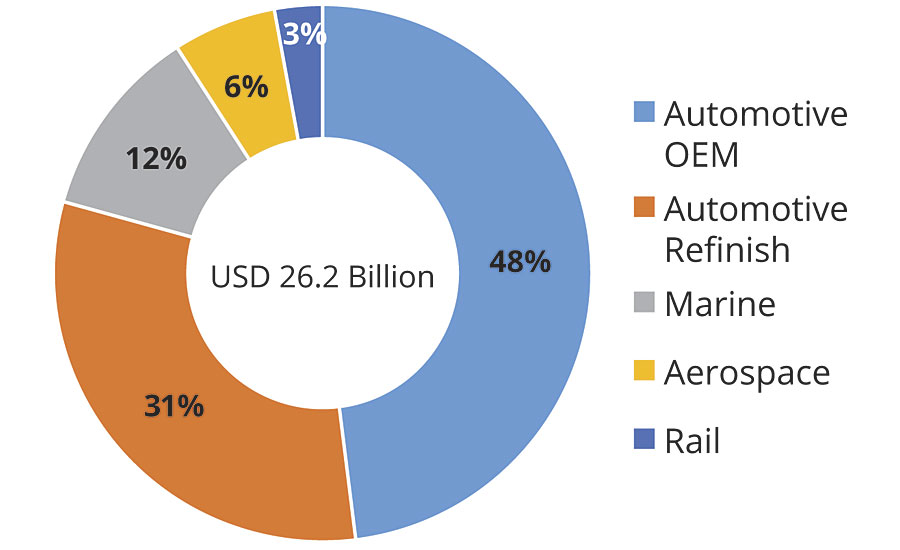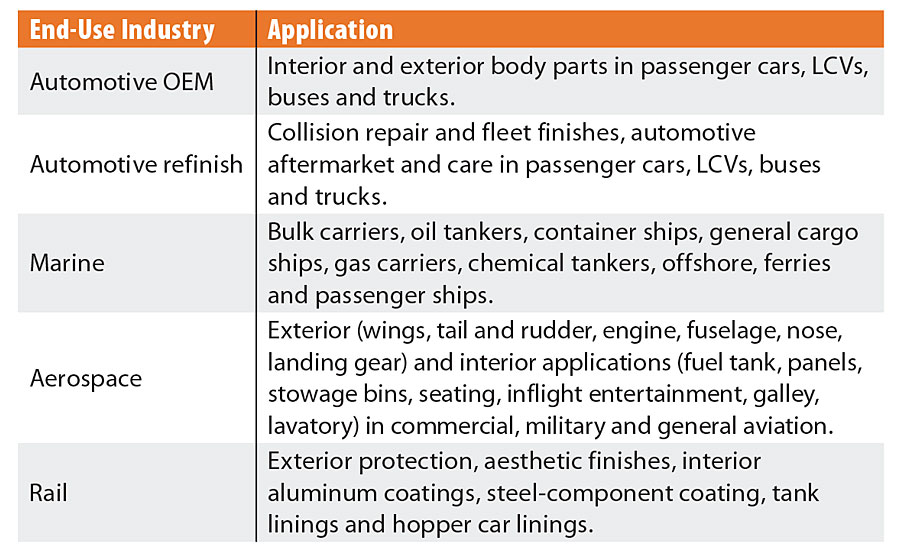 Growing Automobile Demand Fueling OEM and Refinish Coatings Consumption
The automotive coatings industry has evolved simultaneously with the automotive industry. Both industries are continuously progressing to provide advanced technologies and eco-friendly products to buyers. The demand for automotive coatings is majorly influenced by the demand trends in the automotive industry, environmental regulations, health and safety norms, buyers' preferences, lifestyle, and economy. Apart from the appearance of vehicles, automotive coatings play an important role in the protection of the metal surfaces of vehicles from rust and other damage. Various colors, textures and patterns make vehicles more attractive and can act as a key decision-making factor for buyers.
Through intense R&D, the automotive coatings industry has evolved from solventborne to waterborne and powder coatings. The aim of providing these advanced coatings to the automotive industry is to minimize the hazard posed by solventborne coatings, which have high VOC (volatile organic compound) and HAPs (hazardous air pollutant) content. Waterborne and powder coatings are growing in popularity owing to their zero/low-VOC, environment-friendly tag. North American and European countries have issued regulations regarding the content of VOCs in coatings, which have increased the demand for waterborne and powder coatings. Developing countries such as China, India, Brazil and Russia have also started applying waterborne and powder coatings in conventional paint processes. Hence, considering the increasing vehicle demand and upcoming environmental regulations, the demand for eco-friendly coatings is likely to grow at a substantial rate (Figure 2).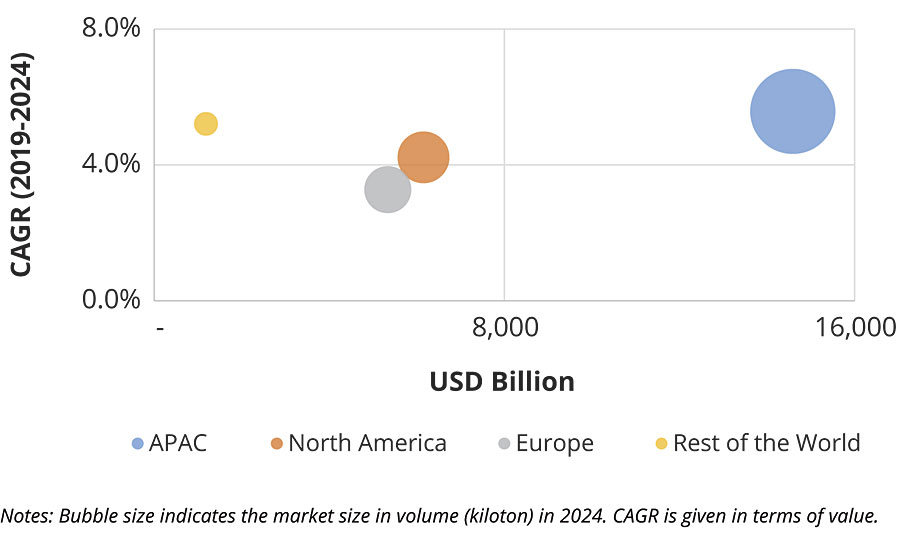 Automotive refinish coatings are an integral part of the automotive industry, and demand fluctuations in this industry have a direct impact on the dynamics. According to key automotive refinish coating producers, demand for automotive refinish coatings is expected to grow during the forecast period at a consistent rate, owing to the nurturing demand for automotive vehicles. The increased demand for coatings will particularly be observed in APAC, South America, the Middle East and Africa. Regulatory policies on the adoption of eco-friendly coatings, changing buyer preferences, growing economy, improved lifestyles and competition among automobile manufacturers will also encourage the automotive refinish coatings market to grow in terms of volume, revenue and R&D expenditure. Attributable to all the aforesaid factors, there is a good opportunity for the producers of automotive refinish coatings to provide new and innovative technology at an economical price.
Decline in Shipbuilding is Hindering Growth of Marine Coatings
Protective coatings used in the marine industry are applied on the surfaces of ships, cruisers, vessels, yachts and other offshore structures exposed to seawater and corrosive conditions. Marine coatings are applied for protection against corrosion, fouling and slime to increase the durability and life of marine vessels and offshore structures.
Globally, most of the marine coating companies have witnessed tough market conditions in the last few years. The combination of decelerating demand and increasing competition contributed to negative organic growth. Significant negative impacts were observed in the new shipbuilding markets in China and South Korea. The marine coatings market growth remained challenging in 2018 and has contracted further as a result of low demand in the new shipbuilding industry. Despite these challenges, marine coating manufacturers are optimistic about experiencing organic growth across most segments of the market and geographies. Manufacturers are also optimistic of the recovery in shipbuilding in the long term, which is expected to drive the demand for marine coatings.
Dry-docking of vessels, recovery in new shipbuilding activities and growth in offshore drilling will propel the growth of the global marine coatings market. APAC is the key market for marine coatings due to the high level of new shipbuilding activity, as well as dry-dockings in the region (Figure 3).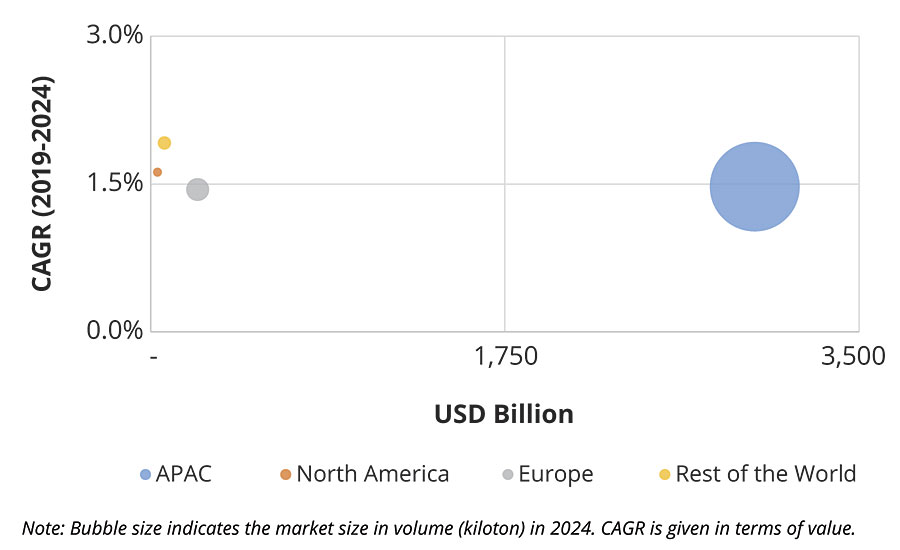 Chrome-Free Technology to Augment Growth of Aerospace Coatings Market
Each part of an aircraft is properly coated to ensure safe and efficient operation. As aircraft travel long distances through harsh environments, components are coated with a long-lasting finish. These high-performance coatings provide resistance against high temperature fluctuation, variable air pressure and air instability. They play a vital role in providing protection against corrosion, heat and ultra-violet rays. They also provide fog repellence, and abrasion and wear resistance to aircraft surfaces. These properties of aerospace coatings play an important role in enhancing service life and reducing maintenance costs.
Aerospace coatings are used in the commercial, military and general aviation sectors. They are used for exterior and interior coatings for OEMs and maintenance, repair and overhaul (MRO). These coatings help achieve higher fuel efficiency, reduce noise and weight, and increase safety. The development of chrome-free technology is expected to act as a major driver of the aerospace coatings market during the forecast period. The growing demand for powder coating as an environmentally friendly product is also expected to have a positive impact on the aerospace coatings market (Figure 4).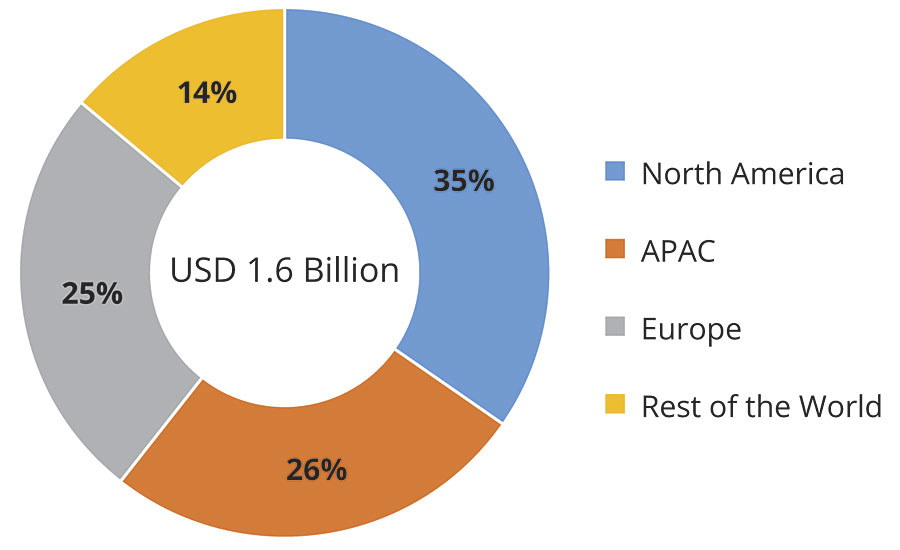 Advances in High-Speed Train Industry Boosting Growth of Rail Coatings Market
Rail coatings are applied on the interior and exterior surfaces of railway carriages, and offer various functional and aesthetic properties. They are used in interior aluminum coating, steel component coating, tank linings and hopper car linings for exterior protection and aesthetic finishes. The strong development of the high-speed train industry provides many opportunities for rail coatings companies. Tracks are continuously being built and upgraded to international standards. This is expected to drive the rail coatings market.
There is a surge in investments for expansion of railway networks owing to the rise in demand for mass transportation in both developing and developed economies. Most countries have taken initiatives to develop strong high-speed rail networks, which help mass transit to be faster, safer and more efficient. The expansion of high-speed rail networks has opened up opportunities for the growth of the global rail coatings market (Figure 5).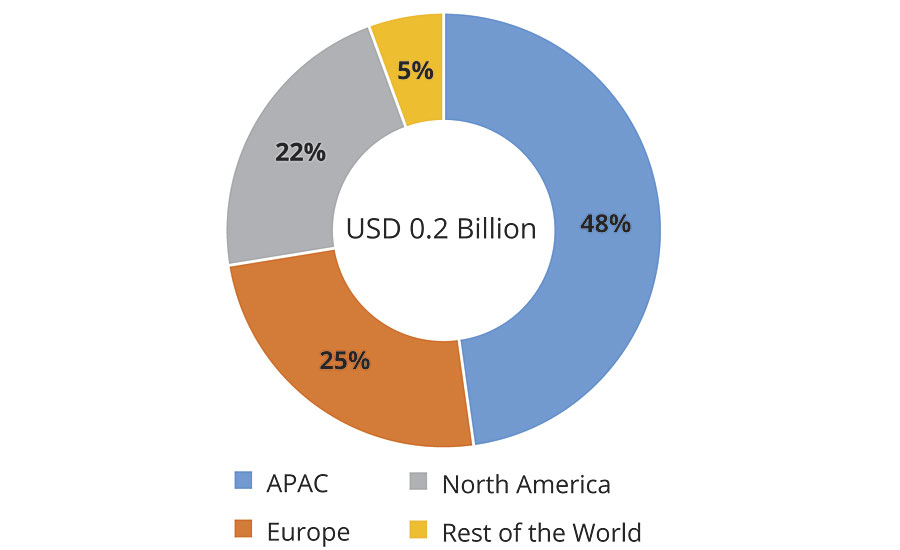 For more information, email vikash.kumar@marketsandmarkets.com or annirban.bhattacharya@marketsandmarkets.com.
References
What to Read Next:
BASF Leads Development of New ASTM Test Standard for Transportation Coatings